New hospital orchard to bear fruit for patients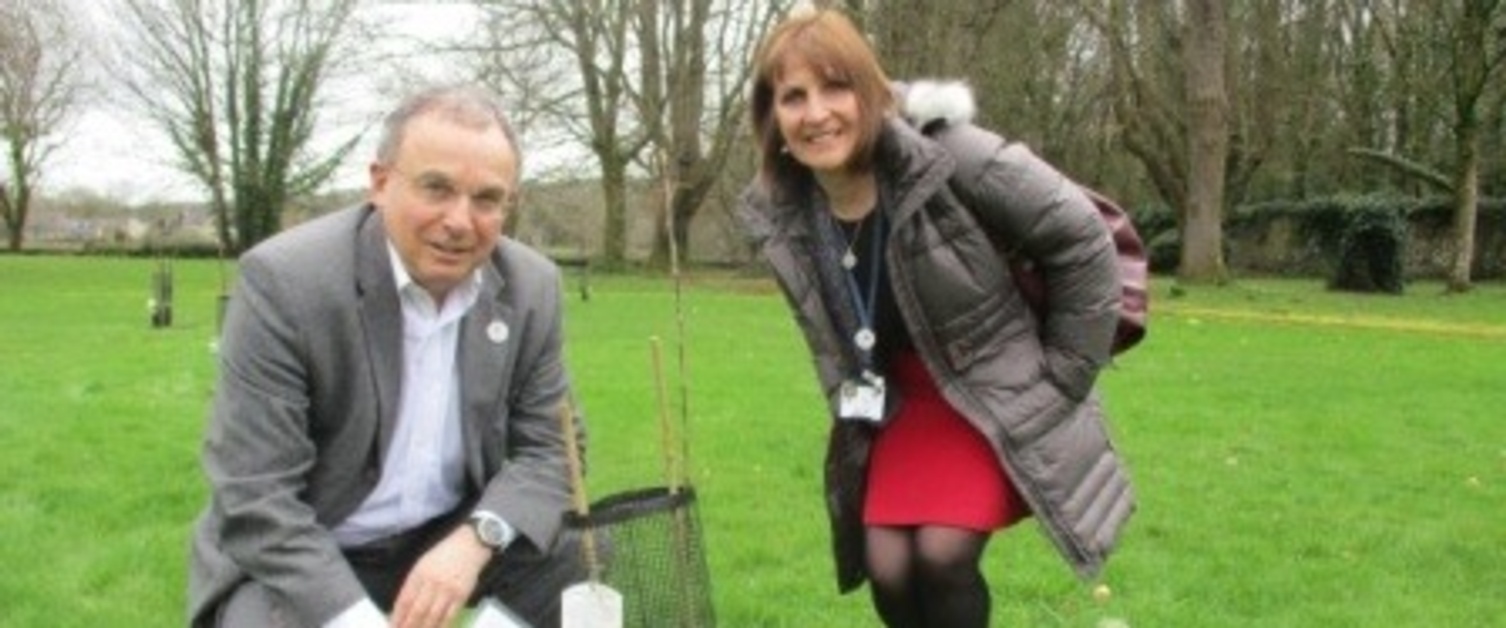 Wednesday, 27 March 2019
AN ABMU hospital is going back to the future by reintroducing an apple orchard to its grounds.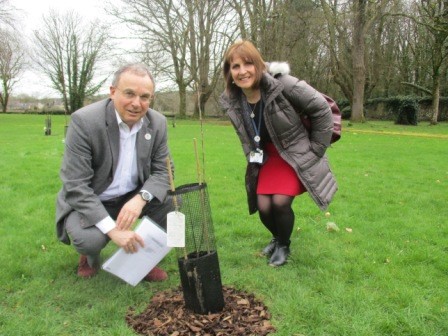 It is hoped the move will help preserve several rare species of Welsh apple trees that were previously close to extinction, as well as helping rehabilitate patients who will be looking after the orchard.
Left: Professor Andrew Davies, ABMU Chairman, and Rena Owen, independent member of ABMU's executive board, inspect the saplings
The project is taking place in Glanrhyd Hospital, in Bridgend, with the trees being planted on the site of an orchard which once supplied the kitchen of the former Glamorgan County Lunatic Asylum, which opened in 1864.
The project is funded by the Welsh Government and is part of its drive to re-introduce lost Welsh Heritage Fruit Trees. The work is being carried out with the help of Merthyr Mawr-based Wild Spirit Wales.
ABMU chairman, Andrew Davies, said: "This is an excellent example of our commitment to 'greening' our health board estate, including our hospital grounds; increasing bio-diversity and also conserving our horticultural heritage. It also demonstrates the passion many of our staff, like Mark Humphreys, have in creating a 'greener' environment. As a board we are committed to delivering the Future Generations Act and this initiative is one example of that commitment."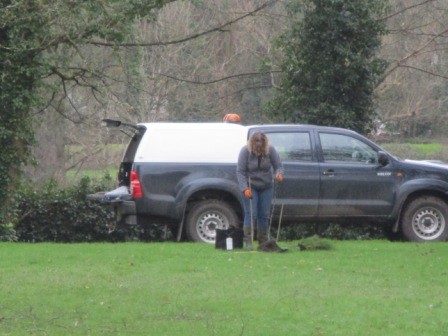 Wild Spirit Wales's lead instructor, Sasha Ufnowska, said: "Historically, there would have been an orchard and a garden here which would have supplied the hospital kitchen. It's a lovely site with parts of the old wall around it and when you are out there, you can feel that it would have historically been that kind of space.
"The opportunity to put that back in place was great but also knowing that these specific variety of trees are going to be safe and nurtured by the clients here is fantastic. In return those trees will be helping with the clients' access to outdoor space, a reason to go out and do stuff. And fruit trees double up as something people can enjoy as trees as well as the fruit that they produce. It connects people to nature.
"It will benefit the patients and that's the reason we are bringing the trees here, and we know that they will be looked after and in that process it's going to help the clients as well."
In all there will be 20 different types of tree in the orchard all thought to have been completely lost.
Explaining the idea behind the project Sasha (above) said: "The Heritage Welsh Apple and Pear Tree project went around and identified what had previously been thought to have been completely lost apple and pear trees. In some cases it may just have been an individual tree that was discovered, or rediscovered, and that's been used as stock for cuttings to produce more trees which are being sold all over Wales. I think there were 90 different species discovered."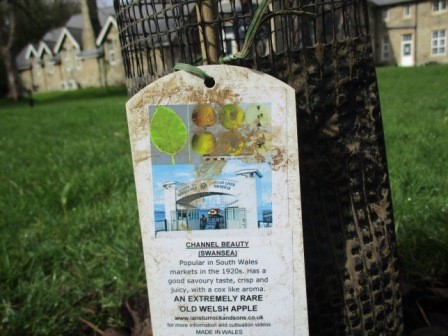 Mark Humphreys, Assistant Technical Services Officer Environment for Abertawe Bro Morgannwg University Health Board, said: "We are hoping that patients will be involved, building their confidence to get them out there in the open space, using the fruit that is there and taking them back to their areas and making products from that. It's a win win for the health board.
"The apples are for a practical use and there for people to go and pick them when they are ripe and ready to go. It's a fantastic opportunity."
Mark added that the orchard was just one of a number of measures being undertaken by ABMU to help improve the environment.
He said: "On the back of the green flag we have just been awarded as a health board, I think it's a great opportunity to look at other areas where we can open up our green spaces for projects like this."