Swansea Bay University Health board has a new expert multi-disciplinary team of eye specialists and doctors all working together to deliver sight saving treatment.
Above: Consultant ophthalmologist, Gwyn Williams (seated) with his team (pic taken before Covid).
Based in Singleton Hospital's Ophthalmology Department, its main aim is to tackle Age Related Macular Degeneration (AMD), which is the commonest reason for sight registration in Wales and on the increase due to our ageing population.
AMD can be divided into what is termed 'wet' and 'dry' macular degeneration, with the dry version resulting in gradual visual loss over time, for which no treatment yet exists, and the wet version resulting in a very rapid slide into visual loss if left untreated.
The treatment for wet macular degeneration is the injection of a drug into the eye every few weeks in order to stop the bleeding. This expensive sight saving medication needs to be administered in the most stringently aseptic conditions by experts trained to deliver this injection but with the ageing population and the lack of doctors present in large numbers, Wales has had trouble keeping to targets and delivering enough injections to meet the needs of the population.
Enter the new team.
Consultant ophthalmologist, Mr Gwyn Williams, said: "We have been busy here in Swansea setting up a safe efficient system for delivering these injections to people with wet age related macular degeneration and now have an expert multi-disciplinary team of nurses, orthoptists, optometrists, co-ordinators and doctors all working together to deliver this sight saving treatment.
"We are providing more injections than ever before and are working more efficiently as everybody is working at the top of their remit that would make the author of Prudent Healthcare (the Welsh Government's health strategy) proud. The bulk of the injections are carried out by specially trained nurses and orthoptists working in tandem with the latest way of delivering treatment; a regime called 'treat and extend'.
"Treat and extend essentially can be boiled down to giving injections and spacing outpatient appointments as much as possible - as opposed to the previous system of attending every month - and preventing bleeding at the macula, giving patients the injections they need as often as they need and giving them the best hope of a sighted life."
The team has linked-up with Specsavers in Swansea in order to assess patients in the community thus reducing the risk of COVID infections due to hospital visits and freeing up capacity for active patients. Patients are also safely assessed and reviewed virtually by utilising technological advancements, which cuts down waiting times for patients and increases capacity for injections.
And in the near future the team hopes to work with primary care optometrist colleagues to hold clinics in which inactive patients can be safely assessed in community.
Paying tribute to the new team Mr Williams said: "I am so proud of all our multidisciplinary colleagues who all work together to deliver such a high standard of care to the ageing population of Swansea. Our move to treat and extend is the single greatest development in saving sight amongst the elderly population of our city and it would have been difficult, no; impossible to do this without the support of the nursing and Orthoptics staff, as well as our excellent and understanding managers.
"It would have been impossible to provide this new treat and extend service, a service that is now the gold standard in Britain, without the skilled multidisciplinary team that we have.
"It is a model of multidisciplinary care that makes the most of a shortage of doctors in the Welsh NHS, with nurses, orthoptists and optometrists also playing important roles in our delivery of diabetic eye care."
Right: Staff nurse Herme Zamora with a patient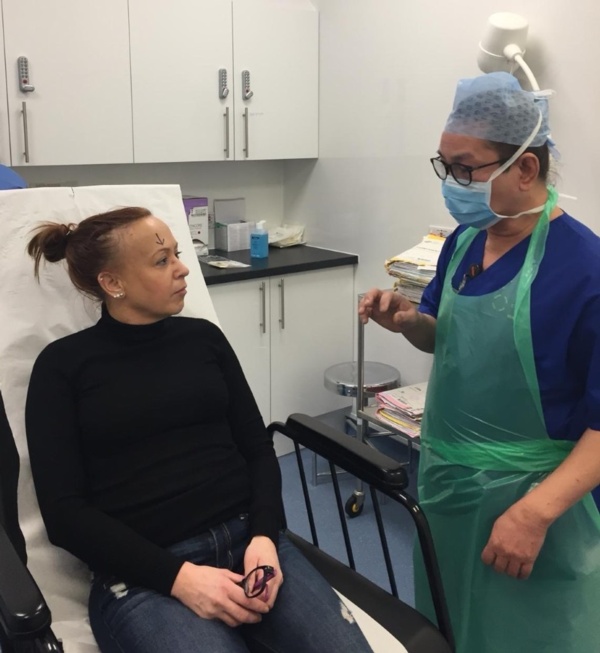 Cheryl Madeira-Cole, clinical service manager of ophthalmology, said: "I have been overwhelmingly proud of how the ophthalmology team have continued to deliver this sight saving treatment by minimising the risk of COVID to this group of higher risk patients. Patients will have noticed a significant change to our practice.
"Staggered appointment times, socially distanced waiting areas and clinicians wearing full personal protective equipment is the new 'normal' way of working so that the patients feel safe whilst receiving their sight saving treatment."
Suzanne Martin, Head Orthoptist, said: "This opportunity has given me a great learning experience and professional satisfaction especially during COVID when the importance of the treatment for retinal disease was recognised as something that must continue throughout the pandemic.
"I've enjoyed treating a different patient group as orthoptists traditionally see children. The patients are always grateful for the treatment which makes both injecting and reviewing very rewarding. I would strongly recommend becoming involved in this aspect of ophthalmology."

Orthoptist, Amy Gillan, said: "One of the reasons I chose to work in Swansea was for the great opportunities for extended roles. As an orthoptist, I have been able to train and work as an intra-vitreal injector within the AMD service. This has been very rewarding not only for my own personal interest in the field of medical retina but also to work within a friendly and supportive multidisciplinary team."
Joyce Pollard said: "The staff are amazing. I have found the injections better, no problems or after effects."
Another patient, Edward Hardcastle, said: "Since starting the eye injections for wet macular degeneration I have had a huge improvement in my vision in my affected eye which has impacted greatly on my general and mental wellbeing. Losing more sight would mean not being able to drive, and therefore, losing my independence."