New food app dishes up bigger and better menu for patients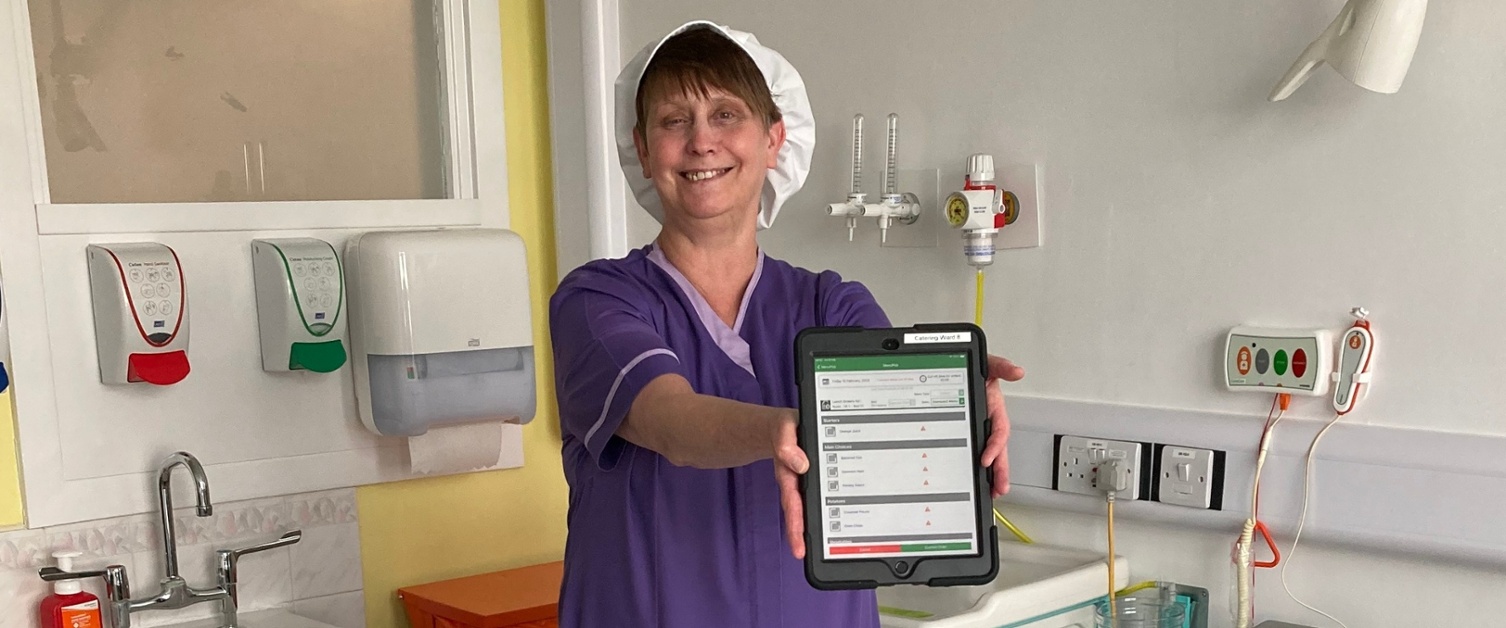 A new food ordering app is serving up more meal options and cutting waste at Singleton Hospital.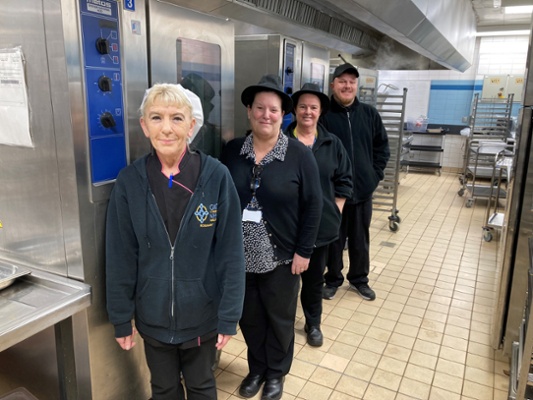 The digital ordering system has been made available to 300 patients across 13 wards this week.
Not only does it offer more food options for breakfast, lunch and dinner, the app will also help Swansea Bay University Health Board meet Welsh Government guidelines for food waste reduction.
PICTURED: (From left) Rosemary Morgan-Lewis, Food Services Coordinator; Food Support Officers Jayne Alexander and Karen Thomas, and Damien Myles, Lead Food Services Assistant.
Well over a million meals are served up to Swansea Bay patients each year. But until now, patients have ordered their food from a paper menu given to a ward hostess.
This has been time consuming due to the volume of patients and the process of submitting orders to the catering team.
Orders have now changed to the food app via an iPad with a ward hostess. They are sent immediately to the catering team which means orders can be taken as close to meal time as possible.
After trialling in Singleton, it is being rolled out across the hospital's three main hospitals, which produce 1.3 million patient meals a year.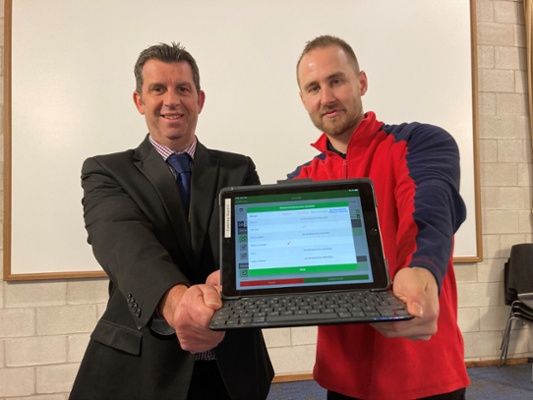 Rob Daniel, Deputy Head of Support Services, said: "This is an exciting move by the health board, which has numerous benefits.
"The speed in which orders can be taken and relayed back to the catering team means we will be able to deliver more variety in the food patients can choose from.
"We are moving from a one-week menu to a two-week menu with a wider variety of choices, and that will enhance patient experience, particularly for those who are in our wards for a prolonged period.
PICTURED: Rob Daniel, Deputy Head of Support Services and Matthew Turner of Synbiotix, who developed the food app.
"It also means orders can be taken as close to meal time as possible, rather than the current system in which patients order their lunch and dinner options soon after breakfast."
The new digital format will also help cut costs and reduce food waste.
At present, the health board's food waste at the end of each service is eight per cent – three per cent above Welsh Government guidelines.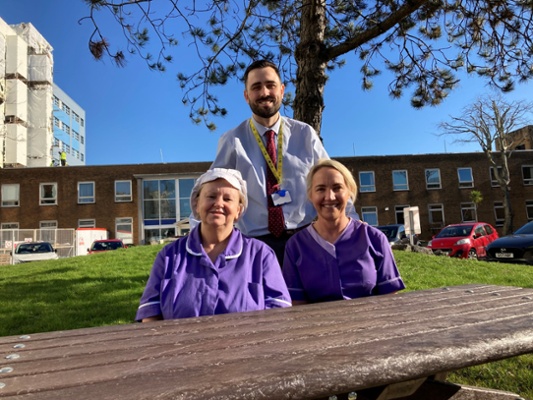 Rob added: "We estimate the health board will make a considerable annual saving via the new system in place at Singleton, which would of course rise again when it is rolled out in our Morriston and Neath Port Talbot sites."
Layton Bendle, Support Service Quality Assurance and Training Manager, helped implement the new food ordering service.
He said: "It should also help us reduce our food waste and meet the guidelines set by Welsh Government, so that's another major positive behind the change.
"Meal options can quickly be filtered with certain allergies or requirements too, so it will give the patient better options.
PICTURED: Ward hostesses Susan Dennis (left) and Cath Grove with Support Services Manager Craig Williams.
"Further down the line, we will be looking at developing the service so that patients can use their own device to order their meals."
Jan O'Keefe is one of the health board's longest running ward hostesses, having started her role 26 years ago.
She is among the 70 staff to have received training on the new digital ordering process.
Jan said: "From the staff's perspective, it's a big change in the way we work and one which we have to adapt.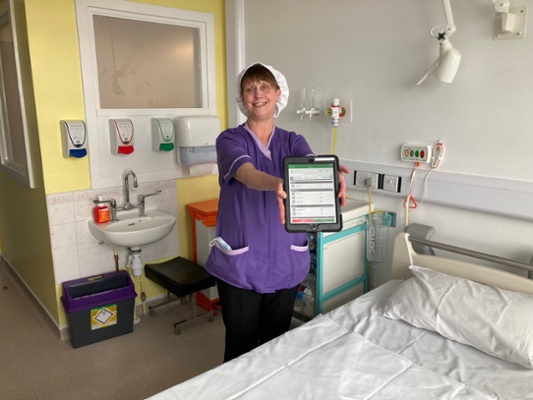 "Over the years, there have been a number of big changes and this one of the biggest.
"But it will improve the service for patients, which is the most important thing, and it will also bring further benefits to the health board.
PICTURED: Ward hostess Jan O'Keefe with the new food ordering app.
"People's eating habits have changed a lot in the last five to ten years, and the options we now have available really gives patients a varied choice of meals.
"So the switch from paper to the digital format is a positive change which everyone will benefit from."