If the South Wales Motor Neurone Disease Care Network wins this year's NHS Wales Award for partnership working, it would be more than fitting, for bringing people together is at the heart of all that it does.
The Network, which spans six health boards across South Wales, including Swansea Bay University Health Board, is on a shortlist of three for the Providing Services in Partnership across NHS Wales category of the showpiece awards.
Motor Neurone Disease (MND) has been brought to the public's attention of late, thanks to the valiant work of former Scotland rugby international Doddie Weir, who is living with the condition, and the late South African Rugby World Cup winning scrumhalf, Joost van der Westhuizen.
While MND is a relatively rare condition – it affects around seven in 100,000 people in the UK - it is always fatal and often severely limits what people are able to do. With the right care, people can be helped to get the most out of life in spite of those limitations.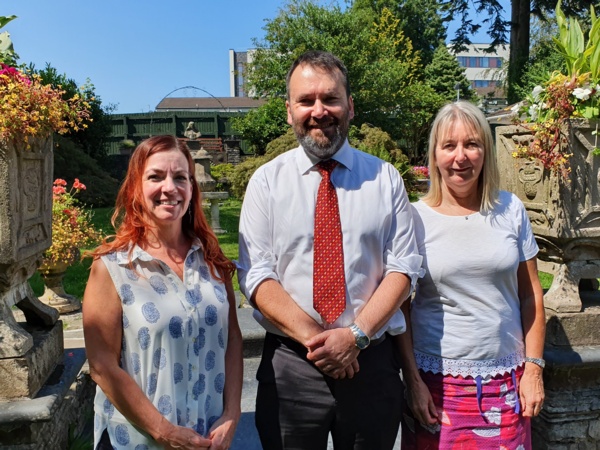 Left: Paula Jones, Idris Baker and Ruth Glew of the South Wales MND Care Network
The journey of MND patients in South Wales has been made a little easier through the work of the Network, in partnership with Swansea Bay, Hywel Dda, Cwm Taf, Powys, Aneurin Bevan and Cardiff and Vale university health boards and several hospices, which has seen 12 clinics set up across South Wales whereas before there was just one centre in Cardiff.
Swansea Bay's Ruth Glew, Lead Care Coordinator for South Wales MND Care Network, explained.
"Six years ago people with MND would have seen the consultant neurologist in the hospital and then all the other professionals involved would have sent separate appointments or seen people at home resulting in numerous visits from different people. That care would not have necessarily been coordinated well and professionals wouldn't have necessarily been talking to each other.
"We now have care coordinators in place who manage all of that. We run multi-disciplinary clinics where the professionals see everyone in a 'one-stop shop'. It cuts down the medicalisation of the condition. It is a life shortening condition so we are looking at quality of life. To spend less time on health appointments is better as you have time for more important things.
"One advantage is that the professionals are all together in the clinic so we can discuss care management and decisions with the patient. When professionals were working in isolation with a patient they often found it quite challenging because MND is a very complex disease, whereas now they feel much more supported because they are part of a team."
Such has been the success of the Network it is now being looked at by other areas of the country.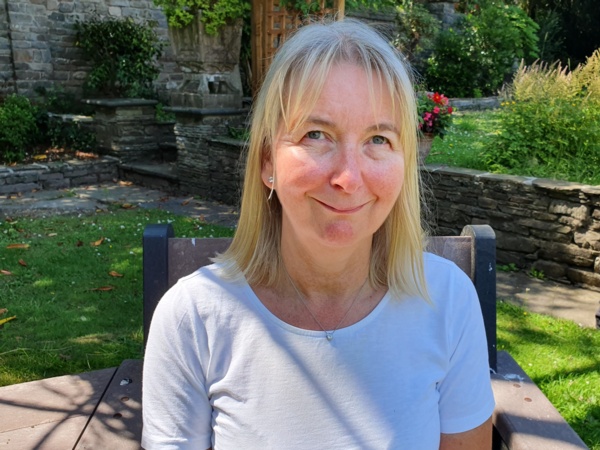 Ruth (right) said: "This way of working is quite unique in the UK, and the MND Association and other centres in the UK are very interested in the way we work because we are able to reach everyone living with MND. Some care centres find this harder because people with MND are spread out, so we've spread ourselves out to get to them. We have had delegates coming over from Northern Ireland to see what we are doing, and we learn from each other."
Of the shortlisting, she said: "I don't think we realised how much we have achieved in six years until we wrote things down, it's good to see that we have made a difference. There's still lots more we need to do but the main thing is we work with a huge number of professionals from different multi-disciplinary teams and without their enthusiasm and commitment we wouldn't have got as far as we have."
Idris Baker, a palliative medicine consultant based at Ty Olwen and co-director of South Wales MND Care Network, said: "The biggest thing for the Network has been the coordination of the care, bringing things together, and the making it equitable so that wherever you live, whatever part of south Wales you are in, you can get access to that coordination and access to the same standards of care.
"We have tried to make it better for the patients and their families and also to make it better for more people. There's been several hundred patients – and that means several hundred families - who have benefited from the network since it was formed.
"We know that caring for someone with MND is not easy, if you are involved as a family and there's no coordination and no support then it's scary. If you are involved as a family and you have the right support, then it's still tough but there's something rewarding about it – that's what families tell us, when they are able to be supported in the right way."
Praising all those who work within the Network he said: "I think both palliative care and MND attract the kind of people who are dedicated and go a bit beyond and it's nice to see that being recognised. The small number who set up the network couldn't have done much ourselves, but when you bring together a big team of very dedicated, committed people with the right kind of ethos and shared understanding of teamwork, who are already doing so much but who want to work together, then there's a lot you can do for a lot of people."
The winners of this year's NHS Wales Awards will be announced in a ceremony in Cardiff on 19 September.
What is MND?
It's quite a rare condition that affects around seven in 100,000 people although the rate in south Wales is slightly higher than that. Across the whole network there are around 185 patients at any one time. The Network receives between 90 and 100 referrals a year and there are a similar number of patients who pass away each year. On average from point of diagnosis the life expectancy is two to five years but often people are not diagnosed for at least a year from developing symptoms; there isn't a test for MND and its diagnosis is made by partly by ruling out other conditions.
It's a progressive condition and variable, so you don't know with any one person how quickly things will change, so it is best to try hard to plan ahead for what problems might come along.
Those with MND get muscle weakness and wasting, so their limbs may be affected and so their mobility. Their facial muscles may be affected so they can get problems with swallowing and speech - quite often they can't communicate and need the use of electronic assistive technology, so the Network links with the National Centre for Electronic Assistive Technology based at Rookwood Hospital, Cardiff.
People with MND may also need help with breathing which is why a respiratory team has input into the service.
There's support through the MND Association, with which the Network links closely, for people with MND and their families. They have amazing information available and provide support thorough a helpline and local support groups.
Because it's a life shortening illness, people need timely interventions and help with prioritising what they want to do but, most importantly, with them being in control. The Network team will discuss options with them and they decide what things they want, what things they want to avoid and what they would want to achieve.