Mum's vision restored with transplant alternative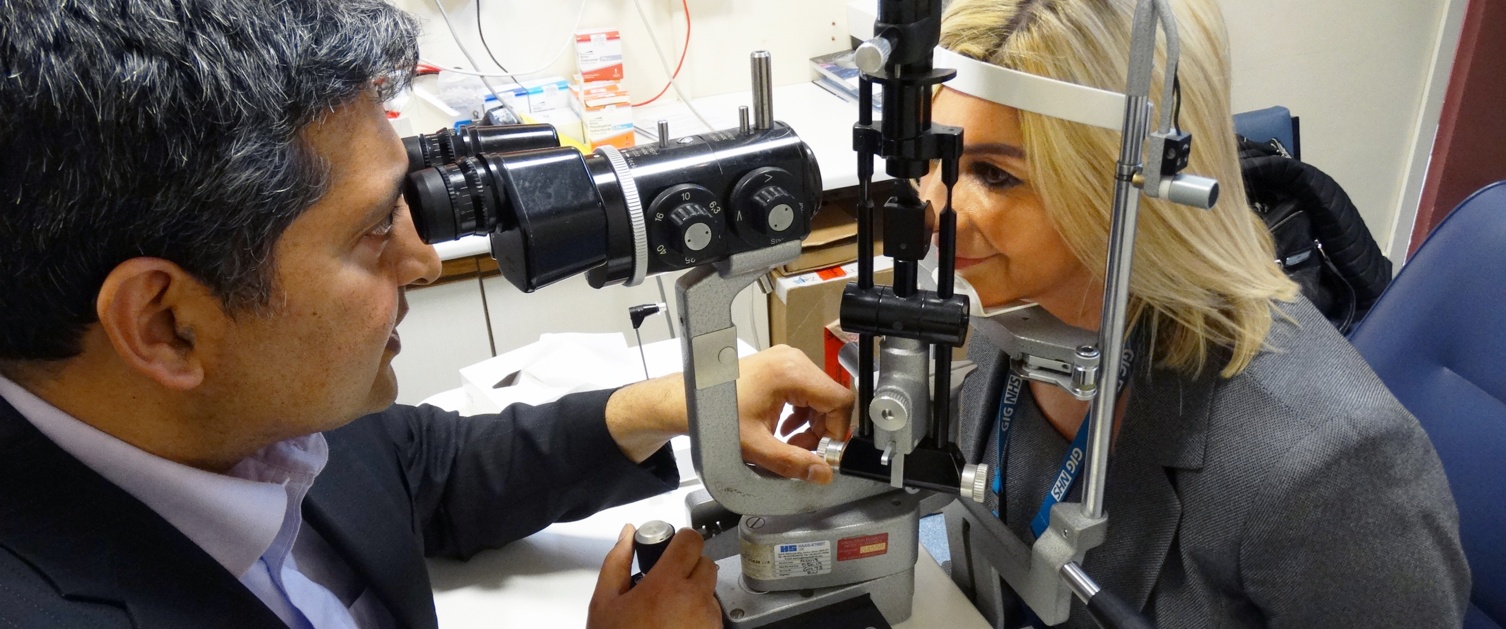 A pioneering Swansea surgeon has restored a mum's vision using a new technique that avoids the need for a traditional corneal transplant.
Sharon Dancer's eyesight deteriorated at such a gradual rate over the years she was unaware just how bad it had become.
Now, after undergoing a minimally-invasive procedure carried out by Singleton ophthalmology consultant Mario Saldanha, the difference has been massive.
"When I went on holiday, I never sat by the window on the plane because with my vision I couldn't see anything," said Mrs Dancer (pictured above with Mr Saldanha).
"A few months after having the operation I happened to sit by the window and it was the first time I could see planes in the sky.
"I could see land below, I could work out the sea, the boats, houses … I could just see everything.
"And for the first time I realised how bad my vision had been before having this procedure."
Mrs Dancer was diagnosed with Fuchs' endothelium dystrophy, a disorder of the cornea – the clear window at the front of the eye that allows light to pass into it.
Previously, the only solution was a full-thickness corneal transplant, but this could lead to complications including rejection of the graft.
Now Mr Saldanha has developed the use of a less invasive technique known as DMEK or Descemets Membrane Endothelial Keratoplasty.
This involves making a tiny incision in the cornea, removing the affected layer of tissue and replacing it with donor tissue.
Mr Saldanha explained: "Fuchs' endothelial dystrophy is quite common in the local Caucasian population. It causes the cornea to fail.
"Sometimes it is picked up just after cataract surgery because the stress of the cataract surgery causes that clear window to fail.
"It's like when your car windscreen looks completely murky and hazy all the time, as if the air conditioning isn't working, and that is how patients see through the eye."
Mr Saldanha said a traditional transplant involved at least 20 stitches in the eye and never guaranteed giving patients their vision back.
They often needed lenses or glasses, which may or may not be able to restore their vision, and they would have to use drops regularly.
With some there may be problems caused by the stitches, or the body may reject the transplant.
"Endothelial keratoplasty uses keyhole incisions into the eye and we only replaced the diseased layer.
"Although challenging, the beauty of this technique is that we only replace the part that is defective so the whole eye is intact.
"The body gets fooled into thinking nothing has been changed, and it doesn't mount a rejection. The patients don't need any rejection drops, or stitches."
Mr Saldanha studied the technique with one of its pioneers, Professor David Rootman, at Toronto Western Hospital, and then became the first to carry it out in Wales, at Singleton since 2016.
Today only a couple of other UK centres offer it. Mr Saldanha is the only UK surgeon to be invited to the American Academy of Ophthalmology to teach the technique to practitioners from around the world, and he is also helping to train surgeons in the UK.
He said most of the patients who had procedure at Singleton previously had cataract surgery, which is when the corneal disease was picked up.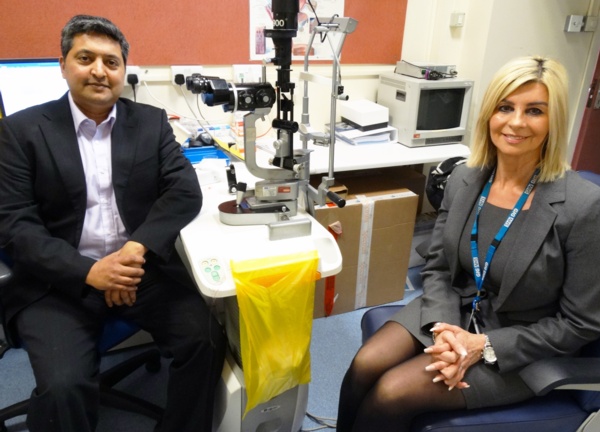 "What was unique in Mrs Dancer's case is that she was actually symptomatic before she had cataract surgery and she was among the few who had it before cataract surgery, which is quite uncommon.
"She did not need cataract surgery after that and her vision cleared dramatically."
Mrs Dancer, who lives in Neath and works for the NHS in Swansea, had the procedure in her right eye, which was the worst affected. She is waiting to find out if she will require it in her left.
She said the deterioration in her vision had been so gradual she wasn't really aware how bad it had become.
"You come to accept it. I used to accept people pointing to different things and I used to say, oh yes, but I couldn't really see them. I couldn't see birds in a tree.
"Luckily my optician had heard about Mr Saldanha and transferred me to him straight away. He has been a godsend to me. He's given me a quality of life. It has made a massive difference to me."
Mr Saldanha said the success rate for EK was more than 90 per cent, compared to around 75 per cent for a traditional transplant.
"It can depend on the amount of inflammation the patient would have in their corneas before the surgery, that can sometimes limit the success of how clearly they can see.
"Some of these patients end up having scars on the front of their eye and sometimes it may not work in those cases. We look at each eye individually and try to tailor it to the eye and the patient's need.
"With any surgical procedure there are limitations. We haven't had a single rejection, but there have been few cases with problems with taking up of the grafts, which can happen with traditional grafts as well.
"However, I've come across patients whose vision has been blurred for three years or so and once they've had this transplant it has brought their vision back almost to normal."