Morriston unit gets elderly people home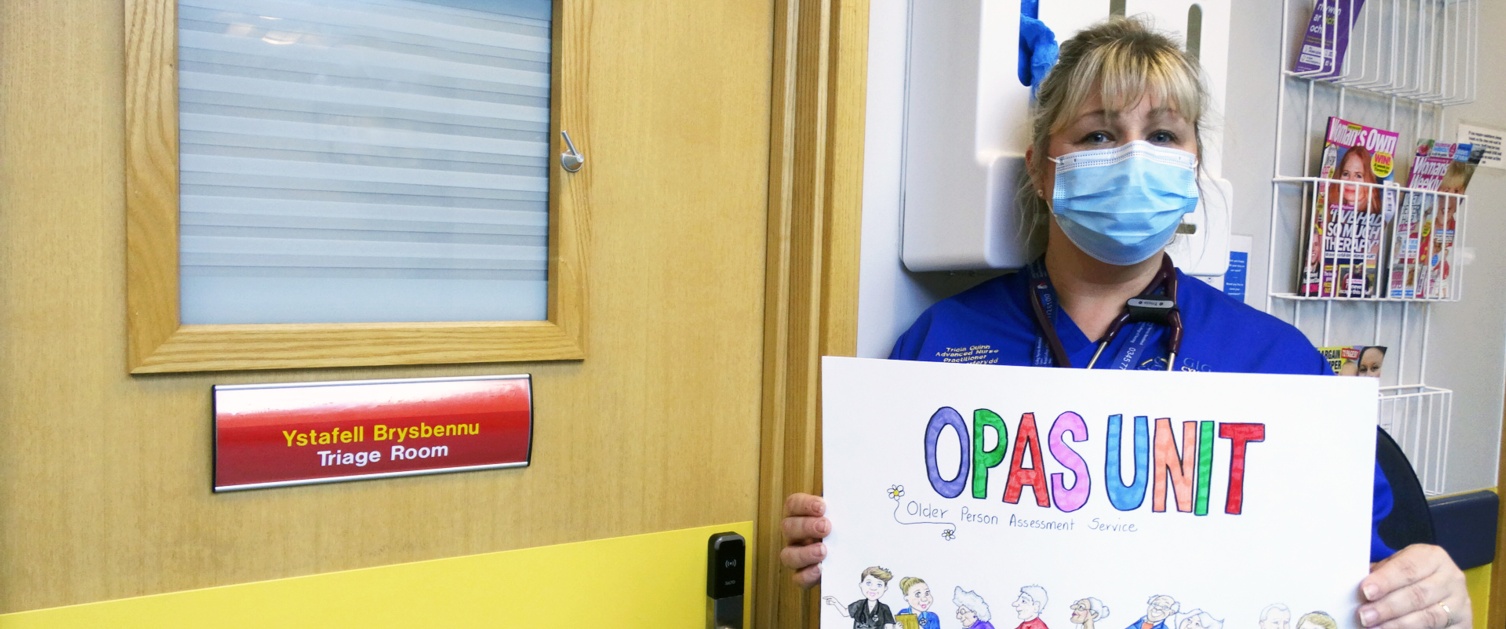 Being brought into Morriston Hospital's Emergency Department after a fall can be a confusing and disorientating experience for elderly people.
So a dedicated "mini-ED" just for them has opened within the main department as part of a new scheme launched last month.
Main photo above: advanced nurse practitioner Tricia Quinn, who also created the sign for the new unit
The unit has been developed by the Older Person's Assessment Service, which aims to get elderly patients back home, not into hospital.
OPAS is a multi-disciplinary service established in April 2018, made up of healthcare professionals specialising in the care of older people. The driving force behind its establishment was lead consultant geriatrician Dr Liz Davies.
Previously the OPAS team saw patients after they had been seen in the main ED, which referred them on when appropriate.
Now the team works as part of ED, seeing patients aged 65 and over who require complex geriatric care.
Morriston Hospital matron Clare Tregidon explained: "ED is not an appropriate environment for these patients.
"Often they are there for too long. It's confusing, disorientating and not the right place for them to be.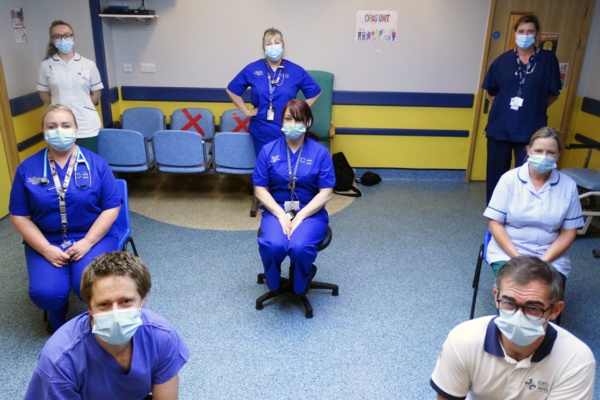 "The new unit is much calmer. The lighting is right. The staff can even play music to help keep the patients relaxed.
"It's not only better for the patients, it is taking some of the pressure off the main ED – it has had a massive impact."
Left – some of the OPAS team in the new unit waiting area. See end of release for full caption.
Led by advanced nurse practitioners Catherine Beynon-Howells and Tricia Quinn, OPAS is a multi-disciplinary service involving healthcare professionals specialising in the care of older people.
Most of them have had falls, though the team also sees some with other conditions, such as loss of mobility or cognition.
Catherine said: "When they come into ED they are triaged at the front door. The triage nurse will identify our category of patient and either Tricia or I accept them under our care.
"They come to the unit and we will do various tests, wait for the results and then they will be seen by a senior clinician.
"We also do a full geriatric assessment, which is really important for these patients."
This assessment looks at their history, their home environment, what support they may need to stay at home, and a medication review.
Tricia said: "They may have been put on medication 20 years ago and that has never been reviewed.
"It may have been appropriate then but is not appropriate now, and may be the cause of what is bringing them into hospital.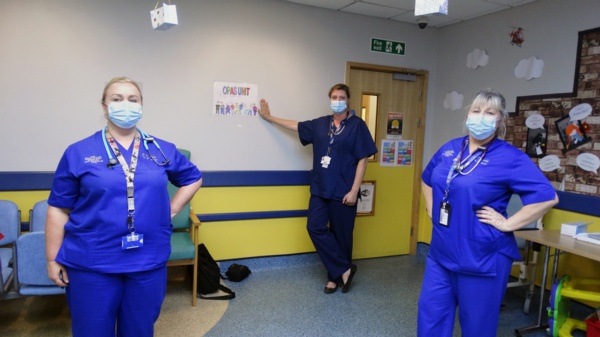 "We can remove that medication, or we can start medication they should be on.
Advanced nurse practitioners Catherine Beynon-Howells and Tricia Quinn with Dr Isabel Wissenbach (centre)
"We'll follow them up in our falls clinic and look at what we can do to keep them home rather than send them to nursing homes – which is where they would end up eventually if they came into hospital."
The unit is open 8am-4pm. Apart from the two advanced nurse practitioners, the OPAS team includes consultant geriatricians, clinical nurse specialists, physiotherapists, occupational therapists and others.
Geriatric medicine associate specialist Dr Isabel Wissenbach said: "By bypassing the main ED and coming directly here, patients are seen quicker and can be sent to the correct place.
"If they do need admission they go to Ward D at Morriston, to Gorseinon or Neath Port Talbot Hospital, or to Bonymaen House.
"But most of them, around 80 per cent, are discharged home, either with their new care or existing care, or with physiotherapy, occupational therapy or social services follow-up.
"We can access the acute clinical teams in Swansea and in Neath Port Talbot.
"So there's a wide service for elderly patients available to keep them out of the wards here, where they don't need to be.
"Also, by doing a thorough assessment, which staff in ED simply do not have time to do, we can hopefully prevent them falling again and having to be re-admitted."
As well as those triaged at the front door, the team also sees patients who have been in ED for treatment, perhaps for a fracture, and are then referred on as they also require specialist geriatric care.
The OPAS unit was initially run as a pilot but was so successful it has continued, though the long-term plans have yet to be finalised.
But there is no doubt in anyone's mind that the service OPAS and the new unit provides is a vital one.
Matron Clare said: "Some patients do need to be here. But when they don't, we get them home.
"It much better for them. They're elderly. We don't want them to decondition in a hospital bed. We want to support them to go back home, which is where they want to be."
Second photo shows (front l-r): Daniel Greenwell, pharmacist, and specialist physiotherapist Chad Collins; (middle l-r) Catherine Beynon-Howells, advanced nurse practitioner, Maria Sykes, clinical nurse specialist, Sian Shreves, occupational therapy technician; (back l-r) occupational therapist Georgia Owens, Tricia Quinn, advanced nurse practitioner, Dr Isabel Wissenbach, consultant geriatrician.