Mission accomplished for military's Vaccination Support Force in Swansea Bay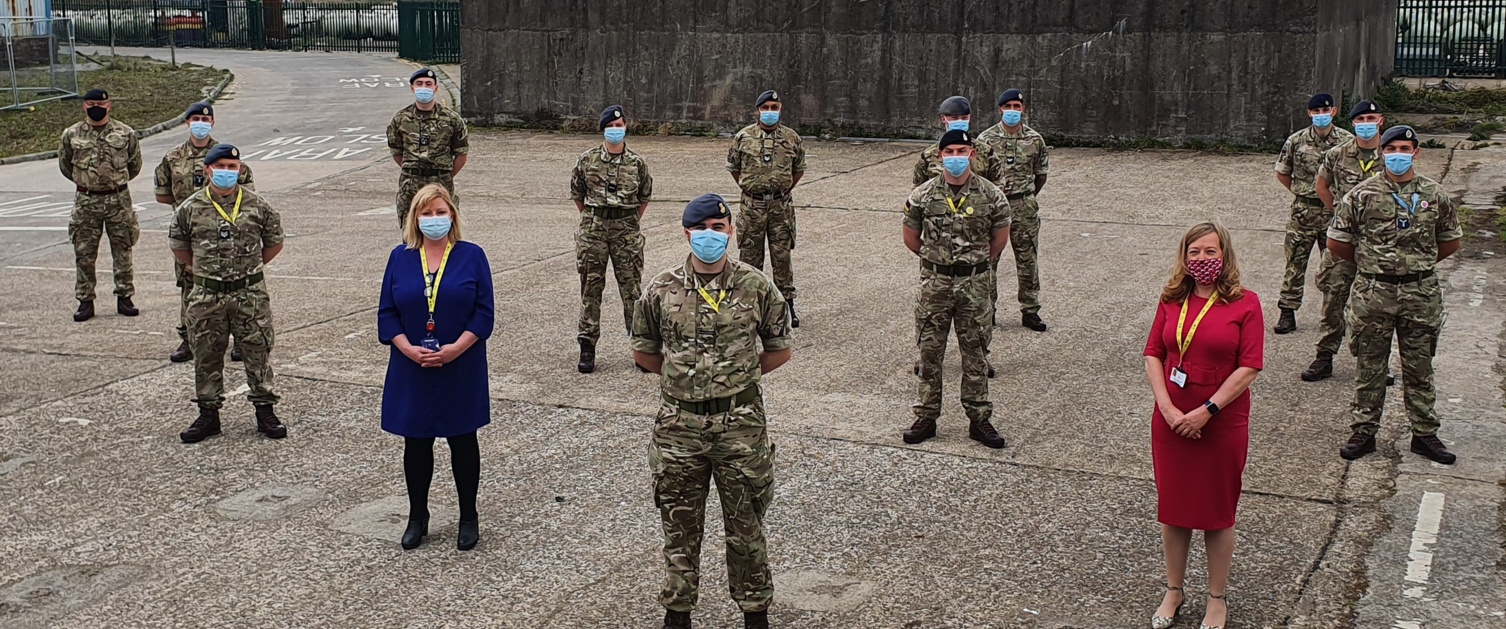 Swansea Bay University Health Board has thanked the military for its invaluable support in establishing the area's vaccination programme.
The Vaccination Support Force (VSF), mostly drawn from the RAF but with Combat Medicine Technicians from the Army, were deployed in January to lend a range of skills and expertise in meeting the extraordinary challenges faced by the NHS in working at pace and scale in delivering vaccination.
With close to 300,000 vaccinations already administered across Swansea Bay's three mass vaccination centres, GP surgeries, hospitals and its mobile immbulance, the time is now right for a tactical withdrawal.
Each and every person has made a significant contribution to the success of the vaccination programme with patients saying how friendly and helpful military personnel have been and how proud they are to see them serve locally.
The military had previously provided invaluable assistance during the pandemic having played its part in establishing Swansea Bay's Covid testing programme last year and working alongside the Health Board in setting up field hospitals as well as many other aspects of our COVID response.
SBUHB Chair, Emma Woollett, and Chief Executive Officer, Mark Hackett, led the thanks at a presentation to the VSF at the Bay Field Hospital on Wednesday, 21 April.
Emma Woollett said: "Visiting our MVCs has been one of the most pleasurable activities I've done as chair as the atmosphere is great and the feedback so positive.
"The organisation and effective delivery, brought by the military, has been outstanding – often in the face of changing supply and guidance that has required rapid and frequent amendments at short notice.
"Their innovation and new ideas have led to continual improvement in vaccine delivery, both within MVCs and outside in projects such as the immbulance.
"Those arriving at the vaccination centres have been supported and reassured, not just about the jab, but around the booking, the travel arrangements, the flow through the MVC and the pride in being supported locally by our armed forces.
"Each and every person has made a significant contribution to this success. And we are hugely grateful for their support. They have completely integrated into the service by being flexible, adaptable and innovative, and we have really enjoyed working with them."
Adding his thanks to the military Mark Hackett said: "I commend their professionalism, skills and energy in putting the vaccination programme together.
"They leave in a much better place than we would have been without their help. In future years I hope they look back on their time with us and recognise the contribution they made towards keeping our society safe and reducing the harm that this dreadful pandemic has caused people."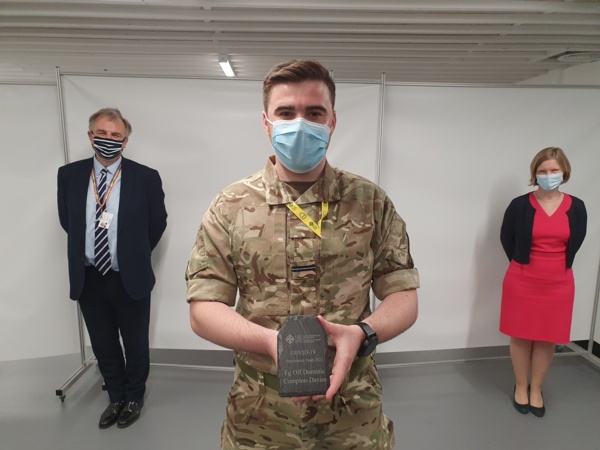 Above (left to right): SBUHB CEO Mark Hackett, Flying Officer Compton Davies and SBUHB Chair Emma Woollett
Military personnel undertook many roles, including general duties such as car park and traffic flow, meet and greet, flow within the sites, administration and receptionist's duties, and call handler duties, as well as clinical leadership roles at Margam and immunising, which has been invaluable
Dorothy Edwards, Programme Director for the Vaccination Programme at Swansea Bay University Health Board, said: "We faced a huge task and the military helped us to set up our systems to work very efficiently. They have been immensely committed and dedicated, and our vaccination teams have really enjoyed working alongside them.
"I would like to thank each and every one of them for their time over the past four months and to the contribution they have made.
"We are up and running, and our systems are really flowing nicely now, and we recognise that they have a job to do and wish them well they return to their roles."
Flying Officer Compton Davies, who was instrumental in designing the extension of Bay MVC, said: "The guys wanted to come and hit the ground running, and they did really well fulfilling tasks from car park duties, at the start, then on to reception, flow and admin input, to administrating the vaccine and supervising the vaccinators."
On the decision to redeploy he said: "I firmly believe, as agreed by the Health Board, that Swansea Bay is now self-sufficient and the NHS can carry on this operation by themselves.
"We have thoroughly enjoyed out time here, everyone has looked after us tremendously, and we have been really lucky to have been with Swansea Bay University Health Board. They have looked after us from the start to the very end and it has been a very productive and positive work environment. It has been fantastic."