Medical students' rap video goes International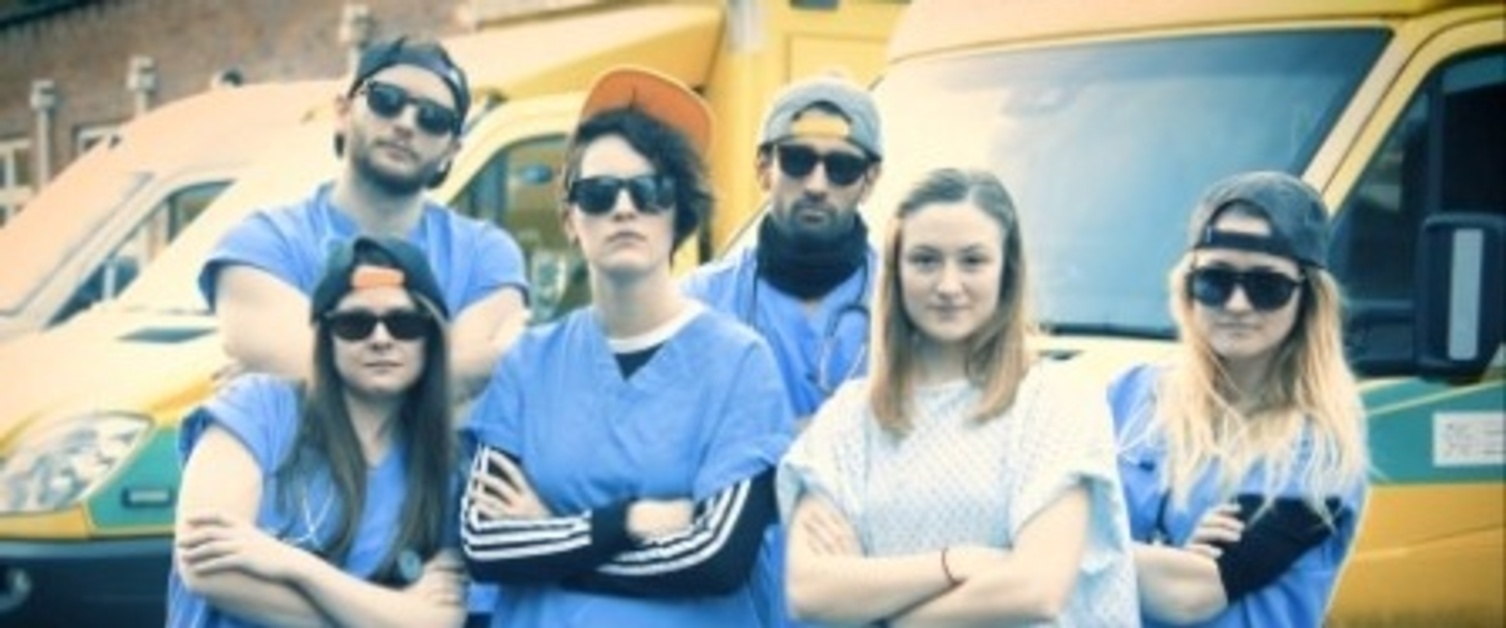 Thursday, 14 February 2019
It may sound more Eminem than A&E but two medical students have produced a rap song video aimed at junior doctors - highlighting what to do when patients have an epileptic fit - and are set to take it to Los Angeles.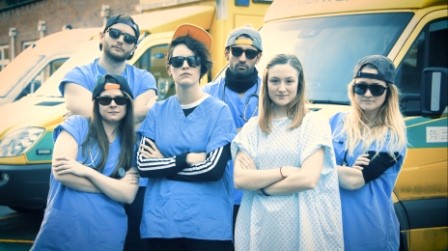 The pair, Cara Thomas, aged 28, and Rachel Deller, 30, both fourth year medical students at Swansea University, came up with the unique teaching tool after being set a challenge by ABMU consultant paediatrician and lead for child health speciality attachment, Dr Pramodh Vallabhaneni.
Cara Thomas aka Lil C (third left) with her fellow medical students
During their child health speciality attachment, students get an opportunity to present a key learning of a topic in five minutes, as a part of a peer-led student tutorial, and Cara Thomas decided to present her topic, Status Epilepticus, through a rap song.
Encouraged by the reaction to the rap – which includes lyrics such as 'Do what you do in any emergency, Secure the airway and give them oxygen therapy' - a video has been produced, with the help of Steve Atherton and the ABMU's Medical Illustration team at Morriston Hospital, to be used for a developing professional practice project by Cara and her colleague Rachel.
Cara and Rachel are now heading across the Atlantic to attend the University of Southern California's Innovations in Medical Education Conference, which takes place in Los Angeles on February 22 and 23.
In what is a real feather in the cap for child health speciality attachment this will be the third student-led project to be selected for this conference within the last two years.
Dr Pramodh Vallabhaneni said: "When Cara presented her rap song we knew this has to be made into a video and when we got in touch with Steve Atherton the idea came to fruition and the video was made in a single afternoon.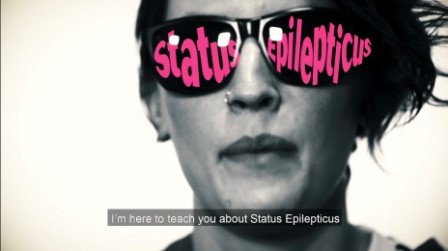 "All credit to Cara and her team for using creative methods in teaching. This style of teaching can be used very effectively for certain areas in medicine and we recognise it is not widely applicable. It is brilliant that they get to showcase their work at a prestigious international conference and as a department we are very proud of their achievement."
Cara, who uses the rap name Lil C in the video, said: "We had a group teaching session where we were each given a paediatric topic. Mine was on Status Epilepticus, and I thought it would be a bit more fun to teach people using a rap instead of just using a PowerPoint presentation. I wrote the lyrics and then added a backing track.
"To be honest, I just did it as a bit of a joke to begin with; a bit of fun on a Friday afternoon but everyone really enjoyed it.
"Thankfully I didn't have to stand up and perform it in front of the class, I put it on a backing track, using a rap track app, and played it on a speaker. Our tutor, Dr Pramodh Vallabhaneni, said, 'Actually, that's a really good idea.'"
Cara, who plays guitar and writes her own songs, realised that putting information into lyric form could be a valuable study aid.
She said: "We obviously have a large volume of medical information to learn and sometimes you're stuck with, 'How do I remember the emergency things that I need to be able to remember on the spot?' There are other things that you can always look up but we were trying to find a way of helping students remember."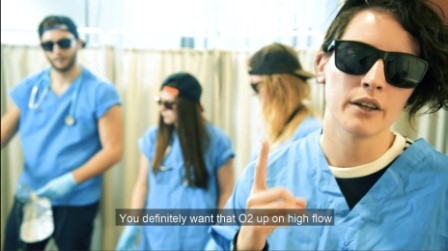 Encouraged by the reaction to her rap, Cara decided to develop the idea, with the help of her friend and colleague, Rachel, for another assignment.
Cara explained: "I originally wrote the lyrics for the rap for the group presentation but then we had another project known as Developing Professional Practice, which we have to develop over the course of a year, and Rachel and I had the idea of developing the rap and making a music video. We then had to try and test whether it proved to be a better teaching tool than more traditional methods."
Rachel said: "A lot of medical students are already using YouTube videos these days. There are some great educational ones out there so we thought, 'Why not combine the two?'
"When it came to making the video we realised, 'We actually have to do this!' We started off with writing a script but knew we had to make it fun as well as factual, so people would be more likely to remember it.
"We had to rake in a lot of our friends in order to make the video – everyone you see in it are in their final year of the course. We paid them in cookies!"
The pair also wanted to thank Dr Pramodh Vallabhaneni.
Rachel said: "He's been really helpful and got ABMU's Medical Illustration team involved and they did a really good job."
So far the video has received widespread praise from their peers and tutors alike.
Rachel said: "Everyone we have played the video to has absolutely loved it, and has wanted to watch it again and again. So it's had the kind of response that we wanted.
"Initially people found it difficult to remember from watching it once but on playing it several times, it has stuck in their heads and they have remembered the information."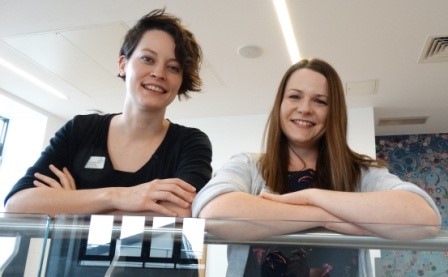 Cara Thomas (left) and Rachel Deller
As well as being a lot of fun there was an academic side to the project which Cara explained: "Our project compared the results of a standard presentation to that of our rap video and it found that the music video does just as well as a standard presentation."
That research has led to the invitation to address the Medical Education Conference in Los Angeles.
Cara said: "We submitted our findings to the conference in LA and were invited to attend in person. Luckily, we have had some funding from Royal College of General Practitioners' South West Wales Faculty, otherwise we may not have been able to make the trip."
The pair will present the video via a laptop so, hopefully, avoiding any live performance.
Cara said: "We will get to put the video on a laptop so that everyone can watch it – thankfully we won't have to perform it live! At least I hope not."
While Rachel added: "I don't think we will be tempted to perform on some LA street corner despite it being the home of rap music!"
As far as any follow ups go it's a case of watch this space as Cara explained: "Both of us are interested in doing medical education alongside being a GP in the future so it would be good to have a few more videos at some point. Who knows, at some stage we could release an album of medical raps!"