Lucy's love for her job recognised by UK cancer charity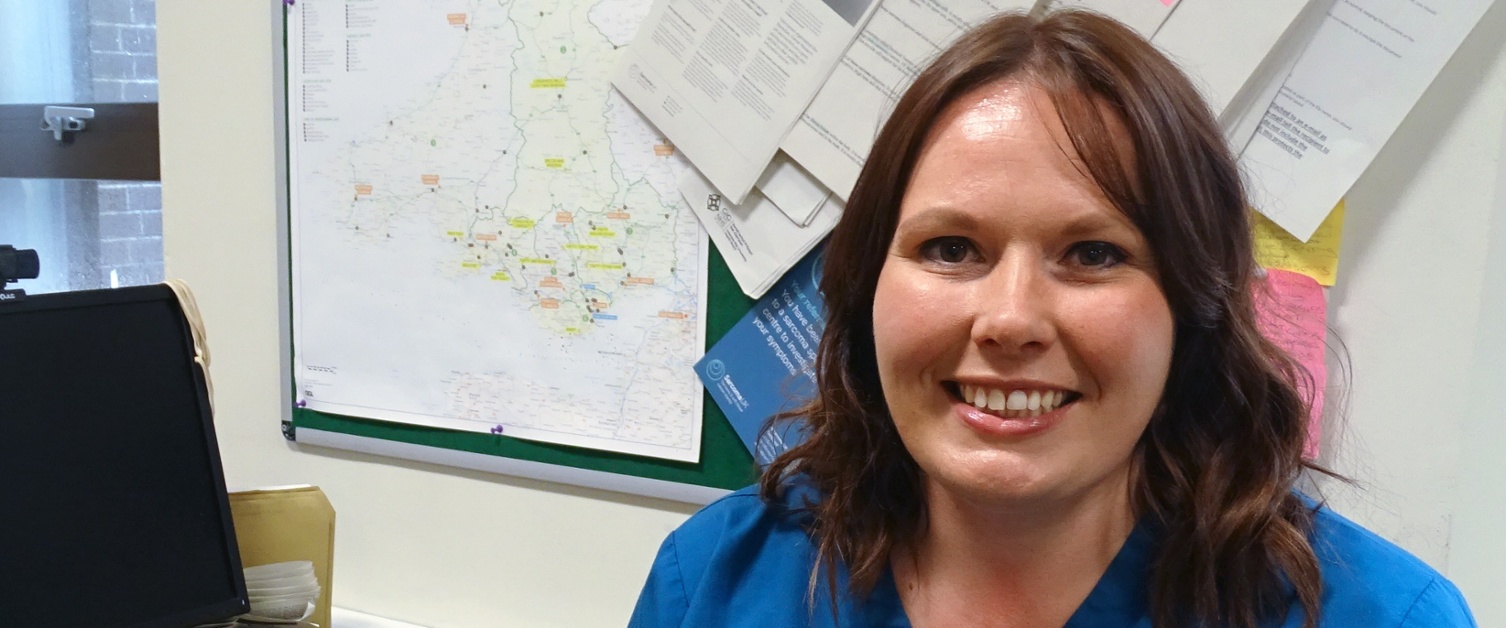 Supporting people with cancer inevitably takes an emotional toll – but Lucy Whiddett would not have it any other way.
Lucy is passionate about her role within Swansea Bay's regional sarcoma team based at Morriston Hospital, which she started in August 2019.
She has formed close relationships with her patients as she sets about making an unimaginably trying time just that little bit easier for them.
And her passion and love for the job have not gone unnoticed. Just three years after starting as Macmillan sarcoma support worker, Lucy has received a very special award from a major UK charity.
After graduating from university with a degree in psychology and counselling, Lucy began working in elderly care before joining the Swansea Bay sarcoma service as its first support worker.
"I wanted something new – a new challenge," she said. "This post came up and sounded amazing.
"I didn't want to come away from caring for and supporting people. This was a new role and it just ticked all the boxes for me. I decided to go for it, and I was really lucky to get it.
"We're a regional service. A lot of communication between us and the patients, other than when they come in for appointments, is over the phone. All patients referred to the sarcoma service are given my telephone number.
"If they have any problems or any issues, or just want to talk, whatever it is they need, they ring me.
"If I can help, I will, or it may be that I will take it up with the consultants or nurses, or signpost them to another service."
Sarcoma is an uncommon cancer of the connective tissue of the body such as fat, muscle, nerves, blood vessels and bone. There are many different kinds, which can affect any part of the body.
Historically, because it is relatively rare and can be challenging to diagnose and treat, patients across the UK have reported poor experience with variations in treatment, poor information and inadequate support.
In South and Mid Wales, people with confirmed or suspected soft tissue sarcoma are supported by the multidisciplinary team (MDT) of the South Wales Sarcoma Service, hosted by Swansea Bay.
The MDT is made up of healthcare staff who specialise in soft tissue sarcoma. These include clinical staff such as surgeons, oncologists, radiologists, pathologists, specialist Macmillan nurses, physiotherapists, as well as the MDT coordinator.
Over the past four years, the team has undergone significant change and improvement to provide a more equitable service.
The creation of the sarcoma support worker role was to help meet the service's aspirations of improved access to the expert team, good quality information and increased support across the region.
Lucy liaises with the MDT. She attends clinics, runs a weekly telephone clinic for people newly-referred with suspected sarcomas, and a weekly holistic needs assessment clinic to see if anything else can be done to support individual patients.
Recently she developed a digital noticeboard featuring reliable information which can be easily accessed by patients, relatives and carers.
"Sarcoma is rare, so good information is hard to find amongst everything when you start Googling it," Lucy added.
"So we provide good information for patients so they have it all easily available.
"The digital noticeboard is a platform where we put information relating to diagnosis, investigations, treatment and support.
"There's a bit about the team, about how the multidisciplinary team works, telephone numbers and links to supportive services such as the Sarcoma UK charity and Macmillan.
"They get the information in paper form when they are first diagnosed but having it available digitally makes it easy for them – as well as family and friends, anyone affected by sarcoma – to access."
Lucy's background in psychology and counselling, as well as her previous caring roles, have helped her support her patients.
"It's important to have good communication and the skill of listening so that you can fully understand what the patient is saying," she explained.
"It does take a toll on you, emotionally, but I have learnt to cope much better with having these conversations as I've got older and more experienced.
"It is upsetting, when the patients are upset and anxious. I know they are going through a really difficult time and I focus on what I can do to help, or what we can do to help as a service.
"I put them at the forefront. They are the focus while we are having those conversations."
Lucy's contact with the patients starts from the moment they are referred to the service, before any sarcoma diagnosis.
From the new referral clinic, she maintains contact through the diagnostic stage and beyond it, if sarcoma is confirmed.
"Once they have been diagnosed, when they are attending clinic and doing the holistic needs assessment, that is a real opportunity for them to open up about other concerns they might have.
"I get to know the patients really well, which I hope helps.
"They know who is at the end of the phone and if they have any questions or concerns, no matter how small or silly they think they are, they know they can ring and it's absolutely fine.
"We're here and we've got the time to spend with them, just to make anything easier for them because they are going through such a hard time."
Lucy's colleagues encouraged her to apply for Sarcoma UK's Tricia Moate Award, named in honour of a nurse and tireless patient advocate who herself had sarcoma and died in 2018.
To her delight and surprise, Lucy won. The award includes sponsorship to attend another UK sarcoma centre. Lucy has chosen to visit The Christie NHS Foundation Trust in Greater Manchester.
"We cover South Wales but patients from North Wales go to Christie. I thought it would be a great place to go, and to build relationships between us and their service," she said.
"It will be a great opportunity to share best practice. If they have great ideas, I can bring them back, or pass on to them the things that have been successful here.
"I'm awaiting details of the visit but I'm really excited. I'm over the moon. It's an amazing opportunity and it feels a bit surreal."
Sarcoma UK described Lucy's application as outstanding, showing her real passion for the care of sarcoma patients.
"I love my job," she said. "I love what I do. I love coming into work every day. I work with such a great team. What more can you ask for?
"It was amazing to win the award but you really don't expect to get anything like this."