Lifestyle changes can prevent Type 2 Diabetes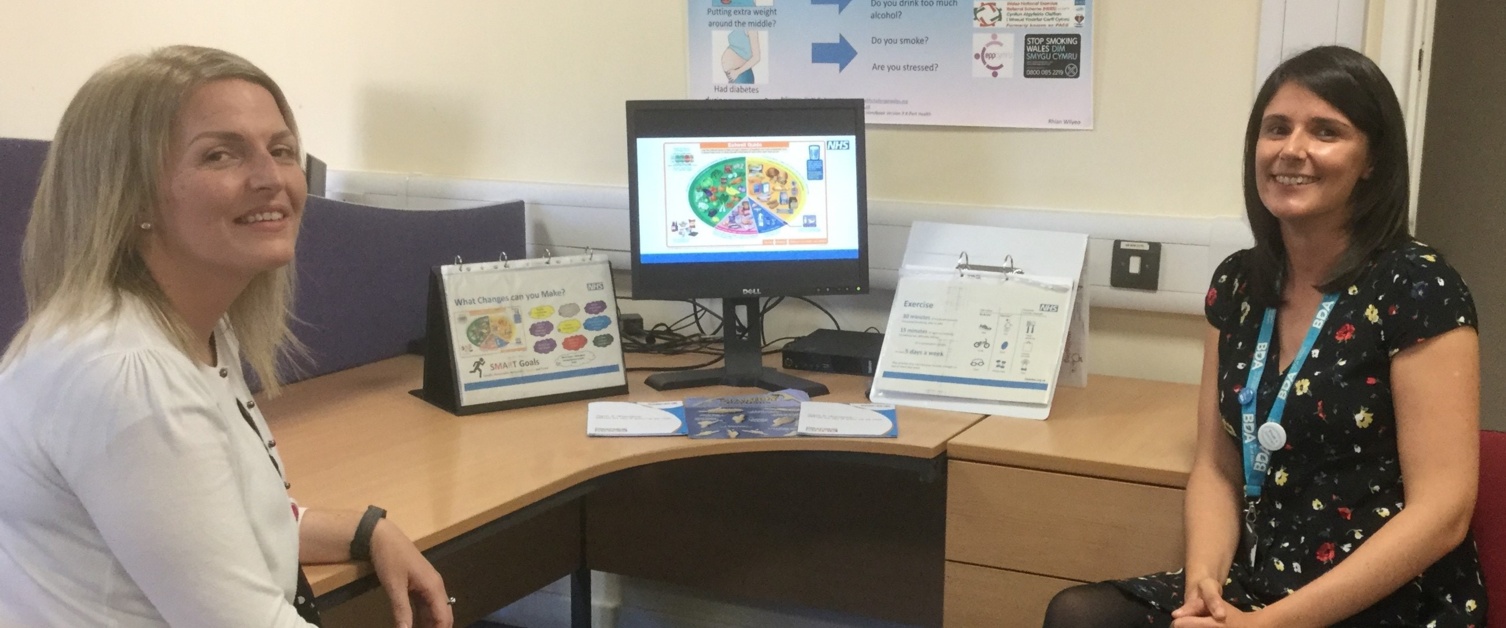 A project led by a Swansea Bay UHB Dietitian, which has dramatically helped prevent the onset of Type 2 diabetes, has won a national award.
Rachel Long (pictured above right with colleague Claire Tossell) supervised a pilot, in Swansea Bay UHB on behalf of the All Wales Diabetes Implementation Group, to measure the effectiveness of a pathway for people with prediabetes.
The All Wales Pathway was based on innovative work undertaken by Dr Mark Goodwin in the Afan Valley Cluster.
The work, which was carried out with support from Cardiff and Vale UHB and Swansea University, has now been recognised by the Quality in Care (QiC) Diabetes Awards with judges declaring it the winner of the Prevention, Remission and Early Diagnosis category.
This category recognises the impact of preventative initiatives to help people live healthier lives and reduce the risk of developing diabetes.
The pilot, which structured lifestyle intervention delivered by health care support workers, in 4 clusters in SBUHB, aimed to show that the pathway model was reproducible and could be effectively scaled out across Wales.
The team is currently enhancing the model so that it can be delivered using a digital format to overcome the challenges of the COVID 19 pandemic.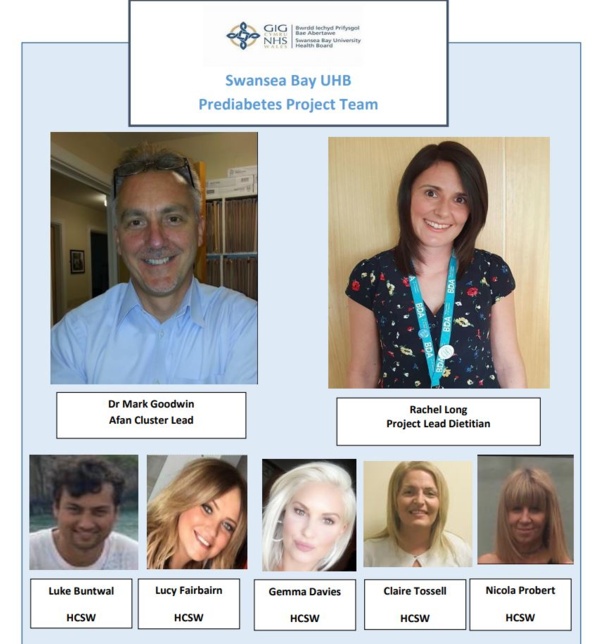 Dr Goodwin said: "It is a well-known fact that many patients who become diabetic don't become so overnight but migrate from a normal sugar level to a mildly raised level and finally to diabetes levels of blood sugar over many years. This borderline state, that can last years, is referred to being pre-diabetic or medically described as having non diabetic hyperglycaemia.
"The fact it can take quite a long time to become diabetic gives us the chance to prevent this from happening. Prediabetes is easily detected on a simple blood test, and is more likely if you are over the age of 50, overweight, suffering from high blood pressure or have a family history of diabetes.
"It is surprising how effective just moderate and sensible changes to what we eat, levels of exercise and better understanding of our own health, can do to avoid ever progressing to diabetes.
"The Swansea Bay scheme that has won this award was influenced by and has mirrored much of an ongoing scheme delivered in Port Talbot since 2016. A review of over 1,200 patients showed clearly that 78% of people who engaged saw an improvement in their blood sugars with over 50% returning to completely normal levels.
"No pills, just changes to lifestyle! Each patient saw a trained and qualified member of the practice, usually a healthcare support worker, who advised them how through a personalised plan of action, making the changes needed to diet and exercise and by motivating and empowering patients to go away and put it into place long term.
"It seems patients took this to heart, attendance rates were very high at over 75% and many reported feeling much healthier when reviewed annually.
"In Port Talbot we have not seen a rise in the prevalence of diabetes for the last 3 years, which is against the rising national trend. The ultimate aim is to slow and avoid people becoming diabetic."
Rachel Long said "Patients were offered a 30 minute consultation at their surgery, undertaken by a health care support worker, who had undergone specialist training. Over 80% of the patients who were reviewed said that one or more aspects of their lifestyle had changed since attending the lifestyle intervention, and we received a number of really positive comments.
"It just shows the significant impact a brief quality assured lifestyle intervention can have on our patients' lives. We hope that based on the interventions used in this project, a standardised prevention programme can be implemented throughout all Health Boards across Wales."
A spokesman for the judging panel said: "This entry was a clear winner, demonstrating a targeted approach to identify the patients who needed required it the most. What made this entry stand out was its innovation and impressive cost-efficiency as well as its potential scalability.
"Not only did this programme deliver impressive outcomes for patients, but also empowered the healthcare assistants involved as well. A very compelling programme."