Kind gesture 'sheds' some light on men's wellbeing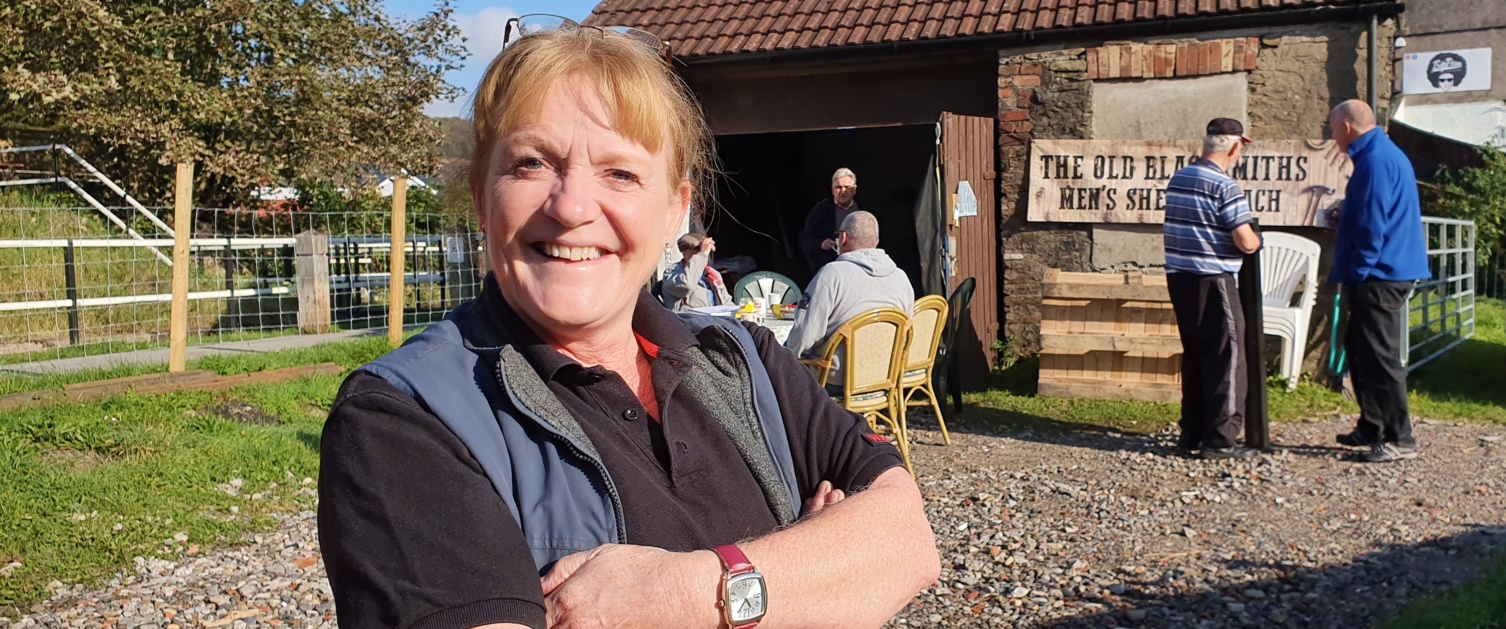 Above: Belinda Gardiner outside The Old Blacksmiths Men's Shed Clydach
Meet the woman making a real difference in a men's shed world.
When Belinda Gardiner saw a derelict blacksmith's forge in the Swansea Valley, she thought that it would make an ideal home for a local branch of the growing Men's Shed movement and so she bought it.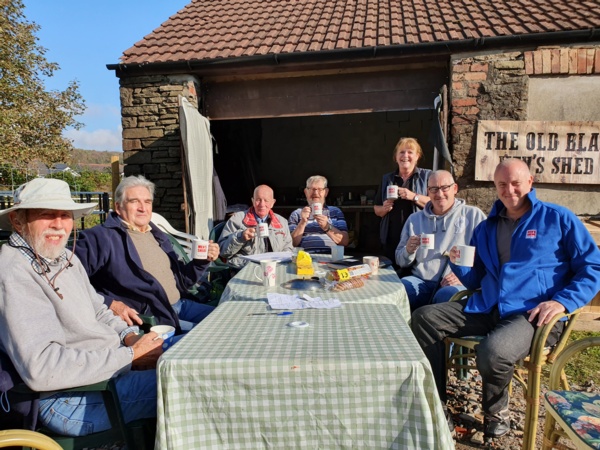 (Right: Shed members enjoy some autumn sunshine) Men's Sheds are places for the community to enjoy craftwork and social interaction, whilst helping to improve the health and wellbeing of its members.
Situated between the Mond corner and the canal lock in Clydach, the group has been meeting on Wednesday mornings since June and is going from strength to strength with growing support from the community.
Mrs Gardiner said: "It's taken off and it's been absolutely fantastic.
"It all started with my daughter, who was living in Australia. She was telling me about the Men's Sheds they have out there.
"Then I saw this building up for sale and I thought that it would be great for a community project, possibly a Men's Shed. I bought it, and the rest is history, as they say.
"The Shed is for people in the community, a place where they can come and socialise.
"They can bring any project they want here, whatever they like to do. Some people just come to sit, chat and enjoy the company."
To date the project has been almost totally self-funded.
"We are in the process of applying for funding and, so far, we have had £300 from the Clydach Community Council Fund. We also pay £1 for tea and coffee."
Despite the name, the Shed also opens its doors to women.
Belinda said: "We have started opening on Fridays, although that's still early days. Some ladies come along and one or two men.
"It's up to the Shedders if they want strictly male, female or mixed days. At the moment we are just going along enjoying each other's company."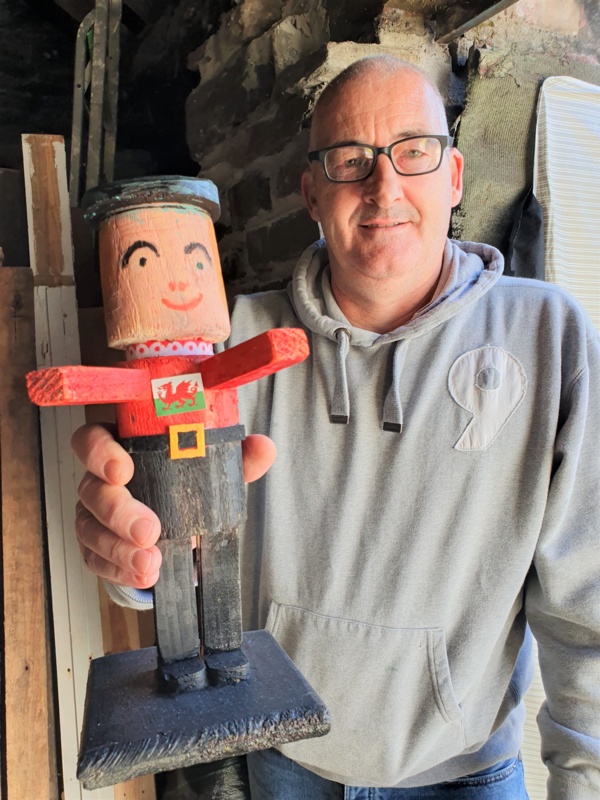 One regular, Steve Scutt (pictured left holding a wooden figure made by one of the Shed's members), said: "I think what Belinda has done, off her own bat, buying the property and doing it up for people in our community, is superb, absolutely brilliant. If you are in a similar position, pick up the phone and go for it, it's helped me.
"I was a builder but had health issues and unfortunately I collapsed, and couldn't work again. I found myself stuck indoors. I was in the house, just not going out.
"The men's shed has just changed everything. It really has made me feel better in myself. It gives me confidence and the chance to meet people.
"It's really great, a good community, the people are so nice. We do woodwork and drink tea, just little projects."
The oldest member of the Shed, 82-year-old widower Brian Jones, said: "I've been coming along since the beginning. It's fabulous.
"I do the register, as I can't do much, and tell them off if they misbehave.
"I've met a lot of friends. I really look forward to it and I'm always ready before they call for me."
Peter Jones, a Wellbeing Advocate for Men's Sheds Cymru, said: "A lot of the men who come into the Sheds were previously socially isolated and needed some sort or contact with other men.
"Over the last 12 months the number of Sheds in the South Wales area has grown from 25 to 40.
"It's doing incredibly well and this one in Clydach is a shining example of what can be done incredibly quickly. It's only been running since June and its membership is growing by the week."
The Shed is even being recommended by the Cwmtawe Cluster – a group of GP surgeries in the Lower Swansea Valley.
It lead, Dr Iestyn Davies, said: "Sadly, in this day and age, social isolation is a growing problem and can lead to problems such as a loss of self-esteem and depression.
"The Men's Shed movement is a fantastic way of helping to address this and offers a real outlet for people to come together and provide the friendship and support which we all need.
"As such, we are delighted, in the Cwmtawe Cluster, to help promote Belinda and her Shed."
To contact Belinda call 07395 138201