Jig-So's success with Swansea families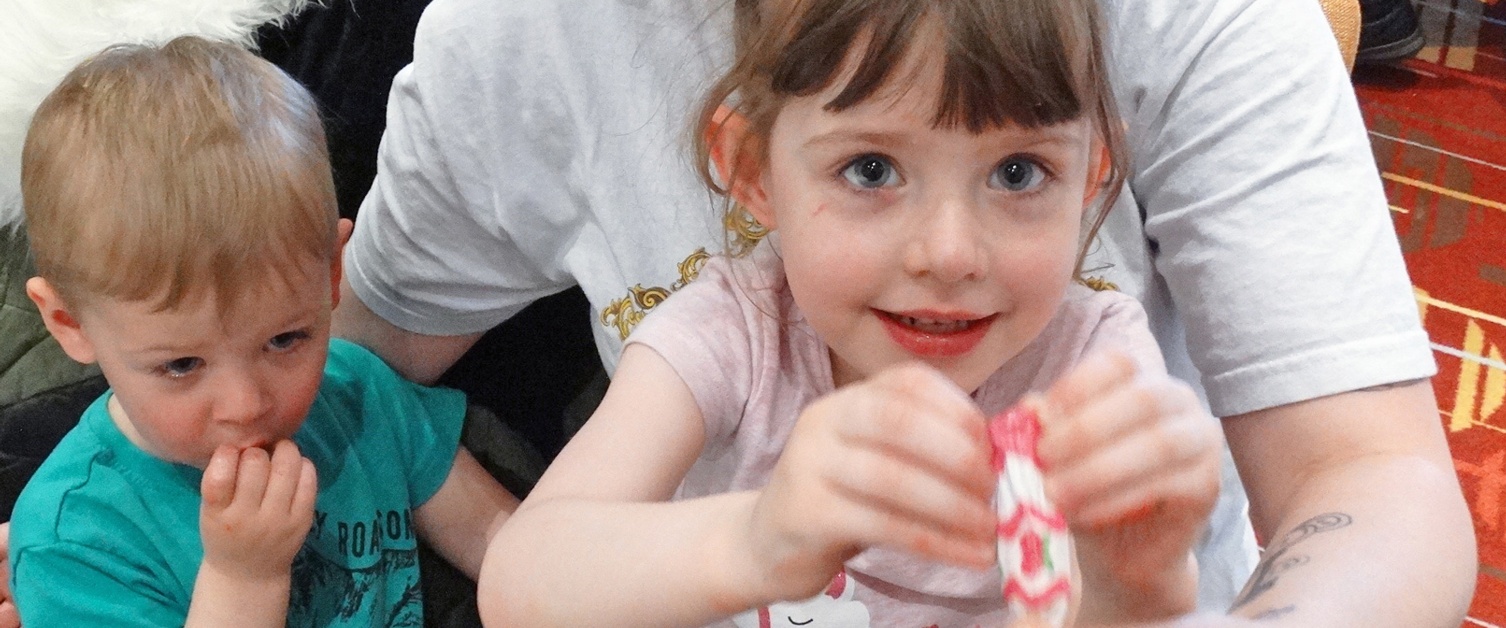 A dedicated team has been praised for transforming the lives of hundreds of young Swansea families over the last three years.
Jig-So is an early intervention project comprising midwives, family facilitators, nursery nurses and early language development workers.
They support young or vulnerable expectant parents aged 16-24 from 17 weeks of pregnancy and throughout the child's infant years.
Now researchers at Swansea University have found that Jig-So plays a vital role in enabling families to build better futures for themselves.
Ashley and Danielle Rix, who have three children, became involved with Jig-So because they wanted to improve their parenting skills.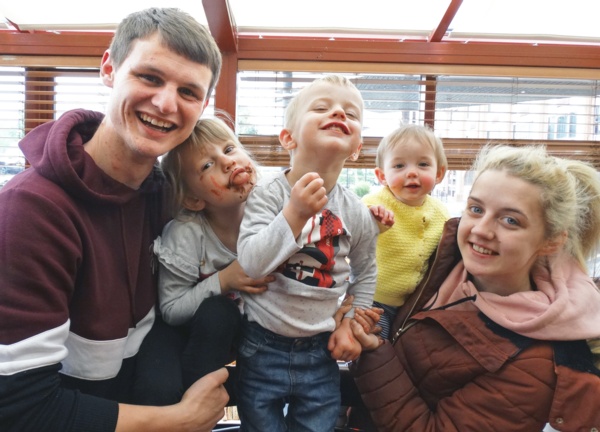 Not only have they found it has made a massive difference, but it has helped Ashley into work.
"We didn't really want to go at first because we thought people would be judgemental," said Ashley.
"But until you go you don't realise what it's like. It's actually just about improving yourself and improving the way you parent.
"No one is a perfect parent at the end of the day, but there are steps you can take to be a better parent."
Ashley became increasingly interested in the team's work. That led to him volunteering and then successfully applying for a two-year childcare apprenticeship with Swansea Council.
Right: Ashley and Danielle Rix with children Skyla-Mae, Harvey-Jae and Delilah-Fae
"We have a house, we have a car, we're married, we're happy. It got me into employment as well.
"When we started with Jig-So we had so much less than we have now. It has made a massive difference."
Jig-So, a collaborative project between Swansea Bay University Health Board and Swansea Council, is part of the Welsh Government's Flying Start and Families First programmes.
It was launched in May 2016 as the successor to Teen Start, which was mainly for pregnant teenagers and only available in parts of Swansea.
As part of the service's ongoing evaluation, a year-long study by a Swansea University team was commissioned, funded by the Wales School for Social Care Research.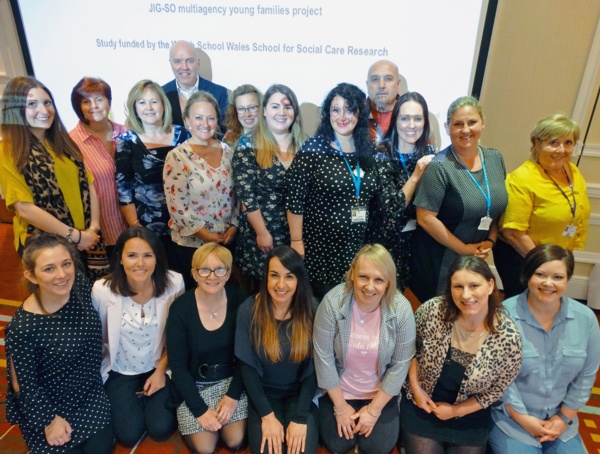 The researchers found the close collaborative working led to a high level of communication to meet the sometimes complex needs of service users – creating a team or "family" around the young parents.
This led to better outcomes. For example, many of those referred by the local authority no longer needed social services involvement or were removed from the 'at risk' register.
The Jig-So team at the Swansea event
After engaging with the team, these young parents were also more likely to remain with their children.
There were also health improvements: high levels of smoking cessation, alcohol abstention, longer breastfeeding duration and better diets.
Young parents formed positive relationships with the team, finding them to be supportive, friendly, empathetic, reliable and non-judgemental.
Programmes of support included healthcare information and support through one-on-one work, family group classes and forums.
Staff also took the young parents to food banks, provided advice on employment, education, housing or universal credit issues, leaving them feeling more supported and better prepared to be a parent.
Safe space was also provided to discuss healthy relationships between parents and challenging topics such as abusive behaviour, stressful situations, arguments and disagreements, and exercises specifically for young fathers to challenge gender stereotypes and negative behaviour.
The report described Jig-So staff as a particularly committed group of people who had formed a responsive and flexible team.
It concludes: "Their working environment, their can-do attitude and their ability to work under pressure to provide non-judgemental care and support to very vulnerable young people, while maintaining and developing their own professional skills, is impressive."
The findings were presented at an event in Swansea's Marriott Hotel, attended by representatives of the partner agencies, Jig-So staff, and dozens of young parents and their families.
Some of them also featured in videos highlighting the difference the team has made to their lives, which were screened on the day.
Young mum Caitlin Fish was referred to the service by her health visitor to provide mental health support during her second pregnancy.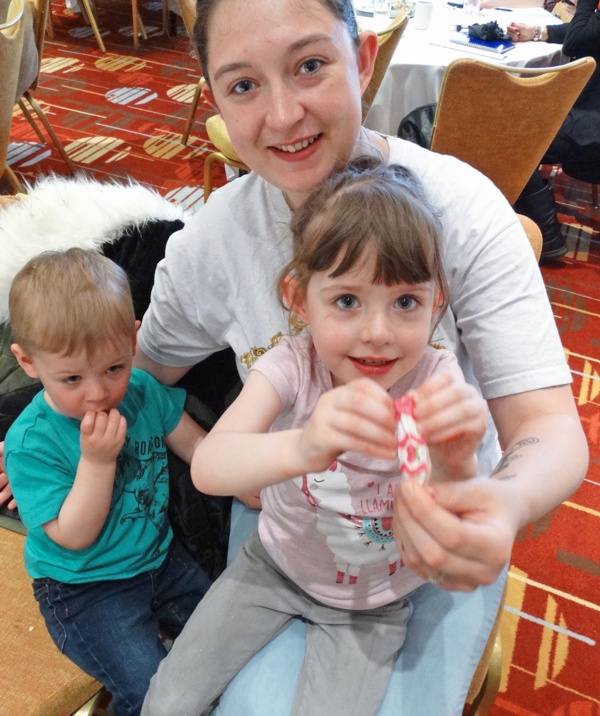 Caitlin, who had postnatal depression following the birth of her first child, said: "I'm like a completely different person. I can do more things than I could a year ago because I believed I could.
"That has put me in a place where I can encourage my children to do more. They are quite outgoing and bubbly, even more so because I have become more bubbly and outgoing myself.
"I would definitely recommend this service. It should be available to everyone."
Caitlin Fish with her children Isabella and Oliver
Swansea Bay's Wendy Sunderland-Evans, Jig-So lead midwife, said the team was delighted the report had endorsed its work.
"What is important is that the young parents were part of the research development group. They helped design the research so it was truly collaborative.
"The feedback from the families is so powerful.
"When you hear young women describing how Jig-So has raised their confidence, made them feel like a better person and given them respect for themselves, those are the things that you can't measure but which are so, so important."
Elliot King, Cabinet Member for Children's Services Early Years at Swansea Council, said: "The real successes of Jig-So are in the opportunities for young families, their children and their wider family groups to grow up together, healthier, happier and more optimistic.
"By making early interventions – sometimes before baby has been born – we're able to support young families for the exciting and daunting times ahead.
"This preventative approach is good for baby, good for parents and good for our communities because the opportunities available offer them the chance to make the most of their potential in the years ahead."