Jiffy leads cyclists in 50 mile fundraising ride for cancer charities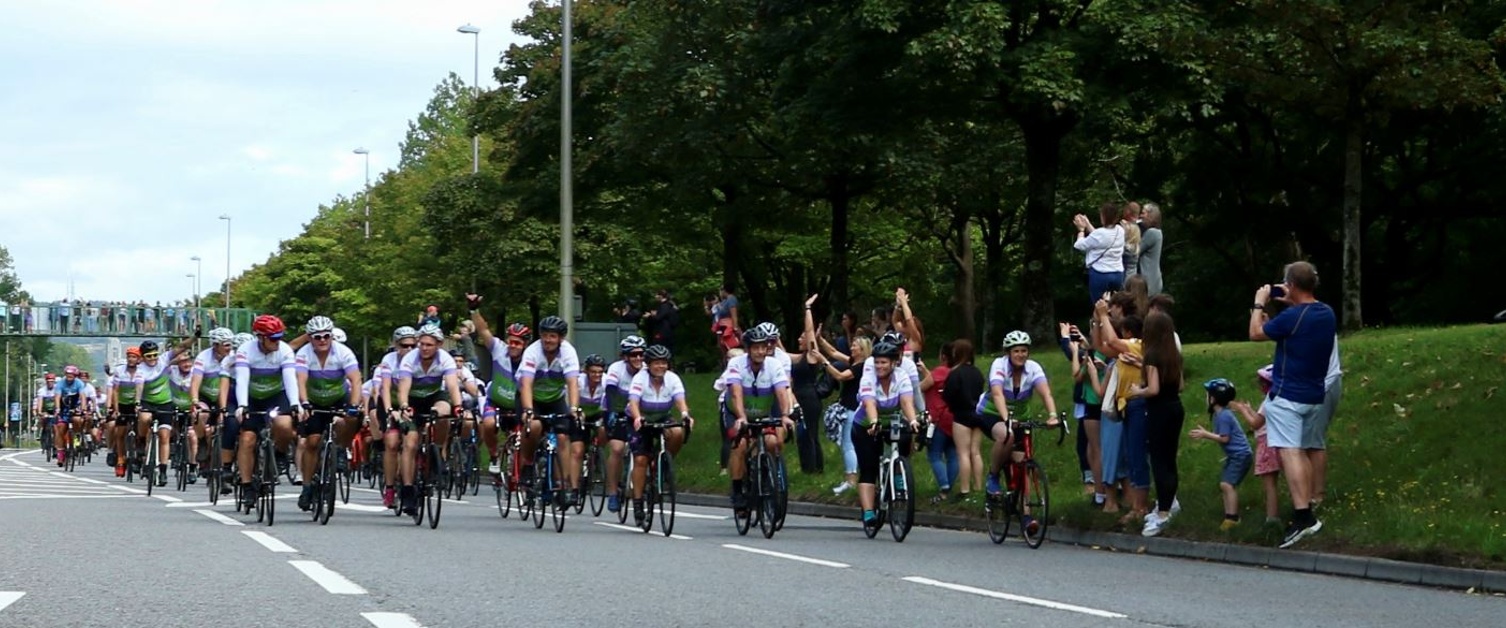 They've done it – again! Hundreds of cyclists led by rugby legend Jonathan Davies completed a challenging road ride to raise funds for cancer services in Swansea and Cardiff.
After a soggy night the weather was on their side as they completed the 50-mile journey from Velindre Hospital to Singleton Hospital.
A delighted Jonathan said: "It was a great event and I'm glad everyone got behind it.
"For the average sports person it's not a huge distance to complete if you do some training. I got drenched when I was dropped off at 5.30am in the morning, but I dried off and the weather afterwards was pretty good.
"There are a lot of charities out there and they are all fighting for funds, so I want to thank everybody involved; those taking part, the sponsors, those who have donated, the people working for the charities, everyone. Their efforts are hugely appreciated".
As President of Velindre Fundraising, Jonathan – known as Jiffy – has supported patients and their families at Velindre Cancer Centre since 2008.
Last year he decided to extend this, launching the first Jiffy's Cancer 50 Challenge for both Velindre and the South West Wales Cancer Centre.
It was a huge success, raising £118,000 in sponsorship which was shared equally between the two charity funds.
Last year's ride was open to 500 riders, while this time the number taking part was slightly less.
The exact total raised in sponsorship will not be known until later, but currently stands at almost £50,000, which will again be divided between the two charitable funds.
At Singleton, home of the South West Wales Cancer Centre, the 2021 donation went to the newly-established Radiotherapy Research Fellow Fund.
This funds to trainee oncologists undertaking research, allowing the centre to provide radical new treatments for cancer patients.
Joanne Abbot-Davies assistant director of insight, engagement and fundraising for Swansea Bay University Health Board, said: "The event was a great day for all involved and we're well on the way to achieving the £50,000 fundraising target for the South West Wales Cancer Centre and Velindre Cancer Centre.
"For the South West Cancer Centre at Singleton this will mean we can continue the research started with the money raised last year, into how cancer treatments can be adapted so that our patients get less side effects and recover more quickly.
"We are extremely grateful to everyone who has raised money for our Charities, to Jonathan Davies for his vital support and to the organisers and sponsors. We look forward to making the event even better in 2023."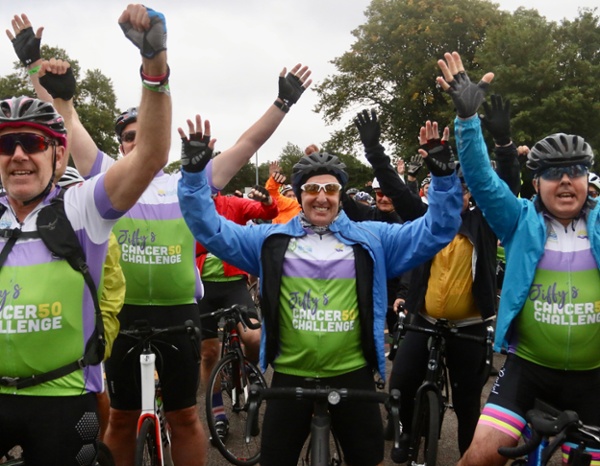 The centre opened in September 2004 following a massive fundraising campaign supported by the South Wales Evening Post and by people from across Swansea, Neath Port Talbot and West Wales.
They raised more than £1 million, which contributed to additional funding by the NHS to ensure the centre was built.
It provides access to modern chemotherapy and radiotherapy units. The centre also has an inpatient ward at Singleton, and a research unit.
The cancer centre's charitable fund is one of 265 managed by Swansea Bay Health Charity.
This is the health board's official charity, supporting patients, staff and services within Swansea Bay. Donations to the various funds are used for equipment, research, training and patient care.
The Jiffy's Cancer 50 Challenge is an opportunity to continue that legacy.
This year's ride was sponsored by Andrew Scott and supported by Peter Lynn and Partners, Cycle Solutions and European Telecoms Solutions. The ride was organised by White Rock Events.
It started at Velindre Hospital near Cardiff, with riders setting off at 8.30am. The first riders arrived in the main car park of Swansea's Singleton Hospital around 11am, and the last around 2pm.
All riders paid an entry fee of £50, which included a cycling jersey, and were asked to raise a minimum of £50 in sponsorship.
Jonathan added: "I understand in the current climate with inflation and the cost of living that people might not want to be asking others for money so I'm grateful to everyone who has contributed and everything that's been raised.
"I've been a bit stiff afterwards, but it was worth it. It is something I hope will become established as an annual event so we can keep supporting two wonderful charities which do fantastic work."

Swansea Bay Health Charity
Are you interested in raising money to support NHS services in Swansea and Neath Port Talbot? Did you know that Swansea Bay University Health Board has its own fundraising charity?
Swansea Bay Health Charity supports patients, staff and services within Swansea Bay University Health Board. Visit its webpage here to find out more.