Jax the cockerpoo makes debut at Morriston Hospital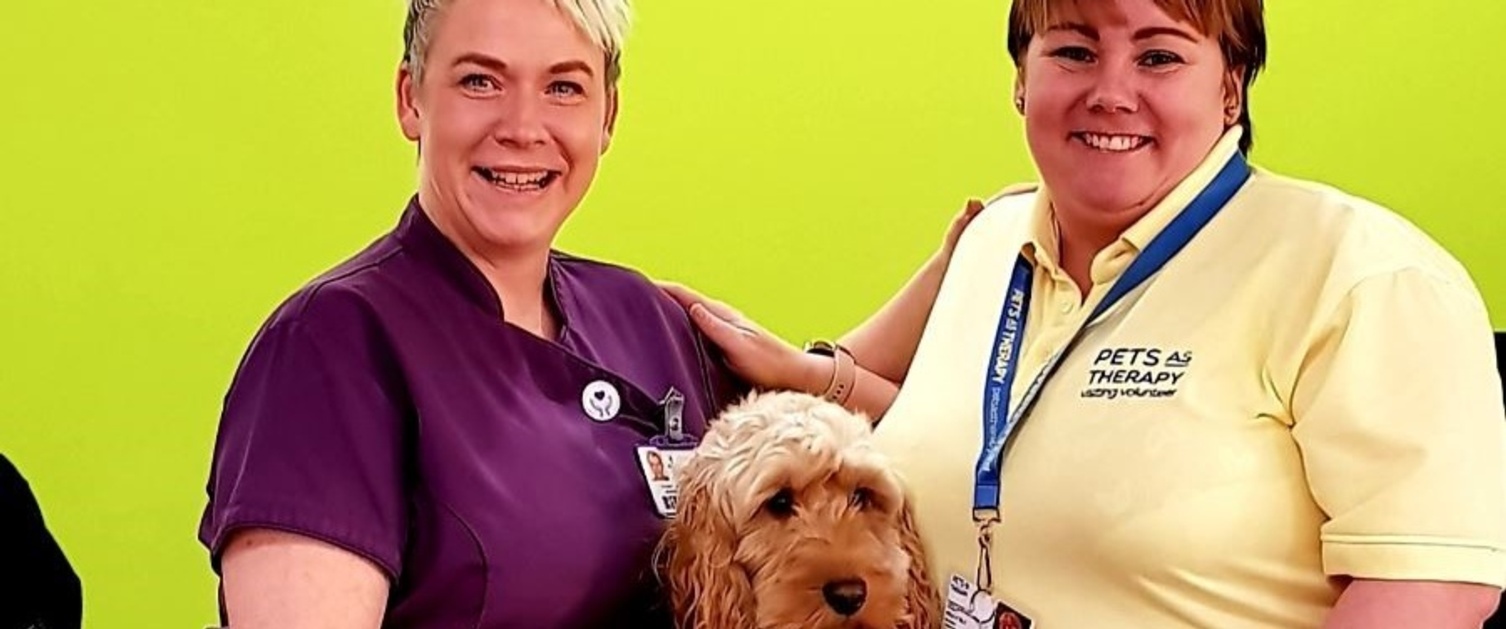 Friday, 11 January 2019
A four-legged friend has been making new friends after visiting the wards at Morriston Hospital.
Jax the cockerpoo made his debut in wards R and H where he brought joy to many patients, relatives and staff.
The idea came about after a conversation between Morriston Patient Advice and Liaison Service team member Nicci Evans and health care scrub support worker, Kelly Elt – Jax's owner.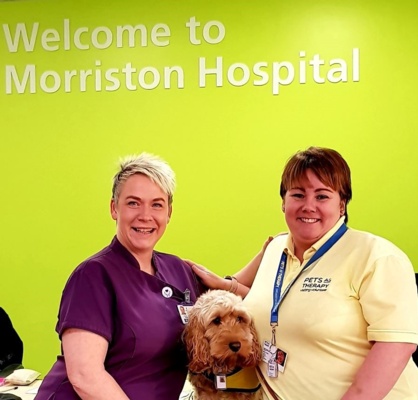 Pictured right: Nicci, Jax and Kelly
Kelly said: "I brought Jax to the main entrance of Morriston last year to visit my mother-in-law who was an inpatient at the time.
"I was telling Nicci about the fuss he was getting from people, which gave us idea of bringing him in to visit patients.
"Patients really miss their furry friends while they are here."
Bailey the cavalier King Charles spaniel, who has been visiting patients at Neath Port Talbot Hospital, also inspired them.
Bailey has been cheering up patients every Wednesday afternoon since February last year through the Pets As Therapy (PAT) charity.
PAT provides a visiting service, taking behaviourally-assessed animals into hospitals, special needs schools, nursing homes and other venues across the UK.
Nicci said: "We thought it was so lovely how the patients were interacting with Bailey at Neath Port Talbot Hospital, so I made contact with the team there to see how it all worked."
Kelly added: "After some research, Jax was assessed as a PAT dog and passed with flying colours."
Jax was a big hit as soon as he entered the doors of Morrison Hospital.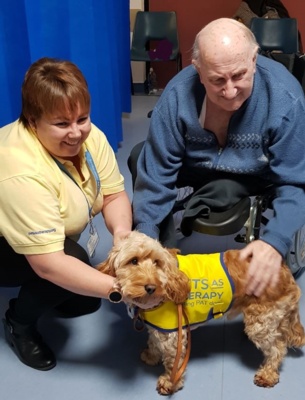 Pictured left: Patient Eric Marshall, Kelly and Jax
Kelly said: "It took us 30 minutes to get down the corridor to the wards as patients and staff were stopping to speak to Jax.
"The response from patients was so emotional.
"Some of our patients had pets at home and had been unable to see them for a number of weeks.
"This visit had such an uplifting and positive effect on them and we did have a few staff members in tears due to such a wonderful response."
The pair now hope to roll out the visits across more wards at the hospital.
Nicci said: "We had such a great response with the first visit that we are going to make it a regular thing.
"When we saw the patients' faces light up as they saw Jax, we knew this was something we had to roll out across the hospital.
"To see the patients smile when Jax appeared was priceless."