It's time to talk about organ donation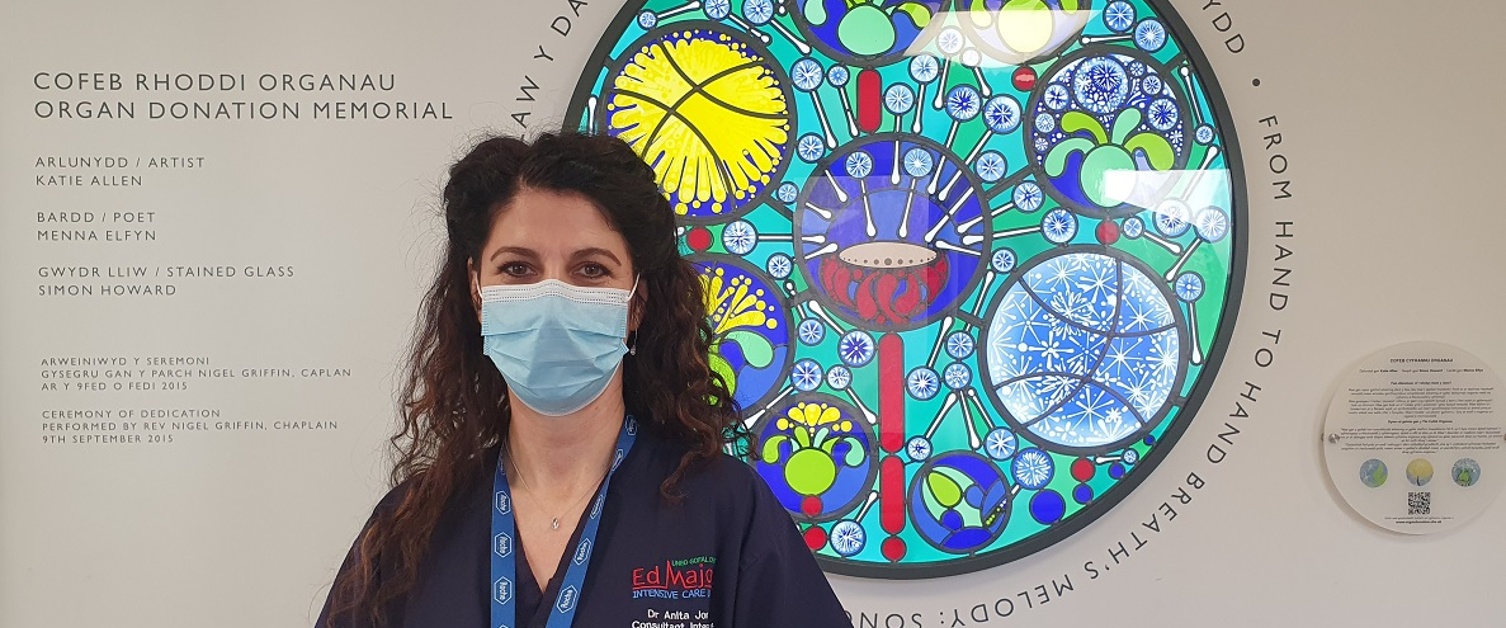 It's a conversation many shy away from but Anita Jonas is on a mission to get everyone talking about organ donation.
Swansea Bay's new clinical lead for organ donation (CLOD) is determined to do more to encourage those who want to "give the gift of life" after they pass to make their wishes known to their family and loved ones before it's too late to do so.
Organs donated by one person can potentially save and transform the lives of up to nine people.
(New Swansea Bay Clinical Lead for Organ Donation, Anita Jonas, pictured above next to Moriston Hospital's Organ Donation Memorial)
Although the law in Wales was changed to 'deemed consent' in 2015 – meaning you will be treated as if you have no objection to your organs being used to help another person in the event of your death – it is highly unlikely that doctors would do so against the wishes of the deceased's immediate family.
As a consultant in Morriston Hospital's Intensive care Unit Dr Jonas knows more than most about the emotive area.
Anita said: "Throughout my career, as an intensive care doctor, I have always been involved in organ donation to some extent, because the donor can come from patients who, unfortunately, we can't help anymore.
"Intensive care is a challenging speciality because we deal with critically unwell patients and quite often we are, unfortunately, not able to save their lives - even though we try everything we can.
"It's always difficult to lose someone but, when I think about it, through organ donation their loss can have an effect on another's life - it gives some consolation."
With around 300 people, across the UK, currently waiting for a transplant, the need for donors is as urgent as ever.
"I don't think many people are aware that someone, who is on the waiting list, dies every day," she said.
"I'd like to raise awareness and get this message out. To get people to talk about it. It can be difficult when you don't know a lot about organ donation. It can be difficult to make a decision. But the more you talk about it, the more you hear about it, the more you read about it, uncertainties can disappear and you can make a decision about it."
Making your wishes known spares your family and loved ones the anguish of having to deal with this at one of the lowest points in their lives.
"The main message is to encourage people to have a conversation about organ donation because it's something that can happen to us all," said Anita.
"Also, you never know when you could be in a situation where you, or someone close to you, requires a transplant.
"There is nothing worse than having a loved one who is critically unwell and being told that there's nothing more we can do for that person.
"Then the conversation about organ donation comes up – it's quite a lot to think about at that time. If these conversations were held before hand it makes it that little bit easier for the family."
Anita said: "I've also experienced families who, through organ donation, found a little piece of comfort. It is an extremely difficult situation when you are losing your loved one, but knowing that they have actually given the gift of life to other people, to enable them to live longer, is a really wonderful thought."
Anita confirmed that although the law is on their side, doctors would not remove organs for donation without the family's blessing.
"It's something that we could do but it's very important that we have the family's blessing. I would definitely urge everyone to have a conversation about it."
Once a potential donor has been identified, a specialist nurse in organ donation is alerted.
"If we identify someone as being a possible organ donor we make a formal referral and, based upon the response, we go ahead," she said.
"We like to have a conversation with the family when we already have a specialist nurse in organ donation (SNOD) present – these people are experts in this field of communication and our aim is to talk to families when they are with us.
"After this conversation, and agreement from the family, further tests and checks are required to confirm that the person would be an eligible organ donor.
"There is also close collaboration needed between the SNOD, the organ donation team and the transplant team, to be able to identify suitable recipients for those organs, as not everyone's organs would be compatible with those for a transplant."
Very often a donor can help change the lives of more than one person.
Anita explained: "Organ donation is something that can really transform lives. I don't think a lot of people realise that one person can potentially save and transform up to nine people's lives.
"Last year Swansea Bay University Health Board identified seven donors who donated organs to 24 individuals transforming their lives forever. It's a gift of life.
"I'm really glad that I'm in a position to be able to promote organ donation and raise awareness about it in any way I can."
Fortunately, the message is beginning to get across.
"More and more people are aware of organ donation and are bringing it up when we have the discussion around there being nothing more we can do for their loved ones. The families are asking about organ donation, so that's definitely a positive."
The pandemic initially saw the number of donors reduce dramatically as doctors faced the unknown.
Anita said: "Since Covid-19 hit us, it has been even worse. There was a lot of uncertainty around the virus and how it could impact organ donation. Initially, we were not considering anybody who had a Covid-19 infection to become a possible organ donor.
"This has recently changed because there have been some studies and they transplanted 70 people with organs from donors who had Covid-19 – they had tested positive but were not unwell – and to date there have been no adverse effects. Now we are looking into it in more detail."
To find out more about organ and tissue donation visit the NHS Blood and Transplant website here.