Inspiring Isabella rings bell to mark the end of gruelling treatment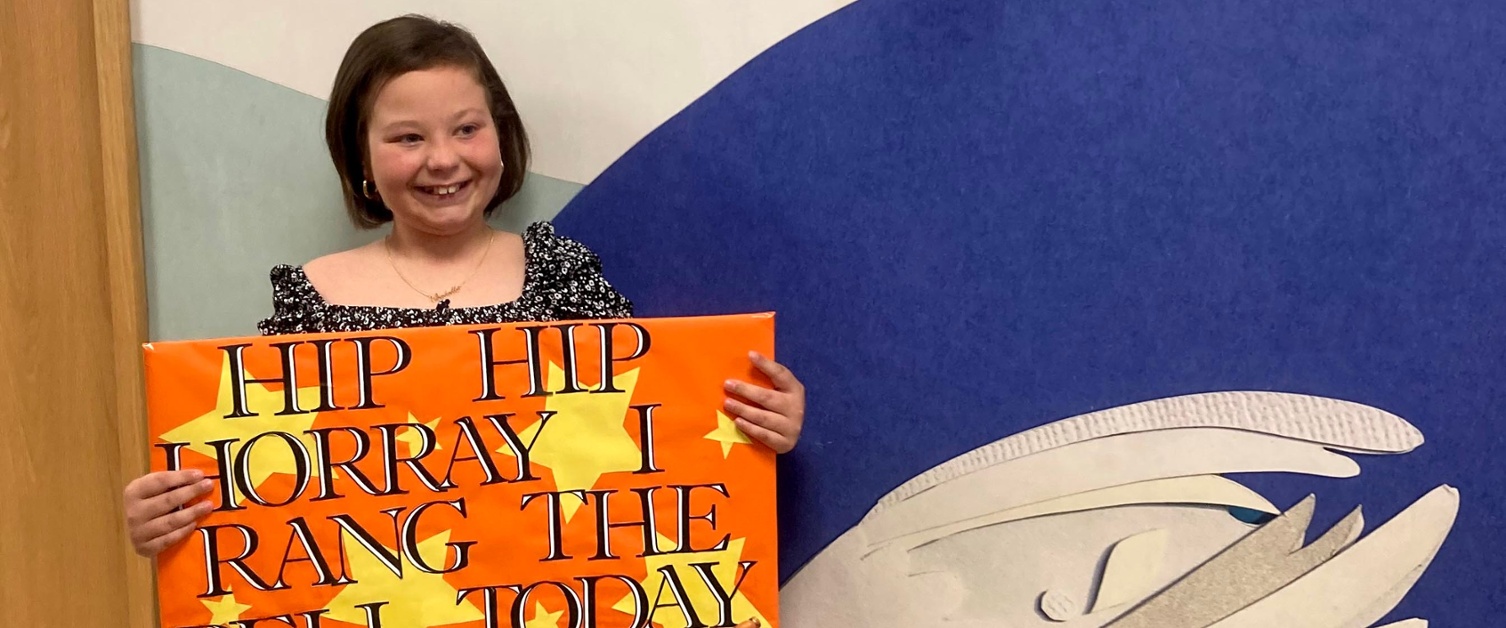 A young girl who has been fighting leukaemia has become the first to ring a bell at Morriston Hospital marking the end of her chemotherapy.
Isabella Minney, from Penclawdd, north Gower, was diagnosed with the blood cancer in March 2021, since when she has undergone a gruelling course of treatment, including daily oral chemotherapy and intravenous therapy every four weeks.
But the nine-year-old's challenging regime finally came to end on Friday July 14th when she visited Morriston Hospital for her final treatment, accompanied by her parents Gareth and Julia and brother Oliver, as well as members of their wider family keen to share the landmark moment.
She also became the very first patient to ring a bell which has been installed at Morriston's paediatric oncology shared care unit (POSCU), marking the end of her treatment.
Her mum Julia said: "Isabella had been complaining about having a sore elbow, so we took her to the GP to have some tests, and she was immediately admitted to Morriston Hospital. Then she was sent to Cardiff for further testing, and it was confirmed she had leukaemia and our world fell apart.
"Within days she had her port fitted and the hell began. She used to have long brown hair down her back and she lost that within three weeks and her face became all puffy.
"She has suffered from aches and pains and fatigue, and it has been emotionally draining for all of us. But she has been amazing. She functions really well, apart from the four-week chemotherapy. She has been amazingly resilient."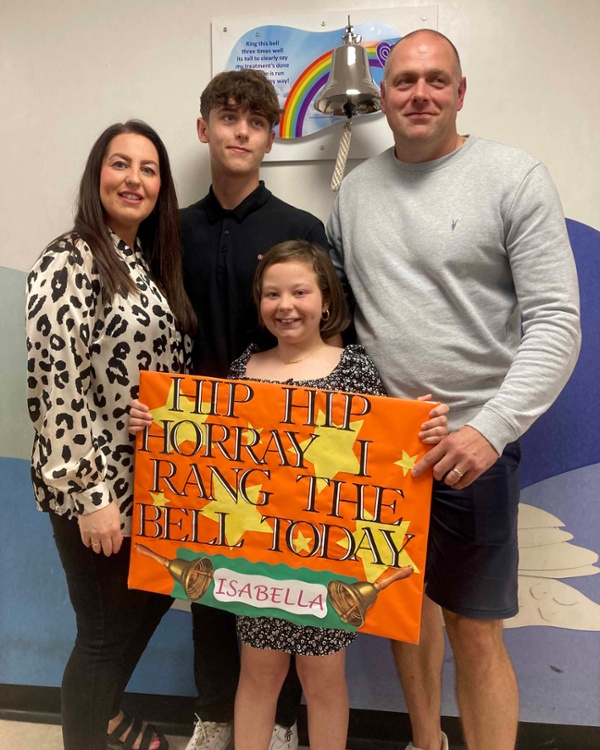 Isabella Minney, nine, pictured with, from left, mum Julia, brother Oliver and dad Gareth. Credit: SBUHB
The oncology paediatric unit at Morriston is responsible for treating children with cancer in the Swansea area, and is supported by the primary centre at the University Hospital of Wales. But until now, there has only been a bell in Cardiff for them to ring.
The bells are fitted in units for patients to ring when they have finally finished their treatment, usually after two or three years, marking the moment they are ready to get back to normal life. It is an occasion for the whole family to celebrate, and an opportunity to reflect on their emotional and physical journey and think to the future.
It also inspires children with cancer to persevere when things are tough.
Julia added: "The staff who have treated Isabella and helped us all through her treatment have been incredible. They have been so supportive and understanding and I don't know what we would have done without them."
Angela Gallagher, paediatric oncology outreach nurse specialist, added: "Children with cancer have been receiving part of their intravenous chemotherapy here in outpatients in Morriston Hospital for the past three years, administered by myself and Jackie Quigley.
"They ring the bell on Rainbow Ward in Cardiff, but we now have our own bell for the patients to ring when they have their last dose with us.
"Isabella has had her last vincristine (chemotherapy drug). She is an amazing inspiration and has been throughout her treatment for leukaemia."
The bells are provided through the charity called End of Treatment Bells.