Hospital's catering staff helped fuel response to pandemic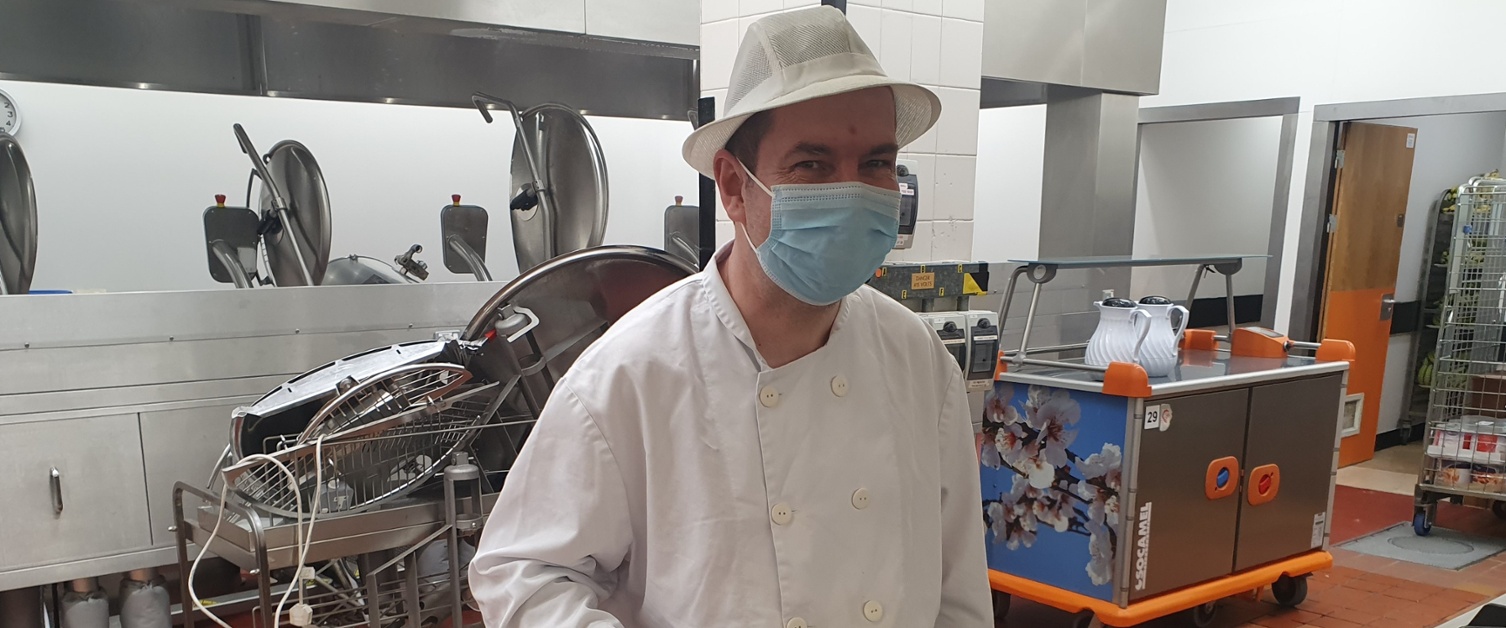 If, as Napoleon famously declared, an army marches on its stomach, Swansea Bay's catering team deserves particular mention in despatches.
As Wales pauses to reflect on the second anniversary of the first lockdown on Wednesday, it's worth remembering that so many people, from a range of departments, each played their part in Swansea Bay's response to Covid.
From doctors and nurses to porters and cleaners, and everyone in between, they all stepped up to the mark and did their bit when called upon, and should feel rightly proud of themselves.
When accolades are handed out, however, there is one group that is often overlooked but their role in helping our hospitals remain open is as vital as the next – the catering staff.
A good example of going above and beyond was at Morriston where a night service was introduced during the first lockdown, lifting morale and ensuring staff were well fed.
Reflecting on his pandemic experience Paul Mugford (pictured above), a cook based in Morriston Hospital, said: "I first realised that it was developing into a serious situation towards the end of March 2020.
"I saw changes being made around the hospital, such as adding extra intensive care units and a special bay to clean the ambulances. I knew then that something was coming.
"I wouldn't say that anyone was scared at the beginning, but obviously some were nervous. I can remember the first cases that were here and seeing them lockdown the corridors so they could be moved between wards.
"Despite this, morale was pretty good. We could see that it was going to be tough, but everyone lifted themselves, we were all up for the fight.
"I've worked for the NHS for 25 years and what comes our way, comes our way. You can't shy away from it. It's my job. I never felt particularly at risk."
The 50-year-old father of three, who helps prepare and serve up food for patients on wards and staff in the hospital's canteen, also saw the growing danger form Covid on the home front.
"My wife, who is a staff nurse, caught Covid early on, before vaccinations, and although she avoided being hospitalised she had it pretty bad and it affected her for months.
"She then caught it again a week before the first Covid Christmas – so we have had our fair share."
Soon after the first lockdown began, the department adapted its opening hours to accommodate staff working the later shifts.
"The biggest change to our routine came when they introduce a night service to our dining room, from 9pm to midnight, to cater for the night staff – the nurses, doctors and consultants," Paul said.
"Previously, there was only a vending machine service as at the start of lockdown they shut the shops and food outlets, anywhere they could get food delivered from, and they were restricted with shopping in supermarkets.
"It was easier during the day but they couldn't get food during the night."
Paul said the new late service was operated by staff volunteering to work additional hours.
"It was all done on overtime. People would work longer hours. I was supposed to finish at 8pm but would be in work until 12.30am.
"We all pretty much volunteered – it was never put on our rota as having to do it. There was a team of 13 or 14 cooks and lead food services assistants who said that they were happy to work those hours.
"Some had children and family commitments which didn't allow them to work that late. Those who could, did."
The move, he said, was greatly appreciated.
"The feedback from the staff has been brilliant from the start. You would hear comments like, 'I can't believe you are doing this'.
"Ninety-nine per cent of them were out on their feet and were just grateful to be able to come upstairs and get curry and chips and a coffee.
"What we found is, say there were eight staff on a ward, they would send two up, because they couldn't all leave the ward, and take eight meals back with them."
Paul added that he found the experience rewarding.
He said: "I felt as though I was doing my bit because of the feedback we had over the first few months.
"We would see nurses who were exhausted, and you could see that they were so grateful to be able to have a cup of coffee – we were also giving out free hot drinks – and something to eat.
"The hospital couldn't operate without the sum of all its departments. You need a porter, you need a cook, you need a cleaner, you need someone working in the lab – we are all cogs in a big machine.
"I cook the food and then help serve it so I get a lot of contact with all departments, doctors, nurses, domestics. I think that they all appreciate one another."
Eleri Hiscott, junior sister in Morriston, was one of many to appreciate the efforts of Paul and his colleagues.
She said: "It was nice not to have to think about what to bring in for food during the night shift as the catering service decided to open and made it easy.
"It was one worry off your mind during the pandemic. They were very good.
"They played their part, like everything in the hospital, if one thing doesn't work, then nothing works."