Hospital events held to showcase Swansea Bay staff successes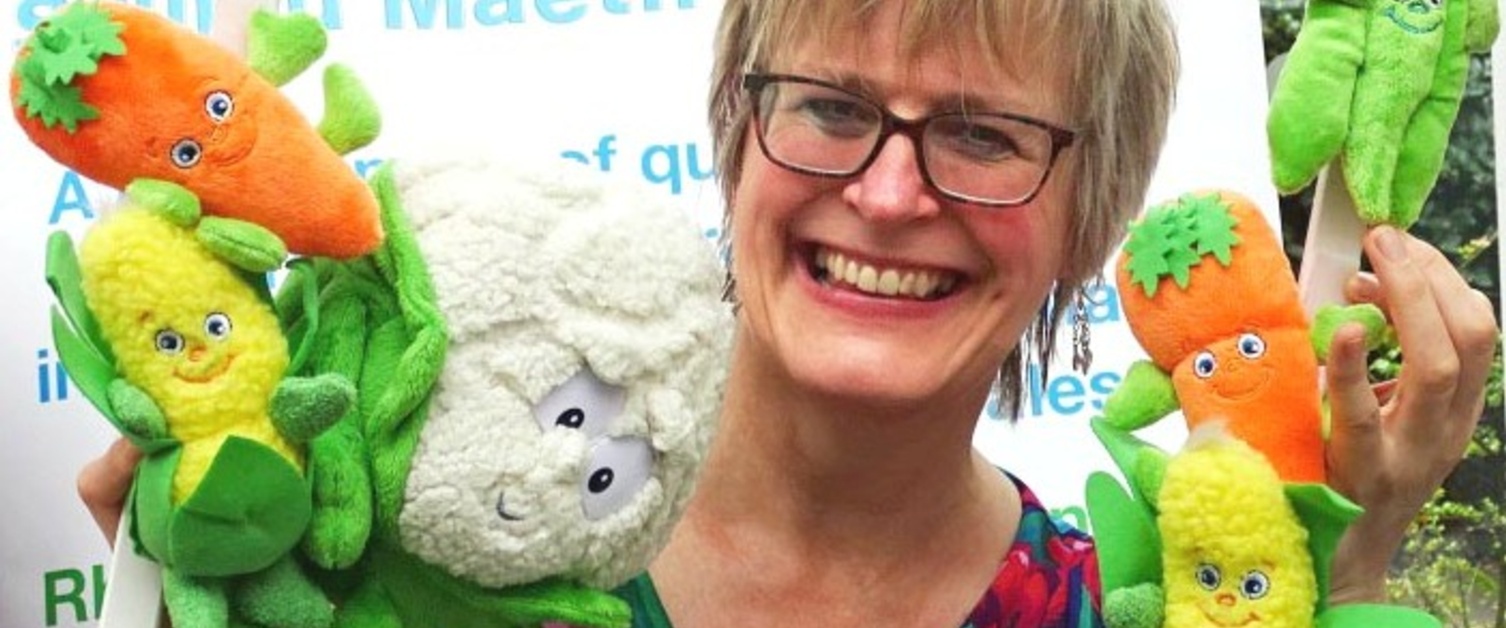 Above: Public Health Dietician Anna Parton with her 'veg-tastic' display.
The atrium at Neath Port Talbot Hospital rang out with the sound of success as staff gathered to celebrate their achievements and show off the wide range of services the NHS offers.
Departments as diverse as fertility, theatre, dietetics and Welsh language put together a wide range of displays to showcase the hard work done by Swansea Bay UHB staff.

There was opportunity to get dressed up in surgical scrubs with the theatre team, chat with the team from Wales Fertility Institute and learn about chemotherapy drugs prepared on-site in Singleton.
Visitors could also enjoy a cup of tea while listening to a violin duet the String Sisters.
Quality Safety and Improvement Manager Angharad Higgins organised the showcase event.
She said: "It's an opportunity to show off everything the NHS does. It's a chance for us to celebrate things that sometimes don't get noticed. Patients seem to be really enjoying the event and have said how interesting it is, which is great. "
Neath Port Talbot Hospital Service Director Brian Owens said: "We are very grateful to all the teams who had a display at the event for providing us with this opportunity to celebrate the fantastic and diverse things going on in the health board that people otherwise don't get to hear about."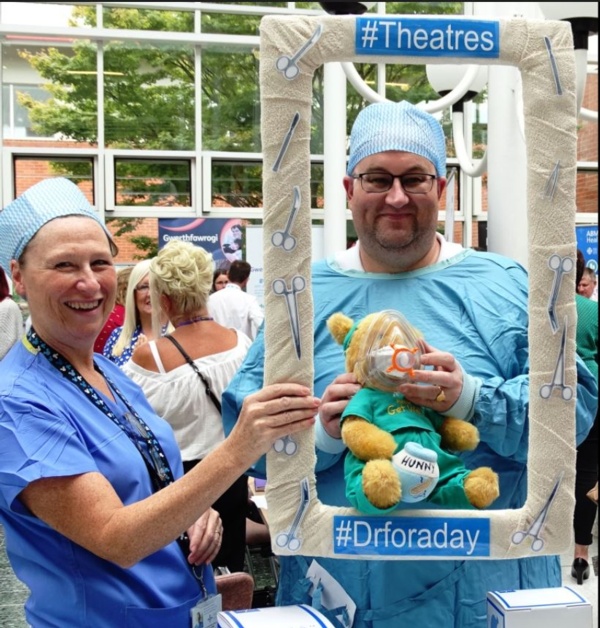 Left: Sister Jo Phillips kits out receptionist Kevin Mead as a 'Doctor for the Day'.
The showcase event also included Neath Port Talbot's latest Patient Choice Awards.
These were launched in 2015 to give patients, carers, relatives and visitors the chance to thanks to a staff member or team they felt had made a real difference and provided outstanding care.
Each of Swansea Bay's main hospitals hosts its own awards presentation ceremony every year.
Health board Interim Chair Emma Woollett, who presented the awards to NPTH staff, said: "We are determined to offer safe, excellent services to our patients.
"We know there are always improvements to be made. However there are many wonderful staff and services across the organisation striving to deliver safe, quality care.
"Today is about recognising some of the staff and services who go that extra mile and provide exceptional care, who live our values and put our patients at the centre of everything they do."
The first presentation was made to urology department nurse Sue Griffiths, who was described as 'considerate and friendly' in her nomination from patient Rashed Ahmed.
Mr Ahmed wrote: "We believe she deserves this award, as she has been outstanding.
"She is warm, kind and has a caring personality that is required for the job. She is considerate and friendly and made us feel comfortable."
The dermatology team was nominated by two separate patients.
One, Bethan Sterry ,said: "The wonderful ladies who were treating me made me feel so at ease.
"They listened to every worry I had, comforted me when I was crying and upset, and generally were just amazing.
"I would not have been able to get through those few weeks without their care and compassion."
The third award was given to consultant urologist Amol Pandit.
He was nominated by Mr Alan Davies, who said: "Mr Pandit has kept regular checks on me. He has been very thorough and shown due diligence throughout these years, giving me piece of mind."
The haematuria clinic was nominated by Glenys Benford-Lewis who described it as a credit to Swansea Bay.
She added: "I personally feel very grateful for the level of care and attention I received from everyone."
Arthroplasty nurse Helen Evans was nominated by Charles Wellington, who says she was 'efficient, very kind and helpful'.
Representatives from the Wales Fertility Institute were recognised following nomination by Louise Collins.
She said: "I am so incredibly grateful for the wonderful care, support and service with every member of the WFI from the receptionist, to the nurses and consultants."
The final award of the day was given to physiotherapist Kirsten Barrett.
She was nominated by Angela Tiley who said: "Everything Kirsten has advised me to do has improved my health issue. She is extremely knowledgeable on her specialist area and takes time to listen."
Photos of all our Patient Choice Award winners are included in the gallery below.