HEPMA roll out continues with Cefn Coed Hospital now on board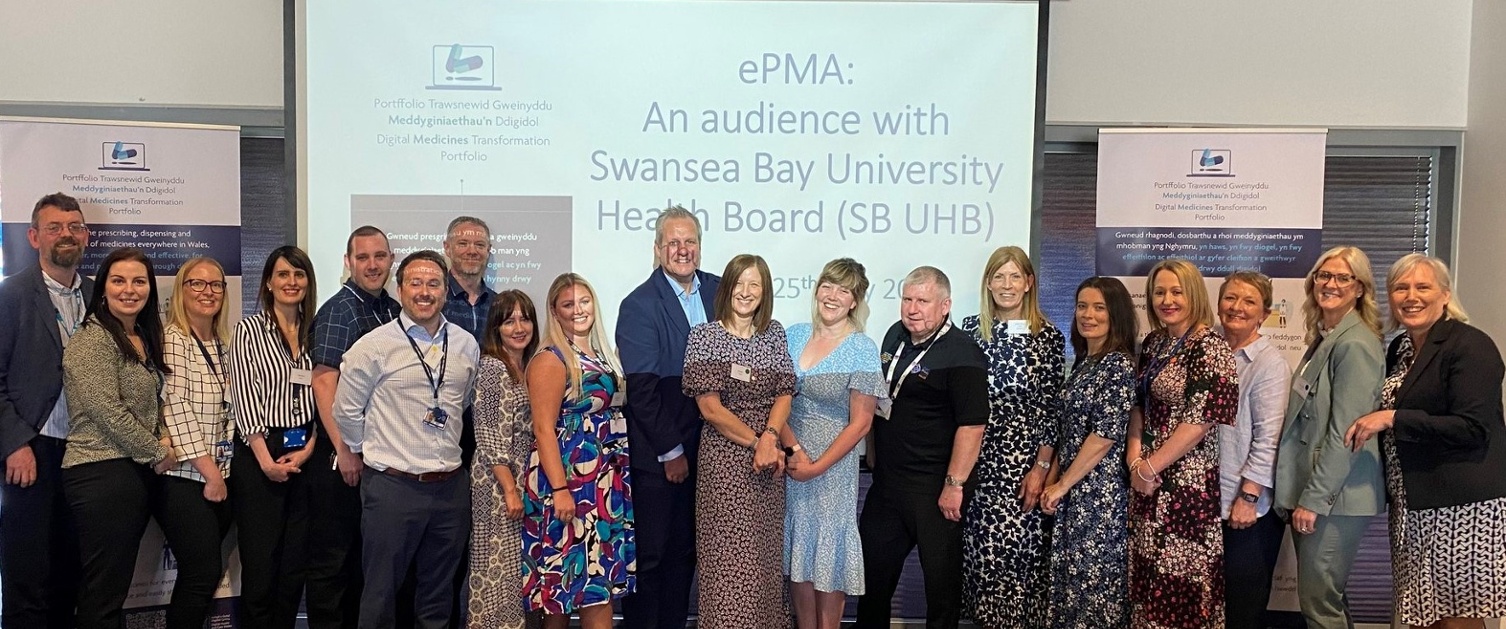 The successful HEPMA roll-out across Swansea Bay is continuing, with Cefn Coed hospital being the latest to embrace the new electronic prescribing system.
Hospital Electronic Prescribing and Medicines Administration, or HEPMA for short, is transforming the way medication is being managed in Swansea Bay hospitals.
Swansea Bay UHB is leading the way in Wales as the pathfinder organisation for the new digital system, and as it goes live across more and more wards, its success is shining through.
Mental Health is the latest service to benefit from the new technology, with Ward F and the detox ward in Neath Port Talbot going live in July and Cefn Coed hospital in August. Tonna Hospital, Caswell Clinic and Taith Newydd in Glanrhyd are planned for next month. Plans for an implementation across Learning Disabilities are in progress.
Dermot Nolan, Associate Director of Mental Health and LD, said: "We are delighted with the role out of HEMPA across all our Mental Health sites with plans in place to then roll out across our Learning Disabilities sites.
"The services we provide are geographically spread across 15 different sites and three health board footprints, so the use of HEPMA is hugely beneficial to the clinicians and patients within those inpatient units.
"We would like to thank all the clinical staff and the digital team involved in the roll out with Mental Health and LD Service Group for such a successful implementation and patient care will now see the benefits of this going forward."
HEPMA is now operational at Neath Port Talbot, Singleton, Morriston and Gorseinon hospitals medical wards, and at the Cardiac Centre in Morriston, with the remaining surgical wards coming on board shortly.
Already over five million medications have been administered having been managed through HEPMA. Equipped with mobile devices on carts rather than paper charts, staff are entering medication information digitally into the system, which is not only making it easier to manage records, but most importantly is reducing errors and improving patient safety.
HEPMA has already flagged alert warnings for almost 500 potential prescription conflicts in Swansea Bay, including over 100 cases where penicillin was about to be given to a patient who was allergic to the drug. Not only was direct patient harm avoided, but also the additional cost to the NHS of having to treat a patient with an allergic reaction.
Once the first stages of the HEPMA rollout were completed at Neath Port Talbot and Singleton hospitals we carried out an initial evaluation, and were delighted with the positive feedback.
There will be a further evaluation of HEPMA once it is fully implemented across Morriston Hospital and the Mental Health and Learning Disability service, to measure the expected benefits and get a more accurate reflection of them, given the increased activity and patient flow challenges for each of the sites.
The initial evaluation following the implementation in NPT and Singleton hospitals found that 83% of pharmacists, 75% of nurses and 69% of prescribers who use HEPMA agree that it supports safe practice and medication safety. Pharmacists reported that they particularly appreciated not having to track down missing medication charts any more, and having remote access to them instead.
No longer needing to decipher handwritten notes is one key HEPMA advantage appreciated by staff. And with re-writing paper charts fast becoming a thing of the past, nearly 6,000 hours – or 450 days – of prescribers' time has already been freed up, allowing them to instead concentrate on direct patient care.
The new system is also reducing the number of unnecessary prescriptions, which is helping to cut costs, too.