Healthy lifestyle lessons for cardiac patients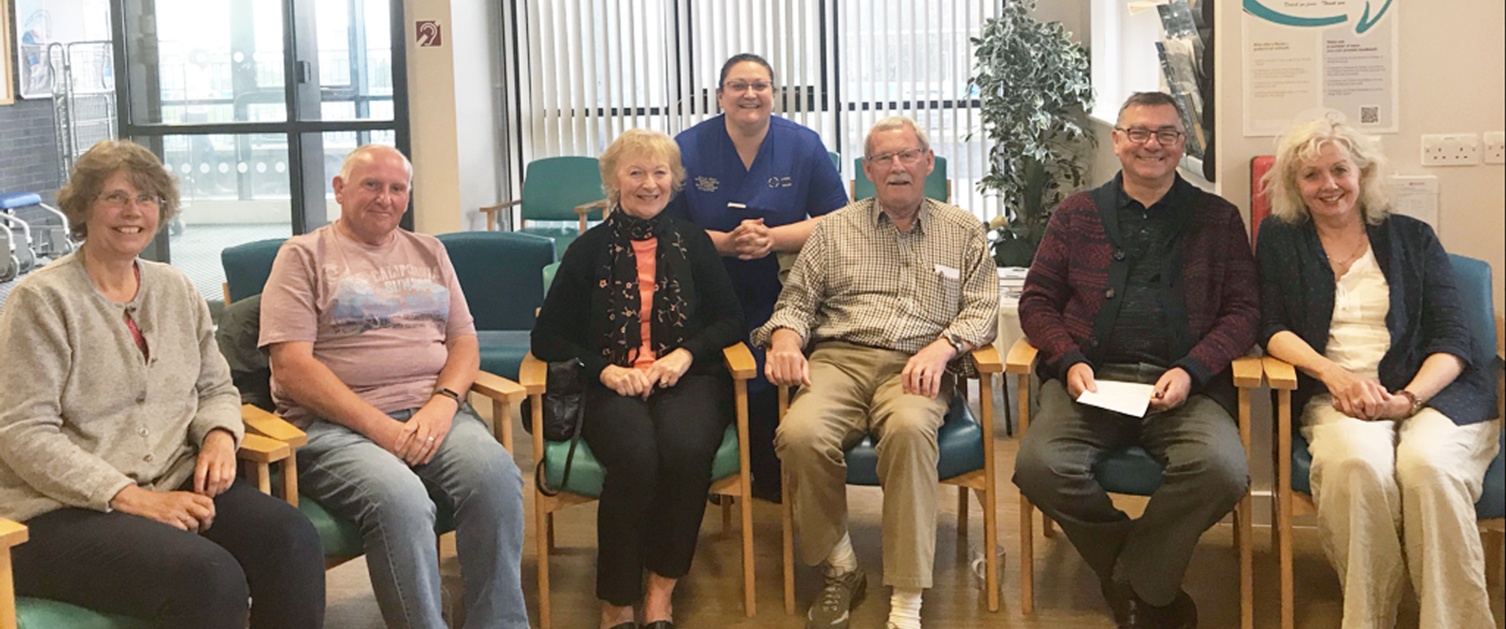 People waiting for treatment for a cardiac condition are getting healthy life lessons through a pioneering course run at Morriston Hospital.
Atrial fibrillation, AF, is one of the most common forms of arrhythmia, or abnormal heart rhythm.
A number of treatments are available, ranging from medication to a catheter ablation, which uses heat or freezing on the area of the heart that is causing the abnormal rhythm.
However, there is now increasing evidence that controlling cardiac risk factors such as weight, blood pressure and diabetes can have a huge impact on managing symptoms and improving quality of life.
Uniquely, Morriston offers a course which educates people with AF about these risk factors so they can take charge of their own care.
Main photo above shows (l-r) Gail Dixon, Richard Francombe, Pamela Edwards, Hannah Goss (arrhythmia clinical nurse specialist,, Victor Morgan, Michael Edmunds and Karen Snowdon.
Richard Francombe attended the course while he was waiting to have a catheter ablation. He said:
"I initially thought I wouldn't go, but my wife said to try it. So I went along to the first session just to see what it was all about.
"I learnt so much on the course about my condition and how to change my lifestyle to help. I lost a stone and nine pounds as a result of the information I was given.
"I reduced my salt intake significantly and gave up cake, chocolate and crisps which I used to eat a lot of, and have starting walking more.
"My waist reduced by four inches from 42 to 38. As a result of these changes my blood pressure reduced enough for my GP to stop my blood pressure medication.
"I feel so much better, more confident and fitter since attending this course. I would highly recommend it.''
Around two per cent of the population has AF which, while more common in the over-60s, can affect all ages.
Many patients experience symptoms including palpitations, tiredness or shortness of breath. Some can feel low in mood and depressed.
If they do not have any symptoms linked to AF, the abnormal rhythm, or arrhythmia, may go undetected.
AF is a major cause of stroke. So patients are assessed to see whether they would benefit from anti-coagulant drugs to help reduce the risk of clots being formed in the heart and causing a stroke.
The AF risk factor programme, for patients with more troubling symptoms, is run by specialist nurses Hannah Goss and Sarah Evans.
They have worked in the cardiac centre for many years but joined the arrhythmia team to introduce the programme last year.
Hannah said: "This is a pioneering project. We believe it's the first in Wales, if not the UK.
"Educating patients and their families around the risk factors associated with AF allows them to take charge of their own care.
"We regularly see patients becoming more confident and less stressed about their rhythm problems, and getting fitter."
Patients waiting for AF ablation are invited to weekly group education sessions over the five-week programme.
Each week, a topic or risk factor is explained and patients can share their experiences and learn from each other.
Sarah said: "Patients seem to understand their drugs better and start realising that losing weight and keeping fit is important.
"We just highlight and reinforce the basic healthy lifestyle messages so it's a win-win situation."
Consultant cardiologist Dr Dewi Thomas added: "The aim of the programme is to improve the patient pathway for AF ablation to maximise the benefits for them.
"By adopting a more holistic approach and focusing on risk factor modification, including diet, exercise and weight reduction, we hope to reduce hospital admissions and have better outcomes."
The programme is currently running as a pilot project until May this year, but Hannah and Sarah hope the benefits to patients will lead to it continuing in the longer term.
They said they enjoyed running the programme, and patients had given it the thumbs-up too.
One of them, Gail Dixon, said: "Being able to ask questions of specialist cardiac nurses and meet others with the same condition was so helpful.
"The course explained so much of why I was feeling as I was, and the best way I could deal with things."