Funfair proves a big hit with patients and staff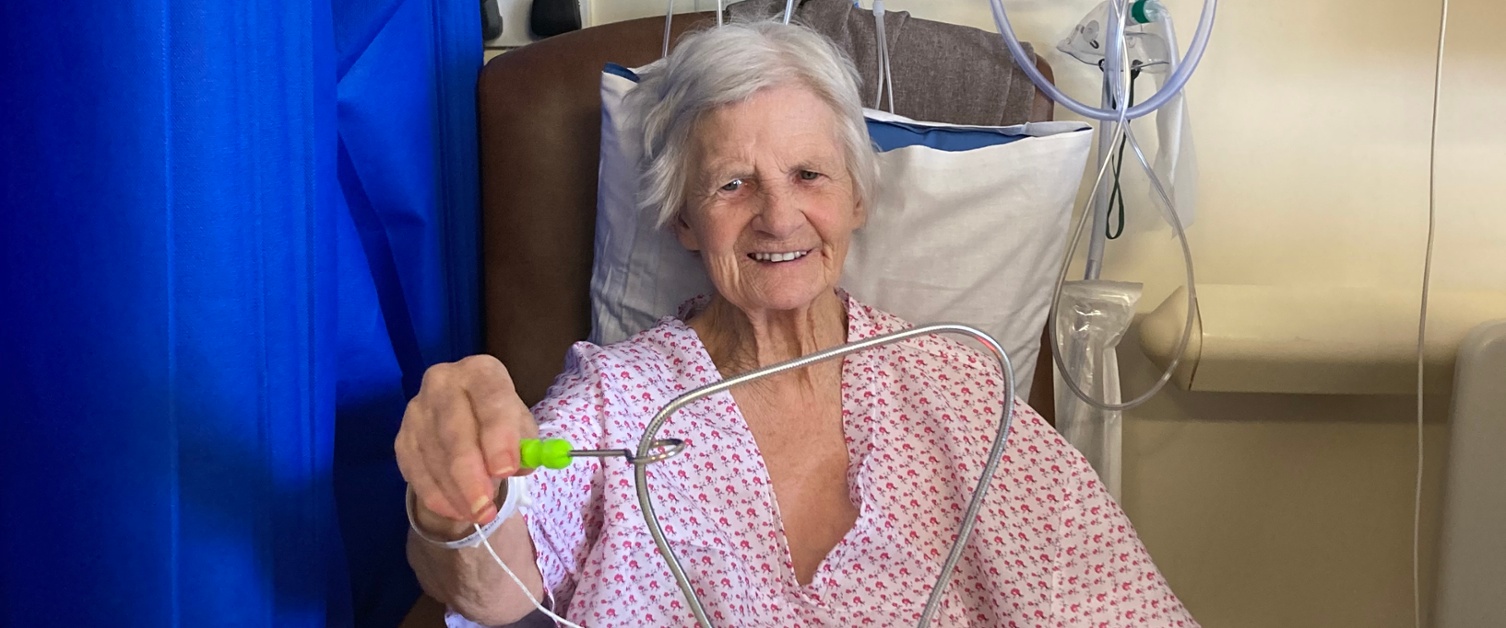 Hook a duck, ring toss and tin can alley aren't usual methods of treatment, but they proved the perfect tonic when an old-fashioned funfair rolled up at Neath Port Talbot Hospital.
It brought a series of classic fairground games to wards for patients with dementia or a cognitive impairment.
While there was certainly a fun element to the event, it also gave staff an opportunity to learn from the patients' moods and behaviour during the activities.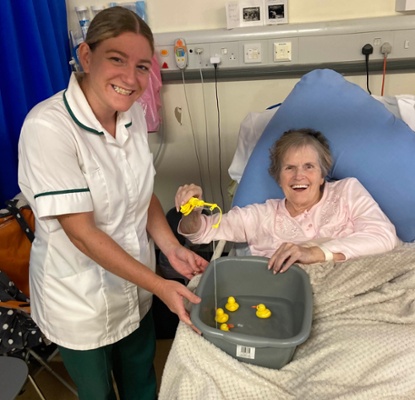 The funfair was organised by Joanna Clarke, occupational therapist within the memory impairment advice team.
PICTURED: Joanna Clarke and patient Joy Morgan try their luck at hook a duck. Note: All photos in this release were taken before the current requirement for masks was introduced.
The team offers support, advice and education to ward staff to highlight the importance of engagement, stimulation and individualised-based care for patients with a cognitive impairment.
This support occurs through nursing and therapy-led assessments, interventions and advice to improve patient and staff experience and morale.
Joanna said: "Patients are referred to my team with a cognitive impairment that might need meaningful engagement.
"This could be down to them not engaging on the ward, expressive or challenging behaviour or a resistance to interventions.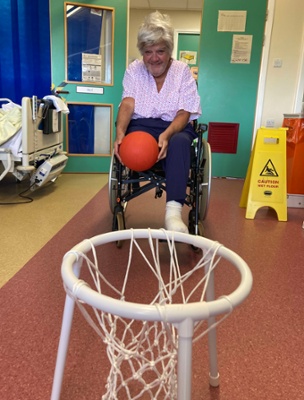 "We work with the patients to understand what triggers them, along with getting to know them and what their likes and dislikes are.
PICTURED: Liz Arnold enjoyed shooting some hoops.
"We find out a lot of information about the patients through assessment and observations, then we trial different interventions. We set up activities to see if it helps settle them down.
"In the past, we set up a session of singing – which stimulates the brain – in association with the Alzheimer's Society; arts and crafts and fishing. We have also done quizzes centred on old films and actors.
"Our latest trial was the funfair. It was fascinating to see how the patients' reactions varied.
"Certain games and activities work differently for each patient. For some, it may trigger memories of them doing it as a child, or it just breaks up the day and gives them a different focus.
"It also educated our staff on how important engagement and activity is for patients.
"It can prevent behaviours and stimulate patients, bring out new skills and keep them mobile. It benefits different aspects of their health while they are in hospital.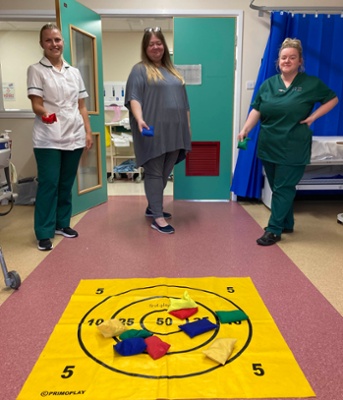 "That information is then shared with ward staff to prevent the patient's behaviour and to get them to engage a lot more. Most importantly, that can affect their treatment in a very positive way."
PICTURED: (From left) Occupational therapist Lizzie Wheeler and health care support workers Bethan Richards take part in the bean bag toss game.
The funfair proved a big hit with patients.
Joy Morgan said the games brought back some cherished memories.
She said: "I enjoyed playing skittles and tin can alley, but it was the hook a duck that I loved the most.
"I used to go fishing in Burry Port and along Swansea Bay. Using the rod for hook a duck brought back a lot of memories. It gave me great joy playing the games."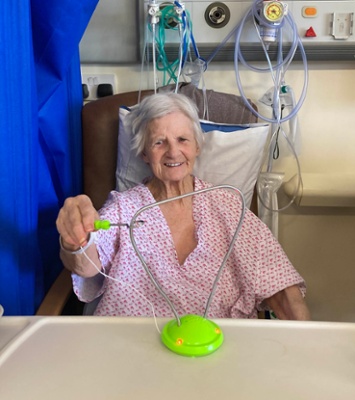 Melita Ralph proved a dab hand at Don't Buzz the Wire. She said: "The funfair games are a great idea. I've had a lot of fun playing the games – it reminds me of my childhood."
PICTURED: Melita Ralph proved a dab hand at Don't Buzz the Wire.
Liz Alford enjoyed taking part in a basketball game. She said: "It's a good way of keeping patients entertained during the day. Days can prove quite long, but events like the funfair keep us all busy and happy."
Heidi Fox, occupational therapy lead for older persons mental health, added: "Joanna has put in a lot of hard work, commitment and creativity to continue developing the memory impairment advice service.
"She has provided excellent support, advice and education to patients, families, carers and the multidisciplinary team.
"The event she organised highlighted the importance of engagement in meaningful activities and individualised-based care for patients with a cognitive impairment within the ward environment."