Frontline staff receive New Year Honours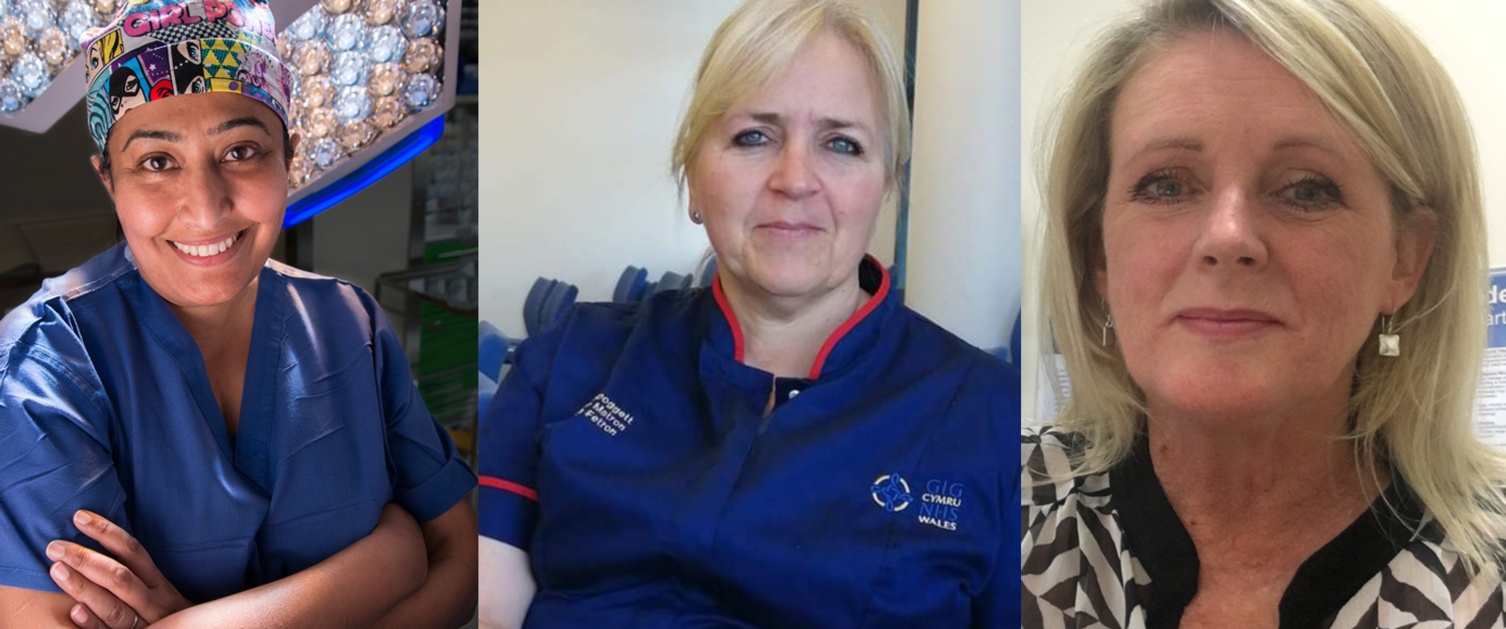 Left to right: Professor Farah Bhatti, senior matron Carol Doggett and clinical nurse specialist Karen Kembery.
Wales' first woman consultant cardiac surgeon and two senior nurses who are all leaders in their fields have been recognised in the Queen's New Year Honours.
Professor Farah Bhatti of Morriston Hospital in Swansea, who was also the first British woman of Pakistani heritage appointed as a consultant cardiac surgeon in the UK, has been awarded an OBE for services to diversity in the NHS in Wales.
Senior matron Carol Doggett, head of nursing – medicine and ECHO (emergency care and hospital operations) at Morriston Hospital, has been made an MBE for services to leadership and nursing care for intensive care patients and staff, particularly during Covid-19.
And Neath Port Talbot Hospital's clinical nurse specialist Karen Kembery has been awarded a BEM for services to nursing for her work to transform the approach to wound care and the prevention of pressure ulcers.
Professor Bhatti, who also teaches medical students and has a number of roles within the NHS, General Medical Council, Swansea University and Medical Women's Federation promoting equality and diversity, dedicated her OBE to her parents.
"It is absolutely wonderful to be recognised for the work I do in promoting equality, diversity and inclusion," she said.
"It's a privilege to be a cardiac surgeon and to also work towards creating a fairer environment where everyone can thrive."
Prof Bhatti, who has worked at Morriston for 13 years, added: "I feel overwhelmed at receiving this honour and would like to dedicate my OBE to my parents, who are the real heroes of my story."
Carol Doggett, who has been nursing since 1987 having trained at the old Llanelli General Hospital, said she was "overwhelmed" by the award and recognition.
"I accept it on behalf of all the staff from critical care and other departments who stepped up and supported the enormity of the first wave and on behalf of all the patients we nursed with Covid in ITU."
Carol spent 28 years of her career in a variety of acute nursing roles in London and Essex.
She said: "I returned to my home town of Ystradgynlais with my husband and two of my three children in June 2019 and began work in Morriston Hospital as the senior matron in critical care.
"Over the following 18 months I supported and led the nursing teams in critical care through the first wave of the coronavirus pandemic, alongside clinical director Dr John Gorst."
Karen Kembery, who said she is lucky to have the support of her husband Gareth and daughter Rebecca, could not believe her eyes when she received the email telling her she would receive the BEM.
"I had to read it three times and I get quite tearful just thinking about it. It is wonderful to have been honoured in this way," she said.
"I started my nursing career in 1986 and for the last 20 plus years as a tissue viability nurse I have dedicated my career to transforming approaches to wound care and pressure ulcer prevention.
"However, none of my achievements would have been possible without the support of the tissue viability team, our incredible staff and patients and the trust they placed in me."
Karen added: "I am proud of the tissue viability care we provide our patients, even more so this year during the pandemic."
Dr Richard Evans, Executive Medical Director for Swansea Bay University Health Board, said he was "absolutely thrilled that Prof Bhatti has been honoured".
He continued: "Not only is she a fantastic surgeon and teacher, she is also a champion for diversity in this challenging field of medicine, always working towards her stated goal of breaking down barriers for those who want to follow in her footsteps.
"Her dedication to her role makes such a difference to patients, colleagues and undergraduates alike and I cannot think of anyone more deserving of this honour."
Responding to the awards for Carol and Karen, Christine Williams, Interim Director of Nursing and Patient Experience, said: "It is wonderful that these honours shine a spotlight on two senior nurses whose work and leadership provides hope and comfort to so many of our patients and their families during these dark times.
"Like their nursing colleagues, Carol and Karen would never seek praise for what they do, but it is only right that their achievements are marked at the end of what has been the most challenging year in NHS history.
"I'm sure I speak for many when I say we are so proud of them and look forward to continuing our journey to improve the services for our patients together."