First keyhole spinal op in Swansea Bay sees patient back home the same day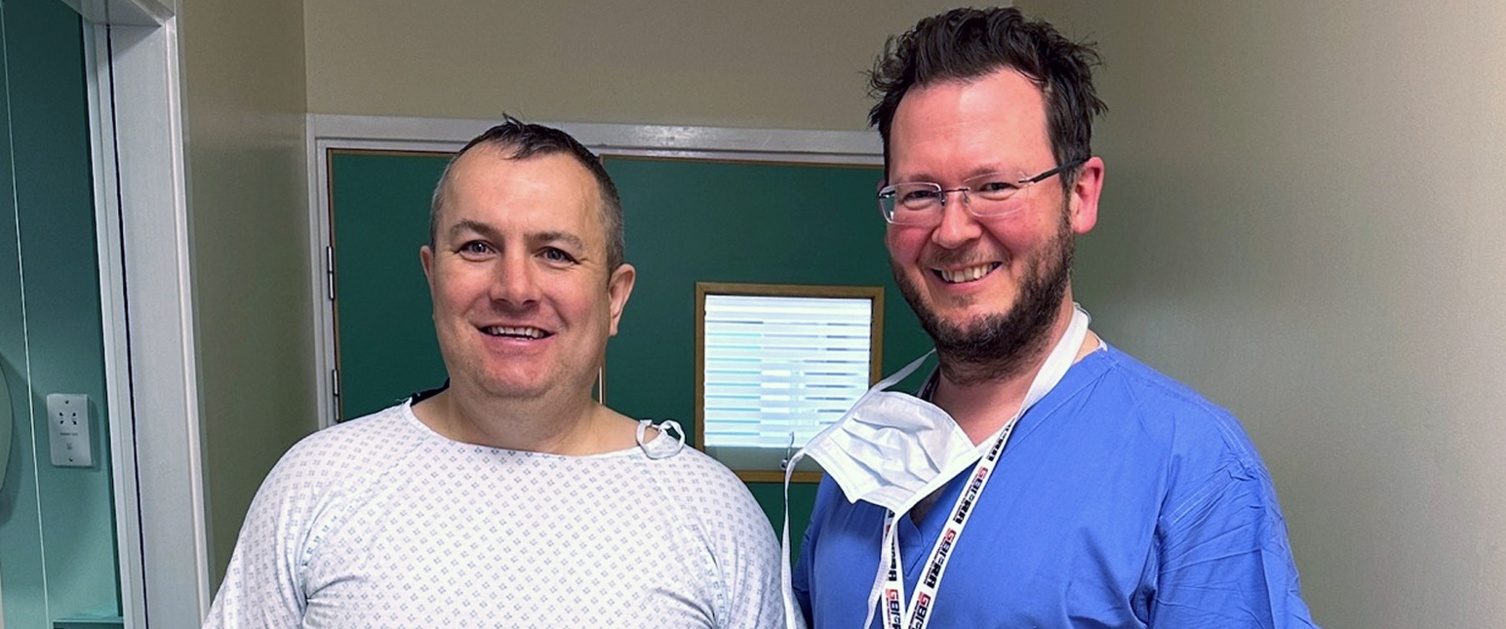 Keyhole surgery for people with a debilitating spinal condition has been carried out for the first time in Swansea Bay.
For some patients the minimally invasive procedure, known as an endoscopic discectomy, avoids the need for an overnight hospital bed.
Patient David Williams with surgeon Ben Boreham shortly after surgery
The first case was successfully carried out at Neath Port Talbot Hospital by consultant spinal surgeon Ben Boreham, who described it as an elegant solution to a common problem.
Mr Boreham removed a herniated disc from the spine of 44-year-old telephone engineer David Williams, from Carmarthenshire, who has suffered with sciatica-like nerve pain in his legs for years.
"After the operation I was on my feet really quickly – within an hour. And I went home the same day, which was amazing," said Mr Williams.
The procedure will be made available to a limited number of eligible patients from the Swansea Bay and Hywel Dda health board areas, though it is hoped the caseload will increase over time.
Intervertebral discs are soft, shock-absorbing cushions between the vertebrae (back bones). For various reasons these discs can become herniated; they lose shape and bulge into the spine.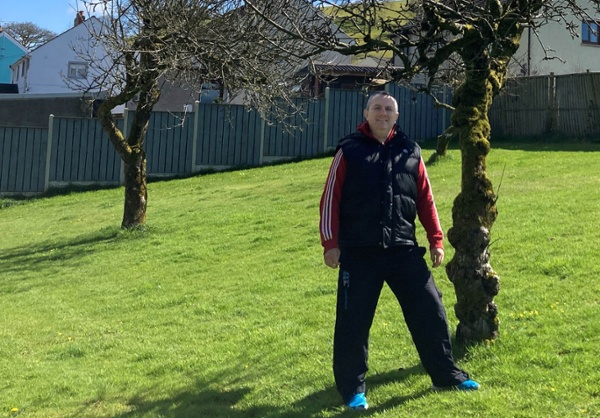 This can put pressure on the spinal nerves, causing potentially chronic leg pain or symptoms such as weakness, burning, numbness or tingling.
A discectomy is the surgical removal of the damaged part of the herniated disc, when non-surgical treatment has not worked.
Mr Williams was enjoying walks around the garden soon after arriving home
The traditional "open" technique involves the surgeon making a large skin incision in the back, and lifting the muscle to expose the spine.
An endoscopic discectomy, by contrast, involves a tiny incision through the skin and muscle tissue. A thin metal tube is inserted, through which the surgeon can thread a small camera and special surgical instruments.
"It's not a particularly new technique," said Mr Boreham. "In some parts of the world it has been done for a little while now.
"But it's relatively new in the UK and something that appealed because it has a number of benefits. There is less pain and blood loss, and a faster recovery for the patient.
"It also means you can potentially get patients home the same day without the need for an overnight stay. It's always best to be in your home if possible, and the bed is then available for cases the next day."
The health board invested in the procedure using Covid recovery funding, which paid for new equipment and specialist training.
This involved Mr Boreham, consultant spinal surgeon Navin Verghese, surgical care practitioner Rachel Thomas, Neath Port Talbot Hospital orthopaedic speciality manager Jade Rouse and spinal nurse practitioner Rhiannon Hawes between them visiting centres in the UK and Germany.
The first procedure at Neath Port Talbot Hospital took around two hours to complete.
It was carried out under general anaesthetic. Consultant anaesthetist Dr Doug Morgan said: "The technique was largely the same as for an open procedure.
"However, if there is less pain afterwards, this frees the anaesthetist to more quickly move on with the next patient, potentially resulting in improved list efficiency."
Coincidentally Dr Morgan had previously had his own prolapsed disc cured by Mr Boreham via the larger incision technique.
"I jealously watched as the tiny hole was delicately made and I couldn't help touching my own larger scar for comparison," he said.
Right: Enjoying a walk around his garden – David Williams is looking forward to better quality of life
Orthopaedic specialty manager Jade Rouse said the operation had gone even better than planned.
"We anticipated we would be there most of the morning but it actually went quicker than we thought," she said.
"Having a same-day procedure avoids the patient having to stay overnight, and the costs associated with that.
"The bed can then be used for another patient and another speciality. And it's better for the patient, to get up and go home. It went really well."
Mr Boreham said only a limited number of endoscopic discectomies could be carried out to begin with. As with any new technique, the team needed time to develop their skills and become used to the new equipment.
"It's not a procedure for back pain, which is an incredibly common symptom but one that, unfortunately, surgery does not really have an answer to," he said.
"However, for leg pain due to nerve compression it's a good operation, as the pain can be very severe and disabling.
"Most of these problems can be resolved without surgery, but it's the ones that do not respond that you go on to operate on.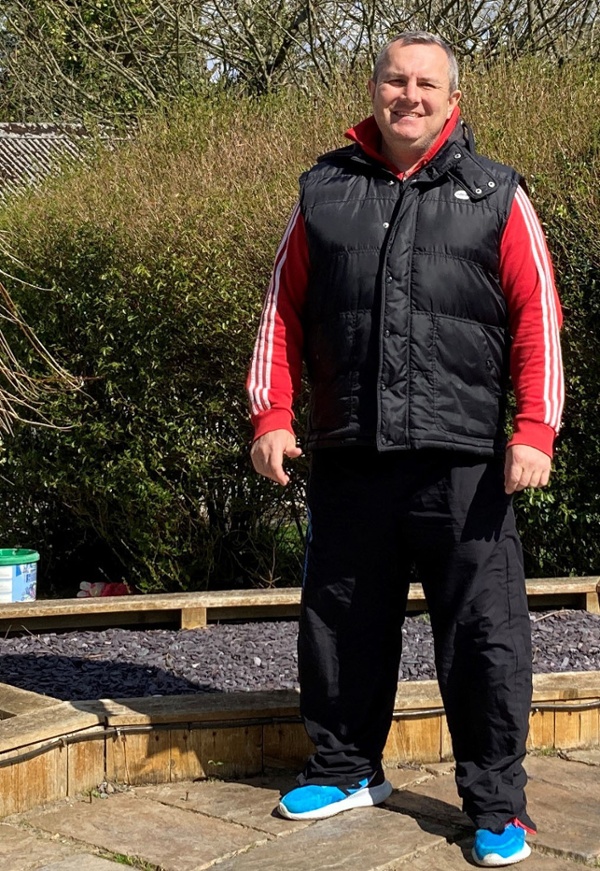 "Because of our limited capacity we have strict criteria and can only operate on the most urgent, needful cases.
"It's a service we are planning to develop but it does involve building your caseload and experience, and perhaps doing more courses. But as a starting point, it's quite an elegant solution to a common problem."
Mr Williams, an Openreach engineer from Llanybydder, had suffered from sciatica-like nerve pain, particularly in his right leg, for years.
"At the start of last year it got really bad," he said. "At one point I had to go to A&E because I lost the feeling in both legs for a few hours.
"I tried physiotherapy and painkillers, which alleviated the pain but did not get rid of it.
"I didn't stop working but I work all over South Wales and if I was driving for a long period I had pull in to stretch my legs. I had to be careful how I planned my day."
Mr Williams was referred to Mr Boreham and underwent various scans. It was then decided that surgery was the best solution.
"Once the anaesthetic wore off I was ready to go home straight away but they wanted me to wait a bit until I got my strength back," he said.
"The leg pain is definitely much better than it was. I'm walking around the house and the garden, though I'm following the advice from the physio and taking it easy.
"Hopefully now I can look forward to a better quality of life."
The health board aims to develop Neath Port Talbot Hospital as its centre of excellence for orthopaedics, spinal care and urology.
As part of these plans, three new operating theatres opened there earlier this month, representing a total investment of £21 million.
Kim Stephens, the hospital's theatre operational manager, said: "The team are really enthusiastic and welcome these new procedures."