Emergency Department choir is critical to staff wellbeing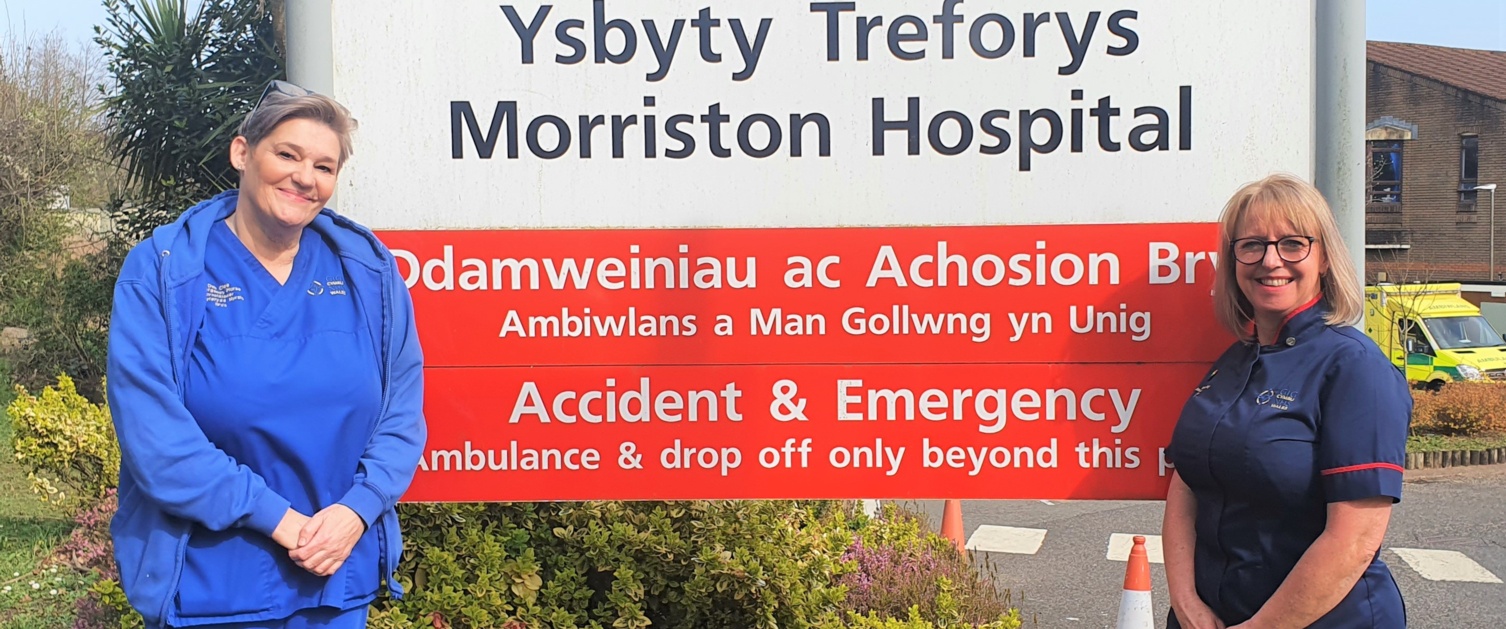 A hospital choir is going from strength to strength after appearing on TV as part of the BBC's coverage of the first national Covid Memorial Day.
Above: Choir founder, Debra Clee, and Andrea Bradley
Morriston Hospital's Emergency Department Choir was formed around three years ago to give the ED team a social outlet to relax and rebuild their wellbeing, away from the pressures of work.
But it really came into its own after the start of the pandemic when members faced the most testing challenges of their careers.
One of their first offerings, following the outbreak in March 2020, was a rendition of the Jackson Five hit I'll Be There. The video of the performance, filmed on the steps of the atrium in Morriston Hospital, went viral.
The song carried the message asking everyone to stay home and reminded the public that when they need help, NHS staff would be there for them.
The uplifting song caught the attention of music agent Fraser Kennedy. He contacted the choir to suggest they should perform another tune, Proud, alongside Heather Small, who originally had a hit with the anthem in 2000.
The song is one of the choir's favourites to perform so they jumped at the chance to take part.
The number of choristers has grown exponentially alongside its fame, and it has been opened up to all staff members irrespective of whether they work in ED.
Now, the choir's appearance on BBC One Wales has led to another surge in new members.
Choir founder, Debra Clee, an emergency nurse practitioner in Morriston, said: "I started the choir around three years ago following a wellbeing day for the staff. We were looking for ideas and I suggested a choir, it just grew from there.
"There were four of us originally and now there are around 25. People just dip in and out where shifts allow.
"The department in general can be pretty grim sometimes so we need this escape. We have been singing together online during the pandemic, it has massively lifted the spirits of everybody.
"It's just the being together. Yes the singing is great but the teamwork and pulling together really helps. It gives us something to focus on."
Andrea Bradley, the health board's newly-appointed matron for nurse recruitment and a founding member of the choir, gave an insight into the pressures choir members face in their jobs.
She said: "I was a matron in the ED department. They are under tremendous pressure, and I'm really proud of how hard they work.
"They turn up and forget all the pressure of home life and knuckle down and work extremely hard for a long period of time.
"However hard that shift is, they go home, dust themselves off and come back the next day. That applies to every member of staff who works in the department, and it's to their absolute credit.
"The past year has been extremely tough because you are worried about what you are taking home to your families, you are worried about all those at home while your families are worried about you coming to work.
"On top of all that, you have to try to give the best care you possibly can to people who couldn't see their families and loved ones. That has been extremely difficult for the staff to witness."
Andrea said the recent appearance on television had given the choir a real boost.
She said: "Being part of the BBC memorial programme was the biggest privilege of all our lives.
"To be able to sing for people who had lost their lives during the pandemic, including colleagues, was an honour. You can't underestimate the level of wellbeing, just asking the choir to step forward and sing, generated.
"The difference in the choir afterwards was very noticeable. They are all so proud of themselves and I'm very proud of them all, what they do in work and the people that they are.
"I think it's very important that we thank the choir for what they have done. It was a real pleasure to watch them sing on television and I was extremely proud of them all."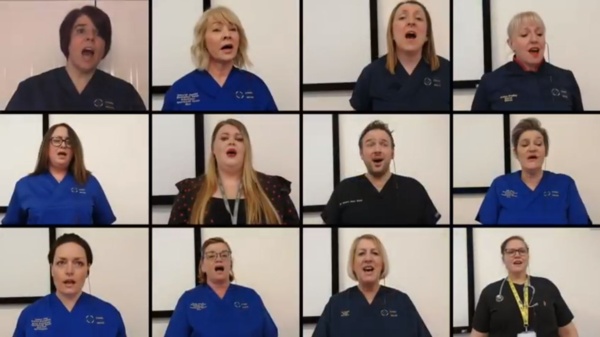 The appearance has also led to an influx of would-be members.
Andrea said: "We've had quite a lot of enquiries from people wanting to join since we appeared on television.
"Other staff have seen the positive effect on those who are in the choir and they want to feel that buzz, they want to feel part of that group.
"They are not joining because they are glory hunting, they are joining because they want to have that uplifting experience we're having."
The choir's musical director, Jonathan Lycett, the only civilian member, underlined the value of being part of a choir in terms of benefits to mental health and wellbeing.
He said: "It has been incredibly important. This past year, they have needed that switch-off more than they have ever needed it before.
"We have needed the NHS more than ever in our lifetimes and they have never needed this hour's wellbeing more."