Digital solution saves hours filling in essential paperwork
Countless hours spent completing essential paperwork for patients is fast becoming a distant memory for nurses and other healthcare staff in Neath Port Talbot Hospital.
The nursing documentation required for a single admission to hospital can run to more than 70 pages.
This is not only time-consuming, but frustrating for patients and carers, who may have been asked the same questions several times by healthcare staff elsewhere before they came into hospital.
Main photo above shows Ward C Manager Cath Howells and Neuro-Rehab Ward Manager Christine Evans check patient information using WNCR
Now a digital solution known as the Welsh Nursing Care Record (WNCR), is being rolled out across Wales. It means much of this work can be done electronically – saving time and improving patient safety.
The WNCR has involved developing standardised e-documents, allowing the same patient information to be recorded across the whole of Wales.
To begin with, the admission assessment, along with six core patient risk assessments including nutrition, falls and pain, were standardised, with work ongoing to add more.
WNCR went live in Neath Port Talbot Hospital earlier this year following a pilot in March 2020. Staff now record and access patient information using computer devices.
Feedback has been really positive, with many nurses reporting it has freed them up to spend more time with patients.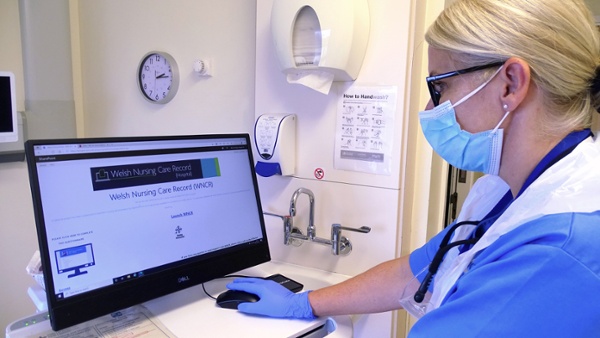 Clinical nurse specialist Tracy Jones said: "It takes about an hour to complete a comprehensive nursing admission.
"There are about 70 pages to admission documents which the nurses or healthcare support workers have to complete for every single patient that comes in.
"On every one of those pages they have to put a sticker with the patient's ID on.
"Handwriting can be illegible. Pieces of paper don't stay in the same order, there's no spellcheck, there are lines crossed through. It becomes messy."
Right: Staff nurse Zoe Evans is one of the many nursing and healthcare staff at Neath Port Talbot Hospital to use the system
As well as having to fill in all the forms when patients are admitted, risk assessments have to be updated daily and weekly. Yet more paperwork has to be completed when the patient is discharged.
Senior matron Liz Williams said: "The aim of WNCR is to release nurses from the administrative burden of completing essential paper nursing documents, allowing them to spend more time on direct patient care.
"Digitisation of the nursing documentation has enabled more remote working. For example, dietitians and physiotherapists can access patient notes without having to come to the ward."
The information is also instantly available when the patient is discharged, and is fed into the Welsh Clinical Portal, the national digital patient record.
This means the information is available to NHS healthcare staff wherever in Wales the patient receives care.
Swansea Bay developed an electronic nursing assessment that was piloted in NPTH Ward A in 2018. It was shown to save around 10 minutes per admission for nurses and 20 minutes for healthcare support workers.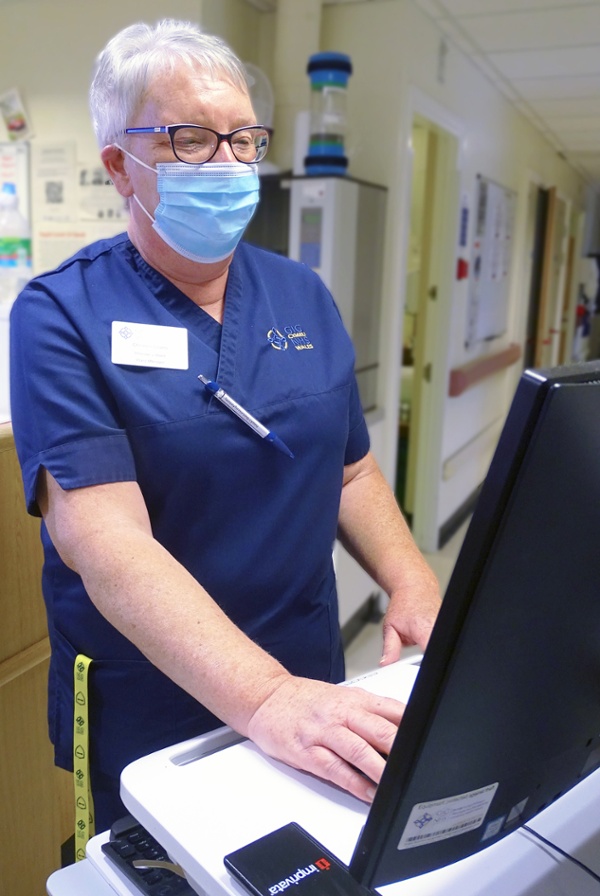 The WNCR was subsequently developed in Swansea Bay on behalf of Digital Health and Care Wales, which selected it as the basis of an all-Wales solution.
WNCR went live in five wards in Neath Port Talbot Hospital in April this year, with a sixth ward added in August.
The hospital was chosen because it was already using another digital solution, HEPMA – Hospital e-Prescribing and Medicines Administration – so the nursing teams were familiar with the technology involved.
HEPMA automates the prescribing and administering of medicines for patients in hospital, again saving time and reducing the risk of errors.
Left: Neuro-Rehab Ward Manager Christine Evans using WNCR
Swansea Bay's Digital Programme Manager, Marc Thomas, said: "Nurses and healthcare support workers have embraced the technology and the new digital ways of working.
"Implementing WNCR after HEPMA contributed to its success, though that wasn't the only reason – we had vast support from our brilliant team of corporate nursing colleagues.
"But it really made it easier because, while the type and amount of information going into WNCR is wide and varied, the staff were already confident with the devices."
Nursing staff are proud of what they have achieved, especially as Neath Port Talbot is the first hospital in Wales to have both HEPMA and WNCR.
For example, ward sisters receive regular reports showing when the last risk assessments were completed.
Tracy said: "Some display them on the wall so the nursing teams can see them.
"When they were first printed out, there were lots of red on the reports which showed what was out of date or overdue. Now it's all green on some wards.
"The nurses are really proud of that. They can see how they've improved their practice and they've improved patient safety and patient care.
"We had a visit from another health board and they were so impressed by how our reports were being used to improve care and how the nurses were taking ownership of them.
"It's a much more professional way of completing nursing documentation, and safer for the patient and for the staff."
Liz said the implementation had been successful because the system was intuitive and had been designed with nurses in mind.
"We're fortunate because it was originally designed in this health board, which we should be really proud of," she added.
"We're now planning our next roll-out, at Singleton Hospital this November."