Dental superheroes ready and waiting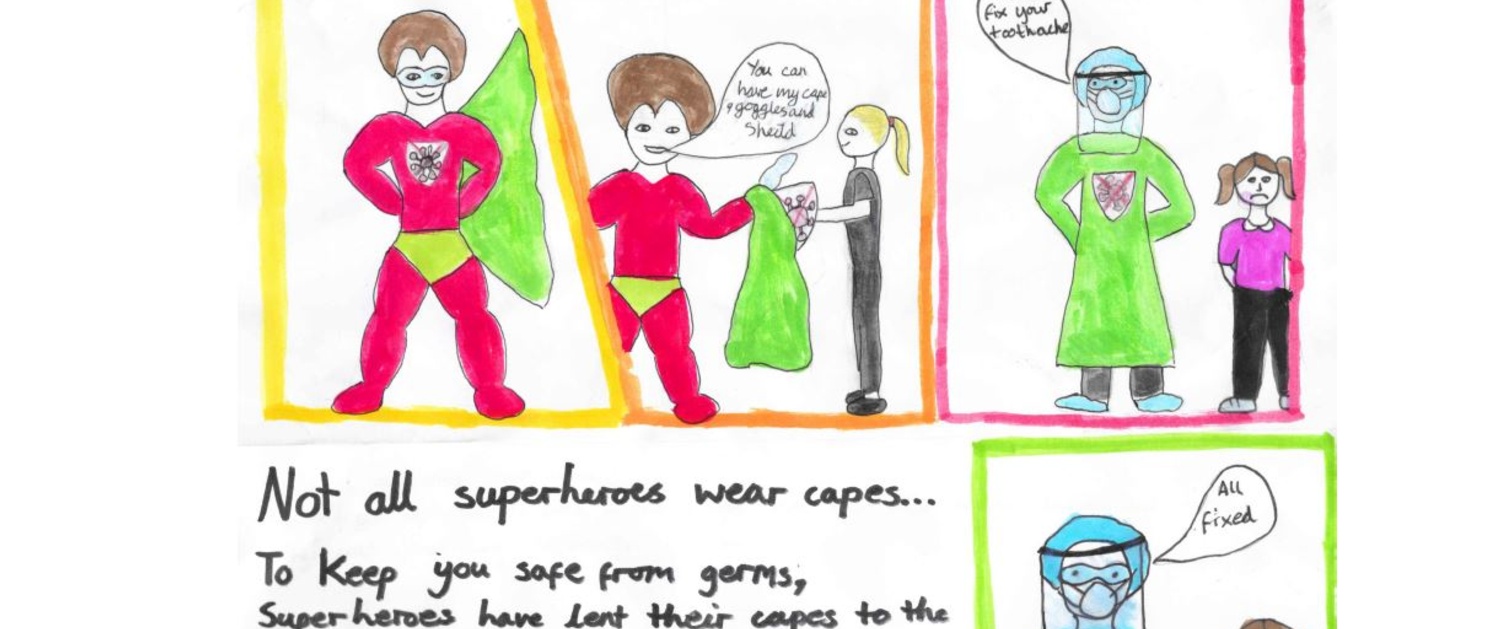 The drawing skills of two talented Swansea youngsters have been put to good use – depicting local dentists as the new superheroes.
Amelia and Jake Griffiths, aged 12 and 10, from Gower, have designed leaflets aimed at making a trip to the dentist less scary now that COVID-19 restrictions means dental staff may have to sometimes wear enhanced levels of personal protective equipment.
"Not all superheroes wear capes," says Amelia. "To keep you safe from germs, superheroes have lent their capes to the dentists and nurses, they just wear them differently."
Jake said: "Calling all superheroes, it is time to hand over your capes to dentists, so the dentists can use their powers to bring justice to all teeth."
The children were asked to help design the leaflets by specialist paediatric dentist Dr Rohini Mohan, when she realised that during the pandemic, restrictions meant dental staff would be dressed in masks and goggles from the outset, instead of meeting children initially with uncovered faces. She explained:
"We didn't want children to be scared by us, so we were delighted when Amelia and Jake offered to help by drawing these wonderful pictures for the leaflets. We will now get them printed and handed to children ahead of them meeting us for the first time."
Dr Mohan added:
"Dentists continue to work to their normal high standard of infection control and patients are used to seeing dentists in masks, gloves and visors routinely. But during this time dentists may also have to use additional items. These are pieces of equipment commonly being used at our hospitals."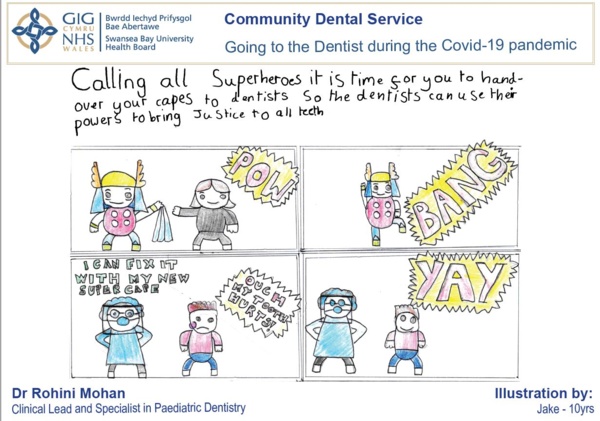 All dental practices remain open for children and adults throughout Swansea and Neath Port Talbot, but with a reduced service. Dentists can't currently use drills, for example, because the fine sprays generated by them could be an infection risk at the moment. But there are still plenty of services available.
Uplands, Swansea, dentist Richard Jones, explained that if a patient rang up with a toothache, swelling or non-healing ulcer now, they initially get a telephone consultation.
"We remain open and if patients have a dental problem they should ring their local practice irrespective if they have attended recently or not.
"We will review their case over the phone and if it is something simple like a broken filling we will give advice on how to manage them for the time being. Depending on the problem, we might offer prescription antibiotics or painkillers. We are also about to trial video links with patients to further aid patient care.
"If we can't assess someone over the phone we ask them to come to the surgery to be assessed in person. While we can't currently drill teeth, we can still provide temporary fillings, or extract a troublesome tooth if it is simple and uncomplicated."
For patients who are urgent cases and do need to have more complex care or procedures, the health board has set up an urgent dental centre, which all dentists in the area can quickly refer patients to. Staff there are equipped with appropriate personal protective equipment, which allows them to safely carry out these more complex procedures.
He added:
"It's important that people continue to contact their local dentist if they have urgent problems such as a swelling, pain that is not relieved with simple analgesia within 24-48 hours or if they have ulcers which are not healing within seven days.
"No-one should be suffering from toothache or a dental infection - your local dentist is able to provide care and advice quickly. I would urge people to contact their dentist as soon as urgent problems become apparent."
Karl Bishop, Swansea Bay University Health Board Dental Director said:
"Around 50,000 people with urgent problems have contacted their local dentist in Wales for advice over recent weeks as all practices remained open to support their local communities.
"In the Swansea Bay area, around 5,000 people have received advice or direct care from their local dental practice. This has meant that they have had access to dentistry throughout this difficult time and prevented pressures on other parts of the health service.
"I am extremely proud and grateful for the way dentists and their teams have responded to the COVID-19 challenge in the best interests of patients. This includes those in general dental practice, community dental service and the specialist services in hospitals and the community."