Councillor praises Morriston Hospital "magician" after farm accident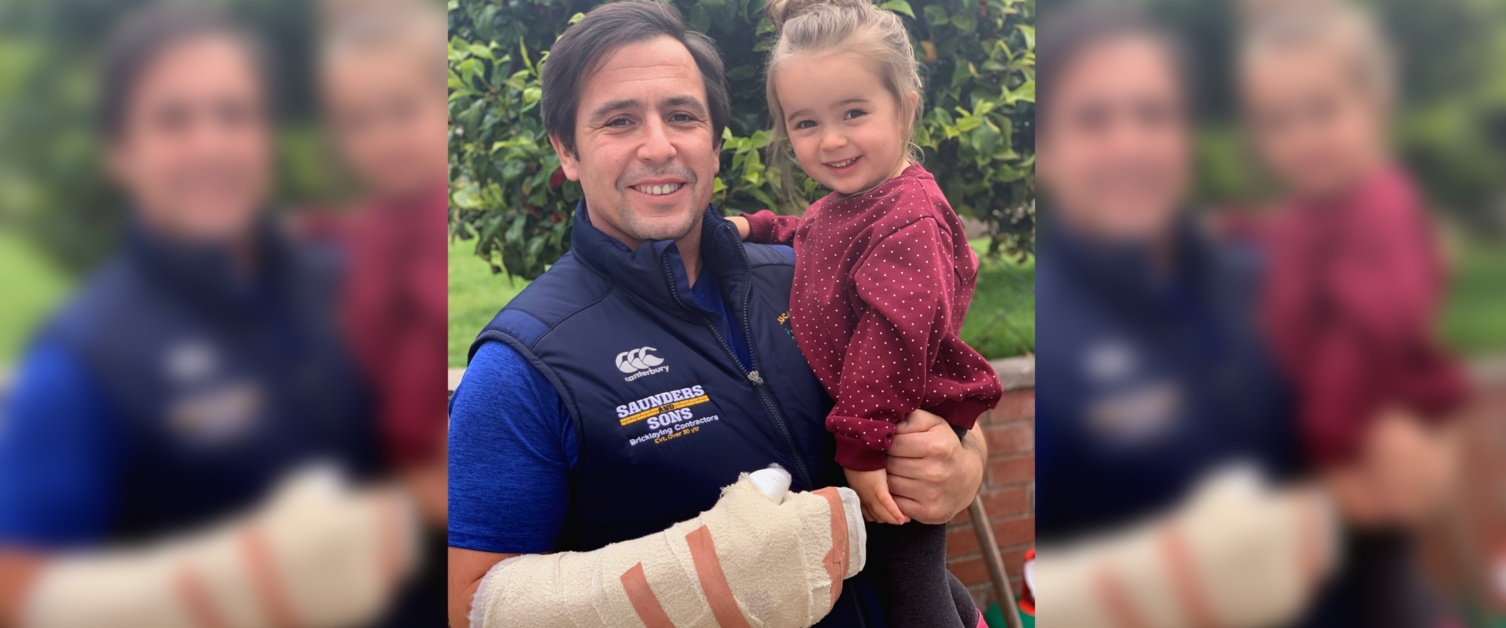 A councillor has praised the Morriston Hospital surgical "magician" who repaired his damaged hand after a farm accident.
Because of the pandemic, Andrew Stevens was awake for the three-hour operation carried out by plastic surgery registrar Tom Dobbs.
The Swansea Council cabinet member for better communities, was working on the dairy farm he runs with his brother John last Thursday when he badly injured his right hand on some glass.
"The wound was very bad. There was a lot of blood," said Andrew (pictured above with three-year-old daughter Violet), who represents the Penyrheol Ward.
"My brother phoned 999. They told him to apply a tourniquet to reduce the bleeding and the first responder paramedics were there in just five minutes.
"The ambulance arrived and took me to Morriston Hospital. I was in the Emergency Department for a while, and saw a couple of doctors and some people came in from plastics.
"They told me I would have to stay overnight so I went to a ward and the surgery was scheduled for 7.30am the following morning.
"The surgeon was Tom Dobbs. He and the entire team were fantastic. They used a nerve block so I was awake through all of it. Tom told me later I had around 100 stitches.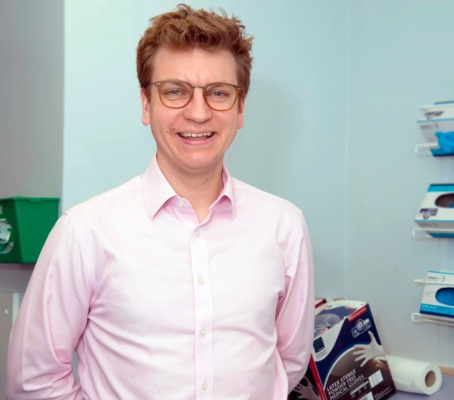 I was home at 3pm that same day but it's going to take a long time to recover from this.
"I can't feel my thumb yet but I can move it. After the accident, two of my fingers wouldn't move at all."
Mr Dobbs (right) said there was a lot of damage to repair during the three-hour operation, requiring a lot of stitches.
"Having the patient awake throughout is not what we would usually do. We would normally put them out," he explained.
"It's not because they can't tolerate the pain; they have no sensation at all because of the nerve block.
"However, we have to put a tourniquet on to stop the blood going to the hand and they can find that a little uncomfortable.
"We are avoiding general anaesthetic whenever possible because of Coronavirus.
"You can have big problems if the patient is an asymptomatic carrier – people can have it for five to seven days before they show any symptoms.
"They can spread it to other people. But also some work has come out of China suggesting that if they have a general anaesthetic while they are asymptomatic, there can be quite bad outcomes.
"We are fortunate in that we can actually do a lot of our work using regional anaesthesia, or nerve block."
Andrew, a former Mayor of Gorseinon, has raised many thousands of pounds for the cardiomyopathy service in Morriston Hospital.
He set up an annual touch rugby tournament in memory of close friend Richard "Decky" Thomas who died from the condition aged just 29.
Now he has taken to social media to offer his heartfelt thanks to all the staff at Morriston Hospital.
Andrew said he was overwhelmed by the performance of Mr Dobbs and his team, including the anaesthetist, nurses and scrub nurse.
He added: "Tom did a fantastic job. He was like a magician. Because I was awake I was fully aware of everything that went into the surgery. It really blows me away.
"All of this was in the middle of a pandemic. It proves just how wonderful our NHS is and why we should protect it at all costs."