Consultant Connect goes live in record time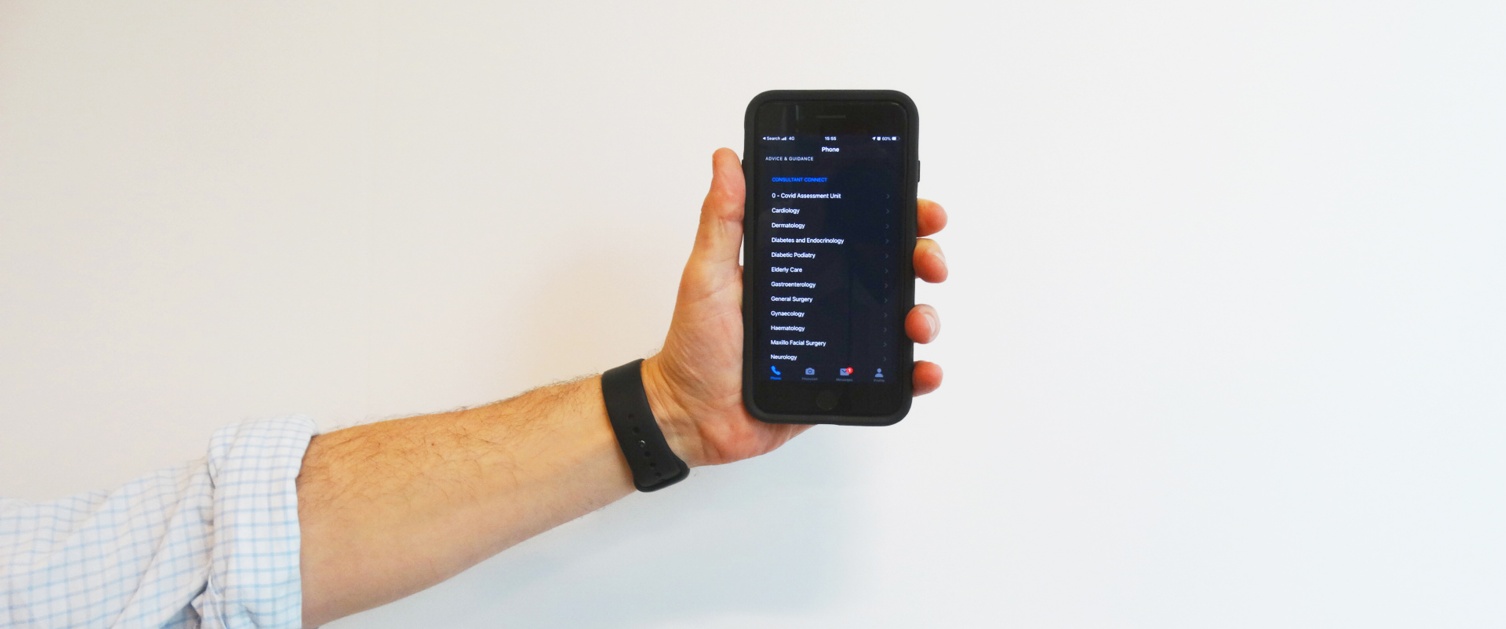 A specialist advice service for GPs, paramedics and other healthcare professionals caring for patients in the community has gone live in record time.
Consultant Connect is an innovative phone app which allows them to obtain advice rapidly from a range of hospital consultants.
It has been successfully used by the NHS in England and Scotland, and is now being introduced in Wales with Welsh Government funding.
Swansea Bay is the first Welsh health board to launch it. And whereas implementing Consultant Connect usually takes six to eight weeks, the app went live here today (Fri 10th April) after just 72 hours.
Initially, the service will focus on COVID-19 inquiries, along with others relating to four medical specialties, but this will be expanded in time.
Swansea Bay's Interim Deputy Medical Director, Dr Alastair Roeves, said: "Consultant Connect is an app that GPs, paramedics and other allied health professionals can install on their mobile phones.
"If they see a patient in the community, whether it's in a GP surgery, in a cluster hub, or in the patient's home or in the street, and they are not sure what to do, they can use the app to simply dial a number to the relevant specialist.
"The app knows which specialists to call, because they are on a rota. So you're guaranteed to be put through to a specialist within a couple of minutes.
"Having that instant advice will help prevent unnecessary hospital admissions that aren't actually going to benefit the patient."
There are helpline numbers for COVID-19, urgent general medical and renal medicine inquiries, along with palliative care, all available 24-7.
Seven-day support during set hours is also available for inquiries relating to diabetes care.
"It's about providing up-to-the-minute information and advice about COVID, but about all these other conditions as well."
Dr Roeves said that, in time, the number of helplines and specialists available would increase.
"We're hoping to have a line for inquiries about mental health and about heart and chest problems, but eventually all specialties could be able to offer advice in this way.
"This will also help us deal with people on outpatient waiting lists.
Dr Roeves paid tribute to everyone involved in the project, including the consultants – most of whom are from Morriston, Singleton and Neath Port Talbot hospital – and the Local Medical Committee for GPs.
He said that, while Consultant Connect had been fast-tracked because of the Coronavirus pandemic, it would provide long-term benefits.
"You could have any outpatient speciality having an advice line. So it may be that actually GPs will want to call the advice line rather than referring the patient.
"It will empower them to take care of their patients in a different way to what they currently do, out in the community.
"This will help GPs keep that lifelong relationship with their patients and still be confident they are giving the best care possible."
Consultant Connect Director Roger Tweedale said making it available in Swansea Bay in just 72 hours was a huge achievement. He added: "I don't think any other UK area will ever beat this timetable."