Chemo unit's gift from cancer survivor will help improve both patient and nurse experience of giving injections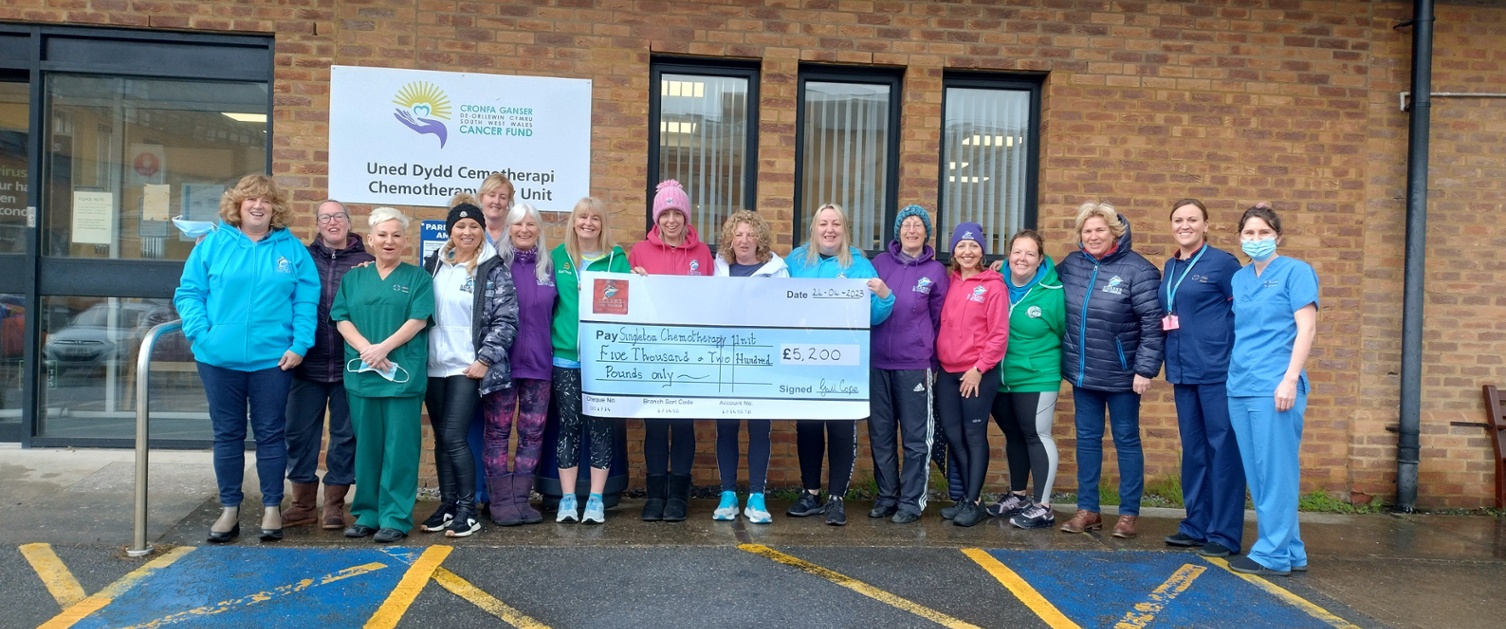 Staff at Singleton Hospital's chemotherapy unit have been gifted a device by a cancer survivor which will help them deliver intravenous therapy more easily.
Retired civil servant Gail Cope raised £5,200 to fund a vein pen, which nurses can use to locate the strongest vein to use for the chemotherapy.
This enables cannulas to be fitted successfully, avoiding potentially multiple attempts at insertion.
The 60-year-old threw herself into fundraising for the equipment after being treated at the Singleton unit for ovarian cancer.
Gail, who lives in Mumbles, was diagnosed after taking part in Jiffy's Cancer 50 Challenge bike ride, led by former Welsh rugby captain Jonathan Davies, from Cardiff to Swansea in November 2021.
Gail said: "It was the second time I had cancer. The first time was in 2013 when I had breast cancer which resulted in me having a double mastectomy. Fortunately, I did not need chemotherapy on that occasion.
"But I was diagnosed with ovarian cancer after doing Jiffy's bike ride. My stomach was very swollen and I did not realise what it was.
"It turned out to be a very large tumour which ruptured during surgery – I looked like I was having twins!
"I had my operation in November, and in January I started a course of chemotherapy. I had six sessions and was quite lucky as my experience wasn't too bad compared with other patients who were going through harsher treatments. I like to think my fitness helped me through it."
Gail's experience of breast cancer led her to take part in Jiffy's Bike Ride, which raises money for the South West Wales Cancer Centre Fund and the Velindre Cancer Centre charity.
Now she has gone even further in her sporting endeavours as a member of Swansea Trisharks, a club which provides coaching for fitness and competitions.
During chemotherapy, Gail was always apprehensive as to whether nursing staff would find a vein - on one occasion it took three attempts.
A fellow Trishark, Shelley Griffin, who is a nurse, was able to give her tips such as warming her veins up with a hot water bottle before chemotherapy.
It was also through Shelley that Gail found out about vein pens, which eases the experience for both the patient and nurse.
Gail, who has been supported throughout by family and friends, kick-started her fundraising with a Just Giving page. The Trisharks also organised an Abba Night at Mumbles Cricket Club.
This included an auction and raffle of prizes donated by local retail and hospitality businesses, and entertainment from Red Addiction, featuring Trishark Louise Snelgrove and Victoria Hartson de Vulgt.
Just before the function, Gail was informed she was cancer free, so she was able to announce it on the night.
She is now back to her sporting achievements, having completed her first triathlon event this year since getting the all-clear, and the 60-mile County Cycles Merlin Ride in Cross Hands
She said: "The Trisharks have been very supportive; we have shared tears and laugher but to be part of such a group was so comforting.
"When I was undergoing treatment I couldn't do much exercise, but if the girls were doing anything such as a cycle ride, I would go along by shadowing in a car and providing refreshments from 'Copies Café'."
Singleton oncology matron Rachel Smith said they had been overwhelmed with the donation. "Getting the vein pen will help us provide a better service for our patients," she added.
"It can be distressing for both the patient and the member of staff if there is poor access to the vein and there are failed attempts at cannulation.
"With the vein pen, hopefully repeated attempts are reduced and the patient has a less distressing experience.
"We always want to make the patient experience better, so having something like this will hopefully improve that.
"It can be a traumatic time for patients, so anything we can do to improve the practice is what we aim to do."