Charity's £100,000 donation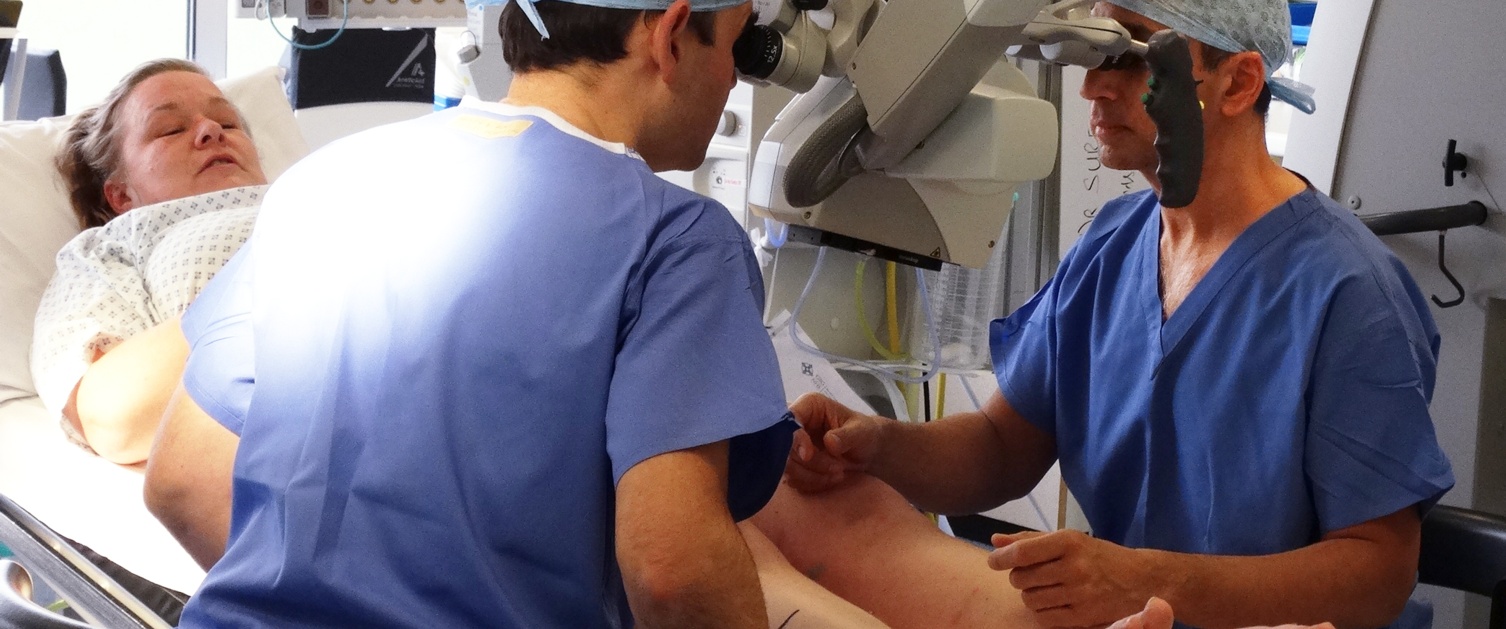 A charity's massive contribution has opened up a microscopic world of possibilities for surgeons at Neath Port Talbot Hospital.
The hospital pioneered NHS super-microsurgery on people with lymphoedema, transforming the lives of those with this previously incurable condition.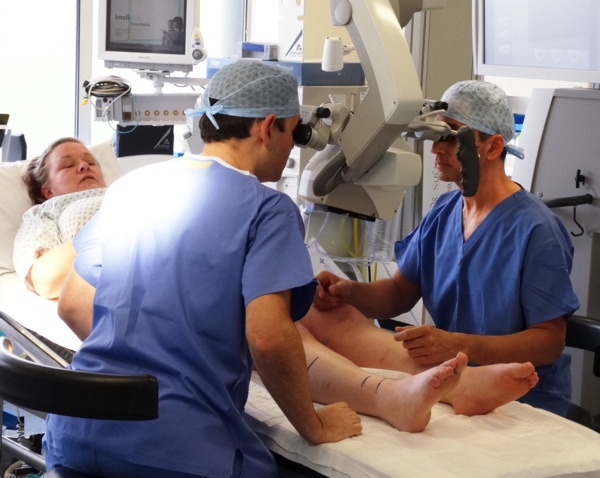 People like Rachel Cook who is able to wear boots for the first time in 16 years after she developed lymphoedema in both legs.
Surgeons Tom Bragg (left) and Amar Ghattaura use the new microscope while operating on patient Rachel Cook
"I feel like I have my life back," said Rachel, who lives in Monmouth and had surgery on both legs at Neath Port Talbot Hospital.
Now an amazing £100,000 donation from the Neath Port Talbot Cancer Challenge has provided the two highly-trained surgeons carrying out the procedure with a state-of-the-art new microscope.
One of them, Swansea Bay UHB consultant plastic surgeon Amar Ghattaura, said: "It's worth £160,000 but we got it for £100,000 after negotiating with Zeiss, the manufacturer.
"It's high magnification, and has greater manoeuvrability.
"When you're dealing with super-microsurgery at a very minute level, every tiny movement matters.
"Manoeuverability within those tiny movements also matters, so it has added on a lot for us."
Lymphoedema is caused by the accumulation of lymph fluid. It can lead to swollen limbs that leak fluid, decreased mobility, pain, anxiety and depression and frequent admission to hospital with cellulitis.
It is caused by damaged or removed lymph nodes following cancer treatment or surgery, as well as non-cancer conditions.
Many people have to wear compression garments for the rest of their lives. Others need medication to control infection.
In 2015, Wales became the only UK nation to offer lymphatic venous anastomosis (LVA) on the NHS. It uses super-microsurgery to bypass damaged lymph vessels.
Originally all the procedures were to have been carried out by Mr Ghattaura, at the time the only trained super-microsurgeon in Wales.
However, he was later joined by microsurgeon Tom Bragg, who is also a sarcoma cancer surgeon.
The service, provided by Lymphoedema Network Wales in partnership with Swansea Bay UHB, has since gone on to treat more than 120 patients from across Wales – with transformative results.
Mr Ghattaura said: "The quality of life for these patients has improved massively.
"The number having to wear garments is coming down, the number with infections is down massively by 97 per cent. It is really making a tremendous difference."
Rachel, who was looked after by the lymphoedema service based at Cimla Hospital, developed lymphoedema in her left leg – which she came to know as her "fat leg" – at the age of 24.
"They don't know what caused it," Rachel said. "It wasn't cancer or trauma or anything like that. They think I had an incomplete lymphatic system. I had to wear a compression stocking and it knocked my confidence."
Last September, 16 years after her diagnosis, Rachel had LVA at Neath Port Talbot Hospital. The results have been dramatic.
She said: "It was like an elephant leg but now it's back to normal. Within just a week, my husband and I both noticed how much it had gone down – it's nowhere near as swollen and puffy.
"I still have to wear a compression garment for now, although hopefully not in the future, but in every other respect it's great.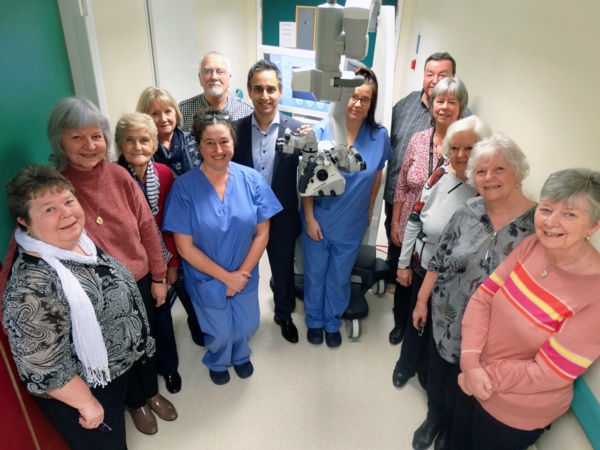 "I could never get knee-high boots or wellies on before. Now I can. I can go to the shoe shop and try on anything I like. My confidence is growing all the time."
After tests detected lymphoedema in the right leg, Rachel underwent a second procedure before it could lead to problems.
This was one of the first to benefit from the new microscope donated by Neath Port Talbot Cancer Challenge.
Neath Port Talbot Cancer Challenge members see the new microscope with theatre nurse Paula Evans, surgeon Amar Ghattaura and theatre sister Andrea Francis
The charity was formed in 1997 to help with the prevention, early diagnosis and treatment of all types of cancer.
For its 20th anniversary it wanted to do something special – and after hearing about the LVA service at Neath Port Talbot Hospital it set about raising the £100,000 needed to buy the new microscope.
Charity Chairman Peter Jones said: "Amar came to various events of ours and was a passionate advocate.
"He spoke with such conviction about what the microscope could do and how cutting edge and pioneering it was. We were delighted to take the target on board."
Special fundraising events were organised, including a lunch with BBC newsreader Huw Edwards as guest speaker, a concert with Rebecca Evans and others, and a gymanfa ganu with Alwyn Humphreys.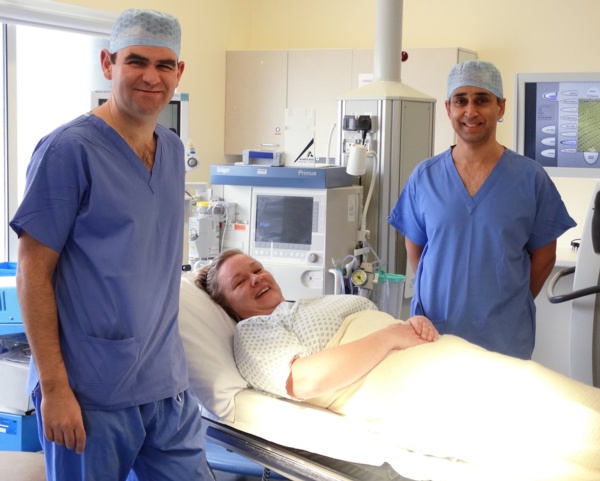 There were also the regular events the charity committee organises, such as bring and buy sales, coffee mornings, lunches and book sales, and others the charity's wider group of supporters hosted to raise money.
Neath Port Talbot Cancer Challenge members have now visited the hospital to see the microscope for themselves.
Mr Jones added: "It was wonderful to meet Amar's team and very impressive to see what the microscope could do, and to hear how many people it's helping."
Tom Bragg and Amar Ghattaura with a very relaxed Rachel Cook
Mr Ghattaura said: "We had a good microscope before but this one is a whole new level.
"We did okay but the magnification was not as good and the ability to move the microscope left and right, up and down, was not as good as this one.
"When you're dealing in millimetres, it's really important to be able to do that."