Celebrating lockdown babies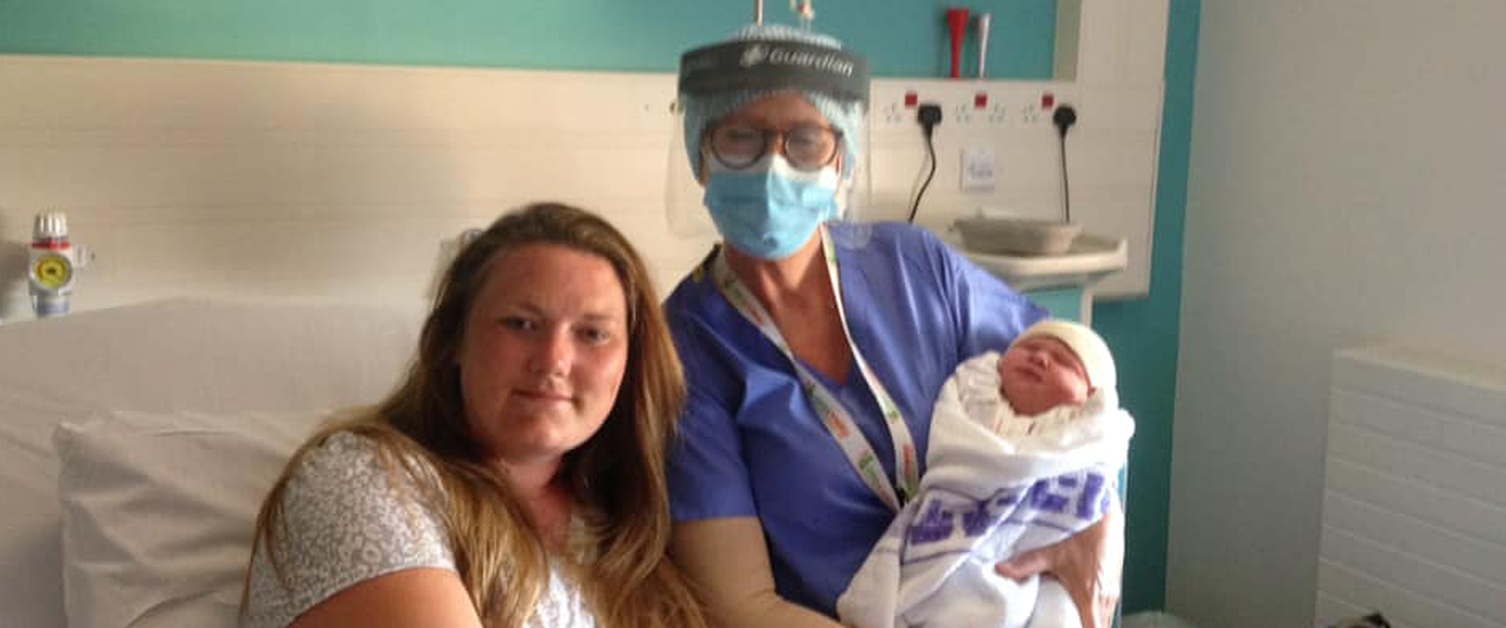 Main image: Laura Evans with midwife Christina Davies and baby Millie Hopkins-Evans
Lockdown has made many things more challenging, none more so than giving birth.
But thanks to the dedication of our maternity staff and the bravery of mums and dads, Swansea Bay University Health Board has welcomed more than 150 bundles of joy both in Singleton and Neath Port Talbot hospitals and at home during these anxious times.
We have gathered together some of their stories and pictures to inspire, offer hope and make you smile.
Among the babies welcomed was Millie Hopkins-Evans who was born at Singleton weighing 8lb 4oz on April 21st.
Mum Laura Evans is deaf and relies on lip reading, so was understandably worried about how midwives wearing face masks and visors would communicate with her.
"I was on pins," said the 30-year-old from Birchgrove in Swansea.
"But our midwife was absolutely amazing at communicating with me and my partner, Neil Hopkins, making sure I was up to date and comfortable."
Millie's birth was all the more poignant for Laura, also mum to 11-year-old Jayden, as she tragically lost her last baby to cot death.
"It's such a scary time to give birth, but these midwives go above and beyond to make you feel at ease.
"I hope hearing this story cheers others up."
Consultant midwife Victoria Owens said using the current level of PPE has posed a big challenge for the whole team.
"It made us realise how much we communicate and provide reassurance and comfort by using facial expression and touch and how valuable that part of our care is," she said.
But the team has worked with women and their families to learn new ways of communicating. They are taking part in the Smiling Eyes campaign, which encourages mums to focus on their midwife's eyes.
Victoria said the bravery of families in adapting to these new circumstances, which include strict visiting restrictions, has touched the whole team.
She added: "We don't know how long this will last but we do know we will all support each other until we reach the end."
After their son was stillborn last June, Niamh Chammings and Tyler Deveraux were excited to have a "nice and normal labour" – then the pandemic hit.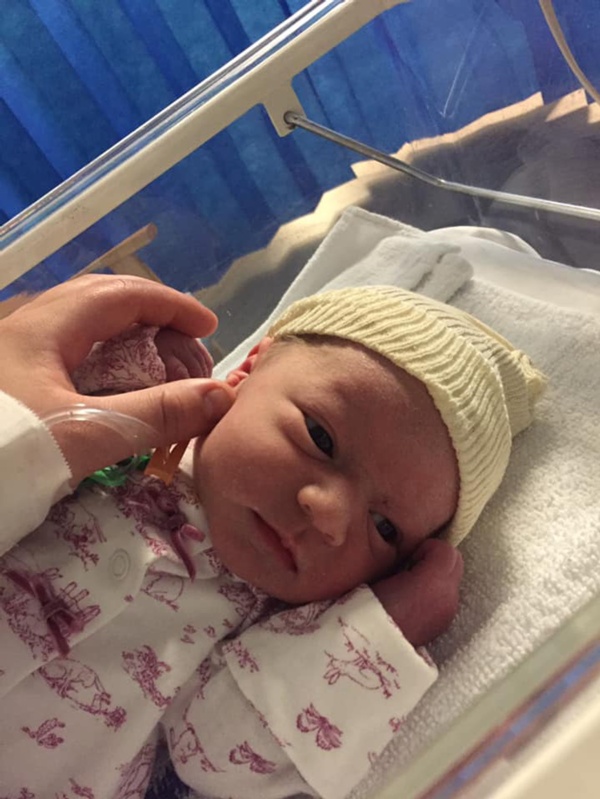 'Rainbow baby' Deliah Chammings-Deveraux was born last month at Singleton Hospital. Credit: Niamh Chammings
"When our due date fell in the middle of the pandemic we were absolutely heartbroken, but the staff and our experience were absolutely amazing," said Niamh, 23, from Cwmgwrach, Neath Valley.
"Thank you so much to our midwife Katie, who made everything feel so amazing to the point where you'd even forget about the pandemic (apart from all the PPE of course).
"Thank you for helping us bring our beautiful 'rainbow baby' Deliah into the world on the 27th of April at 9.26pm, weighing 6lbs 4oz. We are so grateful for everything that you did."
Deputy head of midwifery Susan Jose said: "Every member of the maternity team is acutely aware of the extreme worry and anxiety the COVID-19 pandemic is causing the women we care for.
"It gives the whole team such a boost to read the stories and receive thanks from women who have given birth during the lockdown.
"I feel sure all the stories we receive and publish will give women who are yet to birth confidence in our service and be assured of our ability to provide excellent care during this unprecedented time."
Even though women are still allowed a birth partner, some mums have courageously chosen to give birth alone to provide an extra layer of protection for their families.
They include Ladan Howells, 33, from Birchgrove in Swansea, whose husband Rhys stayed at home with their other daughter when she was admitted to Singleton Hospital.
"Being dropped off at the hospital and preparing to face a C-section alone was the most frightening thing I've ever done," she said.
"I was in tears walking onto ward 18, but luckily my midwives Liz and Katie took care of me instantly. I couldn't have got through theatre without them and they took so many amazing pictures so my partner could see everything he missed.
"Aside from how everyone looked (the PPE being worn), you would never know how crazy the world is at the moment. The care you receive is second to none and I honestly just have an even bigger admiration for the NHS than ever before!"
Ladan and Rhys' new daughter Rayna was born on April 17th, weighing 7lb 5oz.
Long-awaited "miracle baby" Jack Dewar arrived at Singleton Hospital on the 16th of April weighing 8lb 3oz after his parents Natalie and Nick Dewar went through three rounds of IVF at the Welsh Fertility Institute at Neath Port Talbot Hospital.
Natalie, 38, from Llansamlet, Swansea, said: "As a first-time mum I was extremely anxious and even more so with the current situation and being without my husband until I was in labour and then being on the postnatal ward on my own.
"But everyone made me feel at ease and the care myself and Jack received was brilliant."
Home births have also continued despite the lockdown.
Lucy Jones hopes her story will help soothe the nerves of other mums to be whose fears will have been heightened by the pandemic.
"Home birth was not something I would even have thought about, but with everything going on in the mad world outside it felt like the safest option for me and my family," said Lucy, 27, from Port Talbot, who gave birth to Nellie on April 17th.
"I went into labour at midnight and had the most amazing midwives with me who helped me and supported me the entire time while my husband was splitting himself between me and my oldest daughter.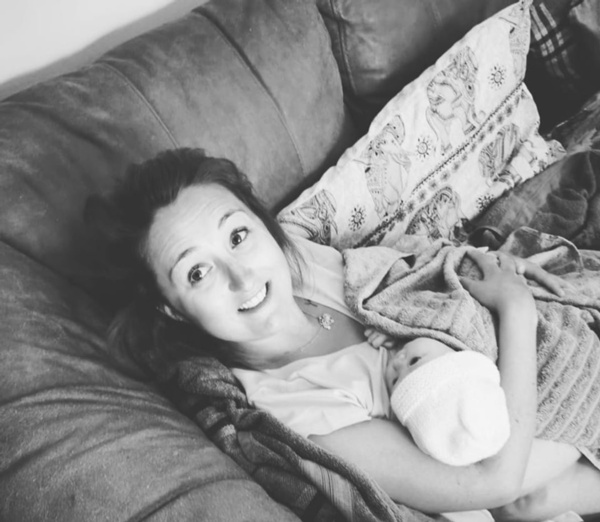 Lucy Jones gave birth to baby Nellie at home. Image: Lucy Jones
"They put my mind at ease that I was in safe hands and I didn't even think about giving birth during a pandemic, which has had me in tears plenty of times! For that, I will always be grateful!
"For those of you who are due to give birth soon please don't be scared, worried or anxious. These midwives are amazing. They got it and they got you. You can do this."
And mum Rose Turrell was so pleased with her birth experience in these strange times that she was moved to write a poem called Lockdown Baby, written from the point of view of her new son Harri, born on March 17th weighing 7lb 5oz.
Lockdown Baby
I turned up on St Patrick's Day
At almost 7am
My midwife's name was Vicky
A real Bristolian gem
A week before the lockdown started
I landed on this earth
No comprehension of the history made
In 2020, the year of my birth.
The journey started days before
An induction for my mum
She bounced around on her big ball
And rubbed me in her tum.
While we were in our bubble
All safe on ward 18
The world was in confusion
Thanks to COVID-19.
The staff at Singleton SDU
Were fantastic, truth be told
Reducing the fear of what's outside
Keeping mothers brave and bold.
As my mum labored actively
And dreamt of life with me
My dad watched Boris and the updates
On the labour room TV
Some super guys in the theatre team
Sorted out my mum
And I was left alone with dad
To change my wrinkly bum.
There were cups of tea and toast and jam
For mummies who were hungry
Advice and care from the nursery nurse
While I tried to feed from mummy.
Everyone was amazing
In every place we'd been
We were cared for brilliantly
Despite the emerging COVID-19.
I'm eight weeks old and still at home
I long to meet my nanny
But until it's safe to go outside
I'll make do with mummy and daddy.
If you'd like to share your birth story, go to the Swansea Bay Maternity Services Facebook page.