Cancer patients will get a faster diagnosis thanks to a new multi-million pound scanner.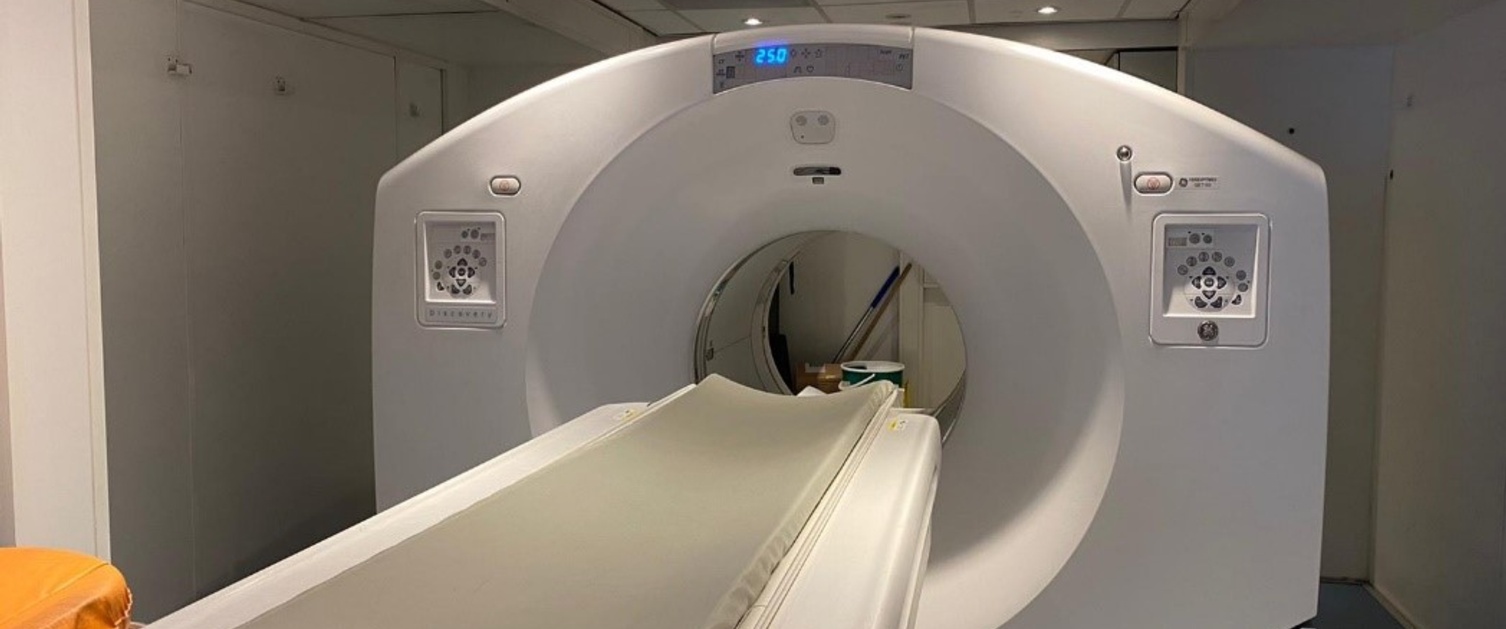 Waiting times are set to be reduced for South West Wales cancer patients who need a PET/CT scan.
Swansea Bay University Health Board has secured a mobile PET/CT scanner for Singleton Hospital, Swansea. Currently, anyone who lives west of Bridgend has to travel to Cardiff to get access to the top of the range technology.
The new scanner will also benefit patients living further West under Hywel Dda University Health Board, as well as some patients from within the Cwm Taf Morgannwg UHB area.
Whilst the scanner is mobile at the moment, the ultimate plan is for Swansea Bay NHS to become a permanent base for a static version.
Head of Nuclear Medicine at Singleton Hospital, Professor Neil Hartman, worked on the bid on behalf of Swansea Bay University Health Board, and was successful in securing the service. He said: "If we look at the number of PET/CT scanners per population, Wales is at the very bottom of the list of PET/CT availability in the whole of Europe.
"Since I arrived at the health board one of my key initiatives was to bring this scanning technology to Swansea Bay.
"I hope it is the first arrival of many other diagnostic scanning services for South West Wales."
For cancer patients a PET/CT scan is invaluable as it provides extremely detailed information about the pathology.
It combines a CT scan and a PET (Positron Emission Tomography) scan.
The CT scan takes x-rays of the body to create a 3D picture. But the PET side of the scan sees a radioactive drug (radiopharmaceutical) injected, which then shows up areas of the body where cells are consuming more glucose than normal. This allows it to see cancer and some other diseases which may not show up on other types of scans.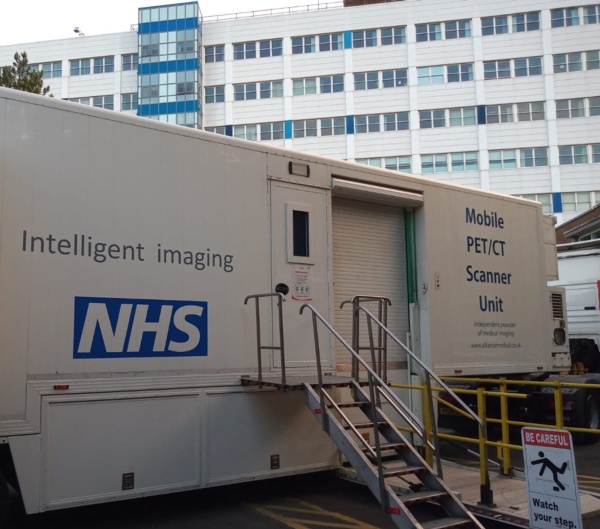 (Left – the scanner outside Singleton Hospital)
It will play a key role in making decisions about the most appropriate treatment for each specific cancer (or other pathology).
Its accuracy means it can diagnose cancer, find out how big a cancer is and whether it has spread.
It can also show how well a cancer has responded to treatment, whether it has come back, and if so, exactly where it is in the body.
All this provides the health professionals with the best possible idea of what is going on for the patient.
Professor Neil Hartman explains how PET/CT builds an incredible picture: "Having a scan like this for cancer, but also for cardiac disease and neurological disease, means for the patient quite a few other diagnostic processes aren't needed because the PET/CT scan is so specific."
For patients with cancer one of the last things they want is to be facing the prospect of a long journey. Currently, a patient living in Fishguard faces a five hour round trip to Cardiff for a PET/CT scan. Once the scanner is operational in Swansea Bay, that travel time can be halved.
Consultant Radiologist and PET/CT Clinical Lead for Swansea Bay UHB, Dr Victoria Trainer, said: "People who are potentially not very well were having to make a long, and possibly difficult journey.
"The scanner is great news for the patients of South West Wales who will now have easier access to this type of scanning at what is a very difficult time in their lives."
The Welsh Health Specialised Services Committee (WHSSC) and Welsh Government have also been part of the partnership in working towards getting the scanner at Singleton Hospital.
WHSSC was set up to make sure the population of Wales has fair access to a full range of specialised services. Managing Director of WHSSC, Dr Sian Lewis, said: "We're delighted to have been able to commission a mobile PET/CT scanner for Singleton Hospital.
"It will improve access for patients for South West Wales, while increasing the overall capacity for the whole of Wales."
It's hoped 1200 patients will be seen in the next twelve months.
The scanner opens its mobile doors to its first patients on July 2nd.