Cancer appeal's cheque for surgery team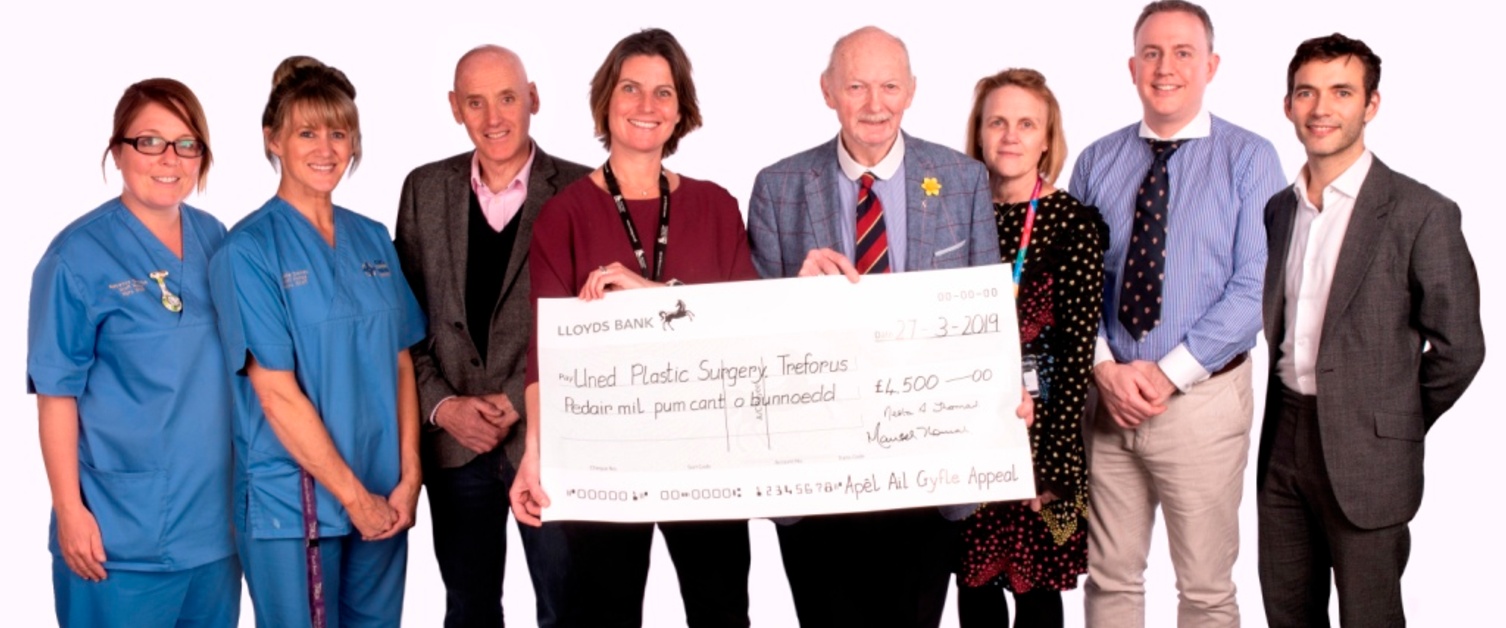 The work carried out by the Welsh Centre for Burns and Plastic Surgery in helping cancer patients has been recognised with a generous charitable donation.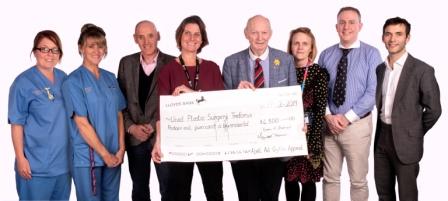 Apel Canser Ail Gyfle - Second Chance Cancer Appeal has chosen the Morriston Hospital-based centre as its latest beneficiary and handed over a cheque for £4,500 with the money set to further enhance the work of its plastic surgery team.
(Left) Ieuan Hughes (holding the cheque) of Apel Canser Ail Gyfle - Second Chance Cancer Appeal and the plastic surgery team.
The donation is to be used for the care of cancer patients and will be put towards much needed equipment for the department's new treatment centre which is scheduled to open later this year and will be delivering a high volume of day case surgery for cancer patients across the region.
The Carmarthenshire based charity is recognized for its generosity to ABMU having made a number of donations – raised through a number of fundraising events ranging from charity golf days to curry nights - over the years including a total of £7,500 for the Welsh Centre for Burns and Plastic Surgery alone.
In all the charity has donate more than £85,000 to local hospitals and hospices over the last 15 years.
Consultant Plastic Surgeon, Sarah Hemington-Gorse said: "To be recognised by the charity for the work that we do is fantastic and on behalf of the whole plastic surgery team I would like to say a huge thank you to all those who made this possible.
"We are extremely grateful to receive such a generous gift. We are working hard in plastic surgery to improve the facilities we have to allow us to continue to improve the care we deliver to cancer patients within the department.
"All donations we receive are used directly for patient care and this money has been given at a perfect time as we are in the process of equipping our new day surgery treatment centre which will have a heavy flow of cancer patients through its doors on a daily basis."
Explaining the donation Janice Davies, a spokeswoman for Apel Canser Ail Gyfle - Second Chance Cancer, said: "Our constitution notes that all monies donated must be used for the treatment of cancer and we know that many people suffer from skin cancer and that a percentage will require plastic surgery reconstruction.
"We have donated to other units at Morriston Hospital but this time it was the Burns and Plastic Surgery Unit that we decided upon and hope to repeat the donating in the not too distant future."
Pic caption: Pictured (left to Right) are plastic surgery dressing clinic nurses Rebecca Griffths and Natalie Davies, consultant plastic surgeon Sarah Hemington-Gorse, Swansea bay booking clerk Liz Bevan, representing the charity are Ieuan Hughes (holding the cheque)and Gethin Davies, along with consultant plastic surgeons Iain Whitaker and Jeremy Yarrow.