Burns survivor's gift of words to Morriston ward which helped him through dark times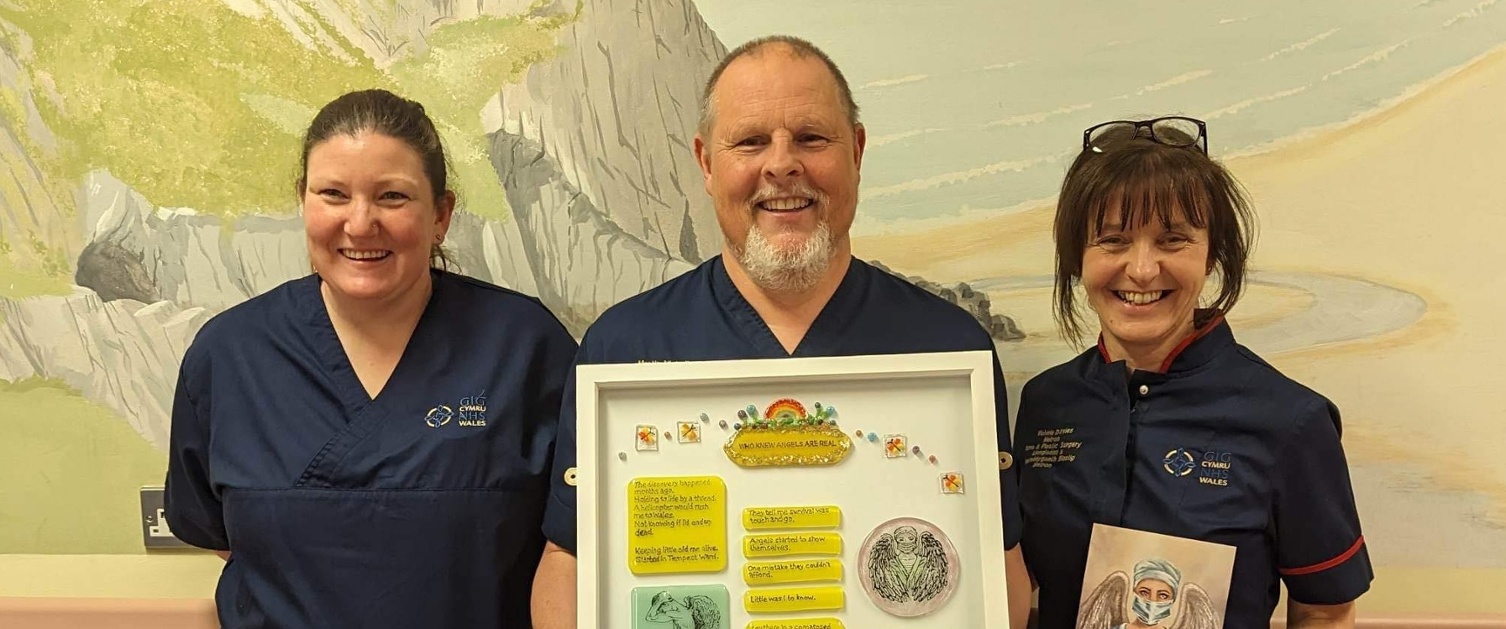 A burns patient who spent a year in hospital after suffering horrific injuries in an explosion at his home turned to poetry to thank the 'angels' who cared for him at Morriston Hospital.
The work from the pen of Stuart Cooper has now been presented to one the hospital wards where he was previously a patient, as part of an art collaboration with an artist who also owes her life to the NHS, in the hope it will inspire nurses and others struggling during their time in hospital.
Father-of-four Stuart remembers little of the fire at his home in Cowlas near Penzance, believed to have been caused by a gas heater, which led him to being airlifted to Morriston's burns centre in October 2019. He was treated in Swansea as the Welsh Centre for Burns and Plastic Surgery covers a wide area, including the South West of England.
Stuart suffered 66% burns to his body in the explosion and remained in a coma for more than six weeks, his condition so serious his family began preparing for the worst.
Stuart eventually stayed on Tempest and Powys wards for nine months, and a further three in Derriford Hospital in Plymouth.
His traumatic experience led to periods of despair, but encouraged by nurses, and his friend Suzanne Phillips, he began writing poetry to help him through some dark times.
The 47-year-old said: "I am still piecing things together, because I went to bed one night and woke up on fire, and two months later I came round in hospital in Wales.
"I wasn't meant to wake-up. My oldest son was sent home from hospital one day to tell my three other children I would not make it. I eventually came round from my coma. I only weighed 41kilos and I had to work with the physios to learn to do everything again.
"I went through some very dark periods and wanted to give up. But I promised I would not do it, mainly for my children, and I will not break my word."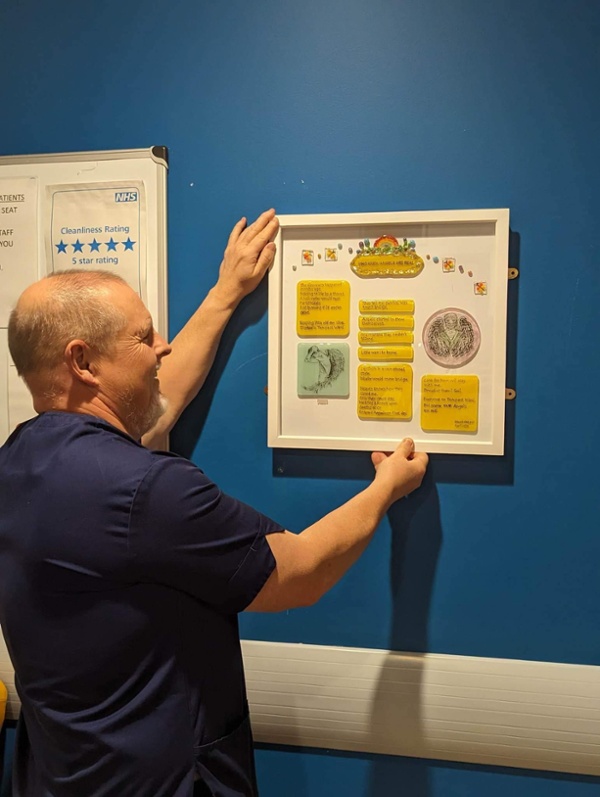 Before his accident Stuart worked as a courier for a small independent firm, which meant he travelled all over the country. But his injuries mean he has had to abandon employment.
"I genuinely loved my job because no two days were the same," he said.
"I had a lot of freedom and didn't have a boss in my ear all the time. I worked 16 hours a day, six days a week, and would have worked more if I was allowed.
"But stuck in a hospital bed I didn't know what to do, until one of the nurses suggested I start to write. I hadn't done anything much like that since school, when I'd write limericks about teachers.
"I didn't know what to write about, so nurses started giving me different topics to write about and I'd write something and hand it over to them like a stroppy teen.
"They were so good to me the only way I can describe them is angels, and then a friend of mine suggested I write about them."
The friend was artist Suzie Phillips, who got to know Stuart during his time working as a courier, when he used to visit her at home to deliver items.
Suzie had experienced her own vicissitudes which had led to her, and more recently her son, having vital and life-saving treatment by the NHS.
The former oral surgery nurse said: "I am a survivor of domestic abuse; after one particular serious assault I was left permanently blind in one eye. The assault was shortly after surgery to remove a tumour behind my eye, and during that operation my heart stopped on the operating table. A great NHS team worked hard to save my life."
"Also, when my son was in hospital during lockdown, I saw what the staff had to endure, which made me want to take part in some major fund-raising art projects for the NHS, I am extraordinarily grateful for everything they've done for us.
"When Stuart was in hospital in Wales I said to him 'you call the nurses angels, why don't you do something to help them see what they mean to you'.
"Why don't you write something that will inspire them, perhaps after they've had a long or traumatic shift, and let them know they are respected and thought about."
The suggestion kick-started Stuart's previously never-realised talents, and opened his floodgates of verse. He has since written almost 200 poems, largely inspired by the 'Angels of Morriston' who have helped him on his harrowing and challenging journey.
Taking inspiration from his words, Suzie created a series of artworks and images with an NHS angel design, which she hand-painted onto glass, then fused in her kiln.
This collaborative artwork was recently delivered to Tempest ward, Morriston Hospital, where they were welcomed and put on display by some of the staff who have cared for Stuart.
A second art collaboration by Suzie and Stuart is currently being created for Powys ward.
Stuart added: "I get no real joy out of it – it bores the heck out of me, but people seem to like it and it is a way to deal with what is inside me.
"I posted some on Facebook and the response was overwhelming. I have been contacted by an author who wanted me to tell 'my story'.
"I just hope I've done justice to everyone who helped me at Morriston. I just want every person I've written about, acknowledged and to know they are appreciated for being relentlessly caring."
Martin Nicholls Ward Manager Tempest Ward said: "The gift is a lovely thought and is being displayed in our waiting area on Tempest Ward for all to see."