Afghan interpreter's move to Swansea translates into new NHS career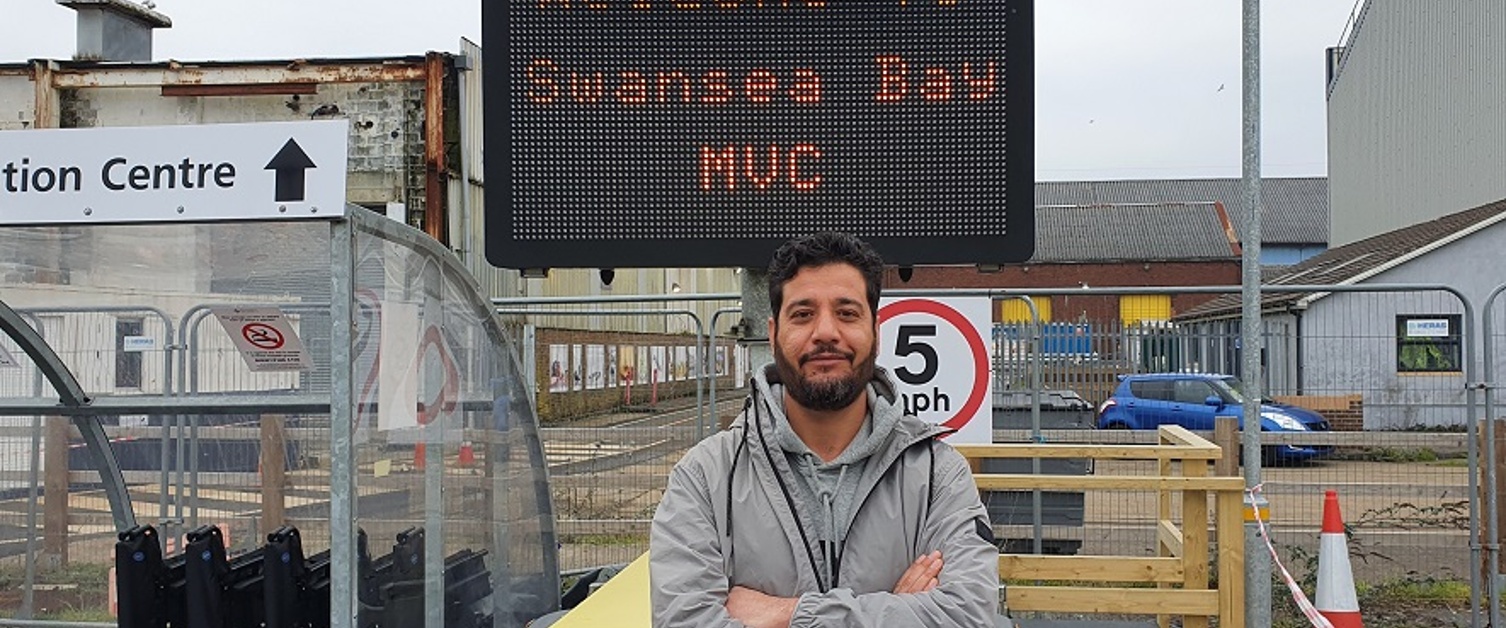 Having flown out of Afghanistan, fearing for his life as the Taliban stormed Kabul, Mohamed Ferooz Noori is now helping save lives by working with Swansea Bay's vaccination programme.
The father of two (Pictured above) was relocated to the UK following the withdrawal of troops from Afghanistan last August.
He had been working as a translator alongside the British military, and when he arrived in the UK was originally sent to Cardiff before moving to Swansea. He now works as a call handler in Bay Mass Vaccination Centre.
He said: "I worked with the British military as a translator, so when Kabul fell to the Taliban it was important that I was able to relocate.
"It was quite a worrying time and there was a lot of tension. I was very fortunate to secure a place on one of the planes and was able to bring my wife and children with me.
"I still have lots of family and friends in Afghanistan so it is not easy. I am particularly worried about my 17-year-old brother, who did some work for the military, so he has to move around to keep safe."
Mohamed said that he was grateful to have been able to relocate and is pleased to be able to replay the warm welcome his new country has given his family.
"I am very sad about the situation in Afghanistan. I love my country so it is not easy to see.
"I am just grateful that I have this chance to do something for my new second country, and help people by working for the NHS.
"Everyone has been very kind to us. Swansea is a very welcoming place and I want to do something to say thank you."
Mohamed has benefitted from a fruitful partnership between the health board's Vocational Training Department and the Department for Work and Pensions (DWP) which has provide jobs in Swansea Bay's mass vaccination centres, or MVCs, for around 200 people since their inception in 2020.
The team works closely with Jobcentre Plus to offer work placements to groups such as young adults, lone parents, older people aged 50 plus, and those from ethnic minorities, including refugees and asylum seekers.
The programme is proving to be a two-way street however. Marie-Andrée Lachapelle, the health board's Widening Access and Workforce Inclusion Organisational Development Manager, said the work carried out by new recruits, such as Mohamed, was vital in making Swansea Bay's vaccination programme such a success.
She explained: "They have been vital to the whole programme. If we didn't have the staff we wouldn't be able to get people in in time to have the vaccines.
"The positions are admin related, they could be working on the telephones in the contact centre or working alongside the nurses, doing administration for the vaccines."
She added it was important to employ people from the Swansea Bay area.
"We want to be an anchor organisation which is providing employment and work experience for people who live in our local community.
"That is really important and, hopefully, they will stay with us, but if not, they will have great transferrable skills to go with other employers."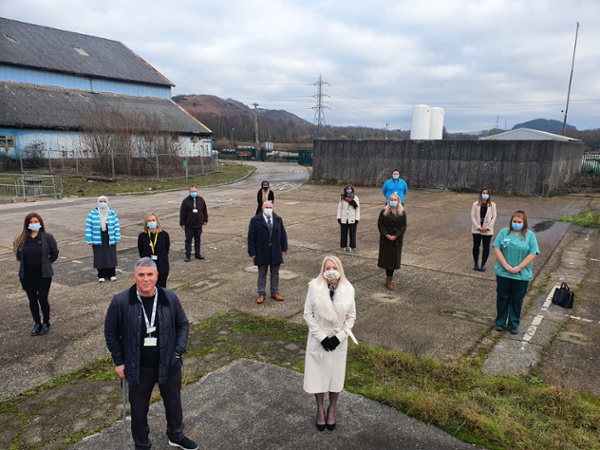 Pictured above: members of Swansea Bay University Health Board's Vocational Training Team and representatives from the Department of Work and Pensions with Martyn Hughes, an employment adviser, and Tracey Esmaail, SBUHB's Vocational Training Manager, who have both been instrumental in the scheme, to the fore.
Tracey Esmaail, health board Vocational Training Manager, said: "All this amazing work that our vocational training team has done with the mass vaccination centres wouldn't have been possible if it wasn't for the good relationship we have built up over the years with the DWP. The partnership has been a great success."
And, she said, the biggest winners have been those who have gained employment.
"Every time I see them, people are telling me their lives have been totally changed from what they were before they came here. They are a great team here. They are like one big family."
Helen Powell, Senior Employment Partnership Manager for DWP in south west Wales, said: "We have a very long-standing and close working relationship with the health board, and recently, during Covid times, that has only strengthened.
"Since the MVCs were set up we have managed to change almost 200 lives through working collaboratively together.
"Amongst those we have supported have been refugees, people from ethnic minority groups, and those who have been unemployed for a long period of time."
Chris Buckley, DWP Employer and Partnership Manager for Swansea, said the opportunity for people to help the vaccination programme made them feel they were doing their bit during the pandemic.
He said: "When we put this out to our work coaches, at the height of the pandemic when a lot of people were losing their jobs, we had an absolutely amazing response.
"A lot of people were given an opportunity to do a type of work, which maybe they wouldn't have had otherwise.
"That is the really good thing about it. It made people feel as though they were able to play their part. A lot of heart and soul has gone into it."
He added that although not all the jobs are permanent, the experience should prove invaluable.
"The feedback we have had has been excellent. It gives them something excellent to put on their CVs. A lot of the clients come here, get the basics of admin, and fulltime opportunities are arriving.
"That's one of the reasons so many people are put forward for these positions, because it gives them the experience necessary to move to other employment so much quicker."
Martyn Hughes, an employment adviser, added: "Lots of them have thoroughly enjoyed the opportunity to work within this environment, and it has led to other, more permanent, positions.
"It gives them the confidence to apply for other jobs within other civil service departments. As a result of having worked here they will go on to other opportunities within the local area."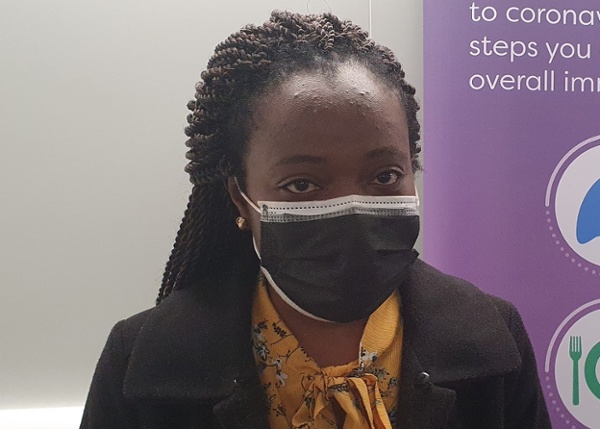 Another beneficiary is Mwape Burke, who arrived in Swansea three years ago from Zambia and now works in the Bay MVC booking centre.
She said: "I love working here. I started at the very beginning, it was very interesting as things were changing on a daily basis and we had to adapt very quickly.
"To see the team grow, and everything we have accomplished, has been amazing."
Mwape has used the opportunity to resume a career in pharmacy.
She said: "I worked as a pharmacist back in Zambia. I need to do an internship to be able to practice in the UK but the nearest place I could find was in Birmingham.
"This programme has allowed me to join the NHS in Swansea.
"It has been a great stepping stone as I have now received a conditional offer from the NHS pharmacy bank. It has definitely opened doors to other opportunities."
Another employee, who did not wish to give her name after gaining political asylum in the UK from Egypt, is set to use the MVC as a stepping stone to resurrecting her career as a doctor.
She said: "I love the work environment here. It has given me a great experience of working for the NHS, which is a slightly different system from my work as a doctor in Egypt.
"I have already started gaining my qualifications to work as a doctor in the UK and hope to qualify next year."
VOX POP
Others who have found employment at Bay MVC through the partnership are: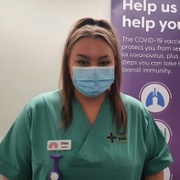 Chloe Allen, aged 18
"I knew I wasn't going on to college because I was so stuck in school and didn't know what to do.
"I eventually decided I wanted to work for the NHS and started admin training but was soon offered a position in the booking centre.
"I was there for a year and did a health care support worker course so I could work on the wards in a hospital but ended up as an unregistered vaccinator – giving the vaccines.
"It's been a really positive scheme for me. I eventually want to go into nursing and it has helped me out loads."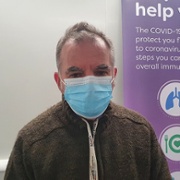 Nigel Poole, aged 63, works as a booking clerk in the call centre.
"I had been doing volunteer work for veterans' organisations and the job centre said I could retire early if I wanted.
"I asked what the alternative was and they offered me this role. I jumped at the opportunity. That was six months ago and I have been doing it ever since.
"I've really enjoyed it. It has given me confidence and enjoyment through talking to people after being isolated. It was a chance to use my skills with stakeholders."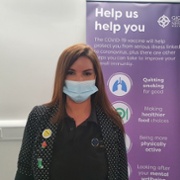 Jane Davies is now an admin supervisor
"It's really improved my life. I had no job whatsoever, I hadn't worked for 11 years, so this has given me a massive opportunity.
"To go from nothing to admin supervisor in a year is brilliant. I'm really pleased. This programme has really helped me.
"Even if it ends soon, with the pandemic being over, I've got it on my CV."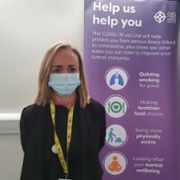 Samantha Minards is now a team leader for admin staff after returning to Swansea, after living in Portugal for 25 years, just before the pandemic struck.
"I was referred to the health board's vocational training department by the job centre and from there I had continuous support right up to starting work here.
"I started off as admin and within four months I was promoted to team leader for the other admin staff.
"It's so rewarding, it's the best thing I've ever done. Having the opportunity to come to work for the NHS has been really rewarding. I love coming to work and helping people."