A stitch in time... helps the frontline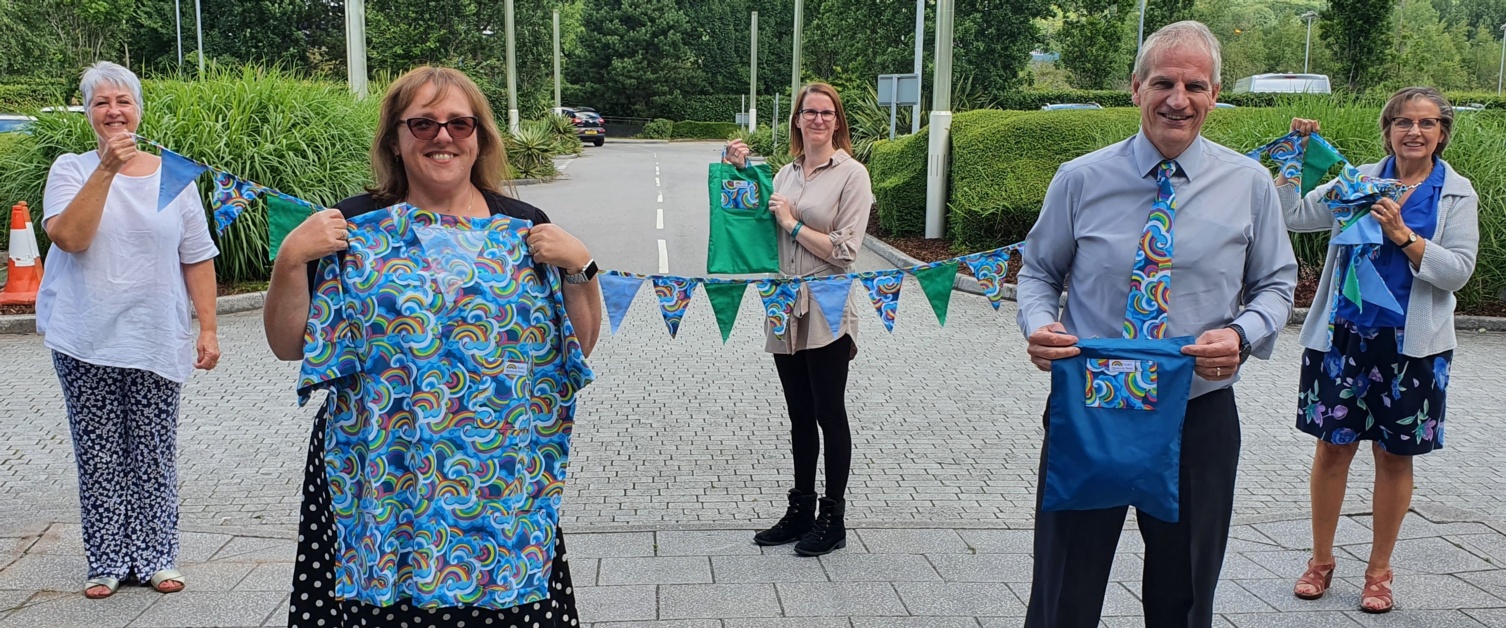 An army of volunteers has been praised for helping Swansea Bay University Health Board staff scrub up well for the battle against COVID-19.
Above: Backrow, Left to right, group members Tracey Lewis, Lisa Pařez and Susie Henderson, while in front are SBUHB employees Lesley Cook and Mark Parsons.
The kind-hearted group, known as 'Swansea Bay University Health Board - For the Love of Scrubs', has almost 2,000 members in its ranks and has made over 27,000 items, ranging from medical scrubs to face coverings, for NHS staff during the course of the pandemic. The items have found their way onto the frontline with deliveries to our hospitals, GP surgeries, nursing homes and care homes.
The group, which stays connected through its own Facebook group, has taken on a life of its own and offers a sense of community and support for its members.
The group's founder, Lisa Pařez, said: "It was all started by Ashleigh Linsdell and a group she created called 'For the Love of Scrubs'. As the group grew, people realised all health board areas would benefit from a local group so I set one up to cover Swansea and Neath Port Talbot.
"It was set up on April 1st, and started off fairly small, but just snowballed. More and more people joined as they were looking for something to keep them occupied during the lockdown – many of the older generation, who had to be sheltered, found this a lifesaver as we all keep in touch and chat through a Facebook group.
"It's kept them in touch with people on the outside world and has given them something to get up for in the mornings and keep them occupied. Mental health has impacted so many during this time, so sewing and knitting has really helped.
"I thought there would be about 100 of us sewing laundry bags and helping out with face coverings a bit, but it just kind of grew – we have made over 27,000 items, including laundry bags, scrub caps, headbands and scrubs.
"There's now around 1,900 people in our group from the Swansea and Neath Port Talbot area. Of those, around 400 sew, with others helping out with deliveries and pick-ups, donating materials, handing out essential items to the vulnerable in the communities, and helping with fundraising and supporting.
"There's a huge variety of professions in the group, men and women of all ages; some are professionally trained, others aren't. So many have learnt from YouTube or from group members giving help and guidance.
"We did a lot of fundraising and collected over £5,000 for fabrics and haberdashery – everyone has shared our JustGiving page – and so many have donated fabric or whatever they thought would help.
"In all we have completed over 2,000 sets of scrubs for the area, which includes hospitals, GP surgeries, nursing homes and care homes.
"We do it because we enjoy sewing, and you feel as though you are doing something to help. A lot of us have family or know people who are working on the frontline, and we wanted to give them our support and show that we were thinking of them and appreciated everything they were doing."
The group is also the only one in Wales to receive a batch of special rainbow fabric courtesy of Chris Evans, the DJ, and his son Noah.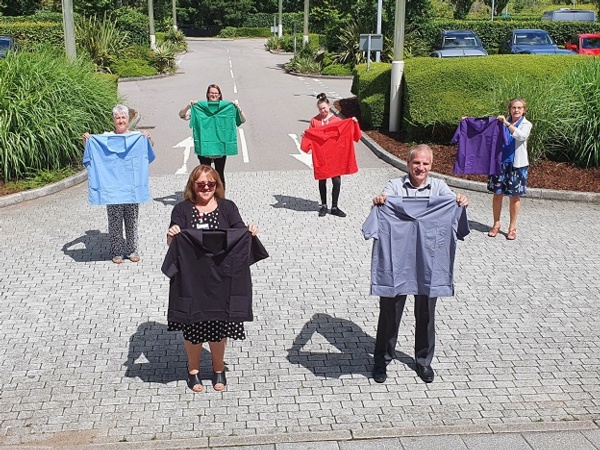 Lisa said: "Noah wanted to do something to help raise money for the NHS workers on the front line, and ended up raising over £120,000 through camping out in his back garden.
"Some of the money was used to design and print this special rainbow fabric for groups such as ours around the country, and we are the only group in Wales to have received some of this fabric.
"It is now being used to make scrubs and bunting for our paediatric departments at Singleton, Morriston and Neath Port Talbot."
Thanking the group for its efforts Mark Parson, SBUHB's Assistant Director of Health and Safety, said: "They are a fantastic group of people and it makes sense to use their services because it's all coordinated.
"When the group got in touch with us a couple of months ago we were more than happy. We managed to source some material for them and they had it all cut and made up, the end product is going to be so beneficial to our staff. We can't express how grateful we are for their services and what they have done for us.
"They will be put to excellent use, we have staff out there who will be more than happy to use them."