Swansea Bay gets ready for COVID-19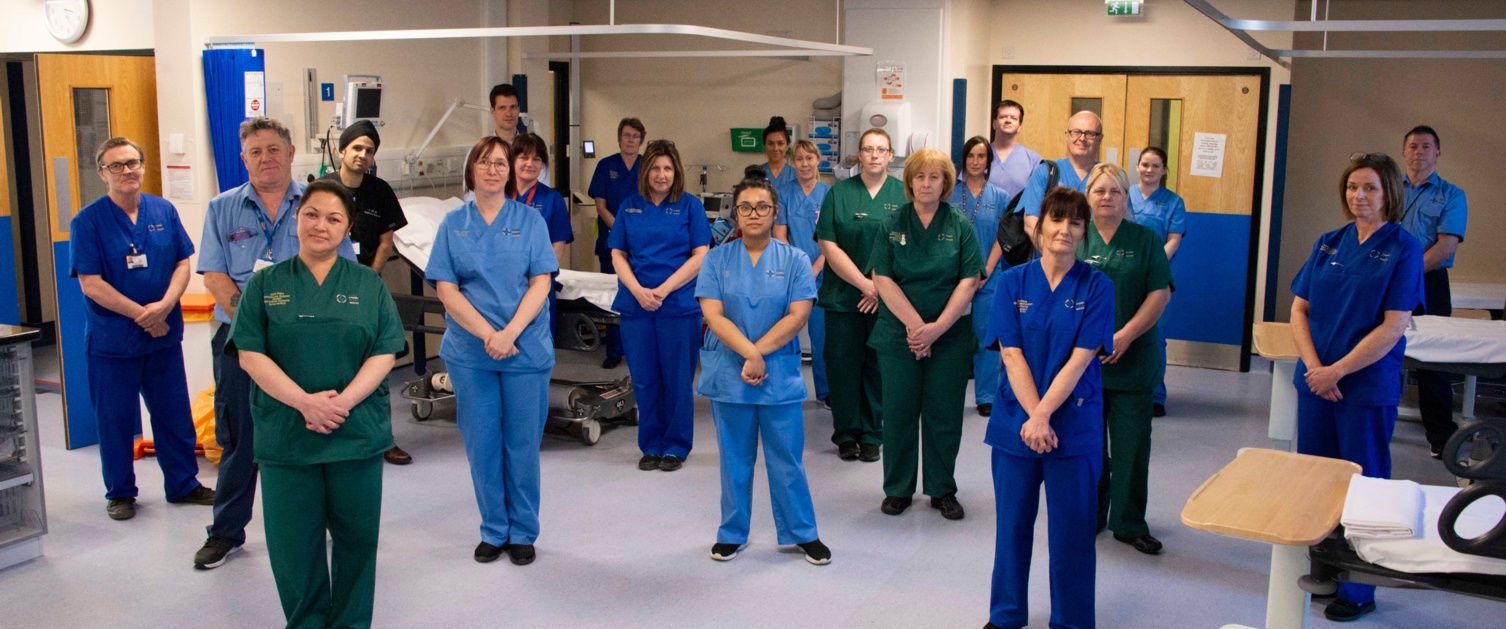 A huge amount of work has taken place to help the health board face the unprecedented challenges posed by the Coronavirus pandemic.
There have been sweeping changes across hospitals, while staff have taken on extra duties, additional training and even different roles to ensure the best possible patient care is provided.
Everyone from health board executives and senior managers, frontline staff and support teams – in hospitals, in the community and elsewhere –are involved in this never-before-seen effort.
Swansea Bay's Chief Executive Tracy Myhill said: "So much has changed over recent weeks. The scale and pace of the range of actions is difficult to appreciate.
"Our first wave of preparation has gone very well.
"It's remarkable where we have got to in such a short time and I appreciate the ongoing work to enable us to be as prepared as we can be for what's coming."
Most outpatient clinics have been suspended and non-emergency surgical work postponed. This was necessary to reprioritise how staff and resources are used to keep patients safe.
In Morriston Hospital, the Surgical Decision Making Unit (SDMU) and Surgical Short Stay Unit (SSSU) have moved to what was the fracture clinic in the main outpatients building.
A Respiratory Assessment Unit (RAU) has now been established in the former Surgical Decision Making Unit area. It has a separate entrance providing direct access for patients brought in by ambulance.
Morriston Hospital director Deb Lewis said: "We have been working with our ambulance service colleagues to develop new pathways that can take patients directly to the RAU.
"If they are suspected COVID but no other illness or injury they will go to the RAU.
"If they have a primary illness or injury that requires the input of Emergency Department (ED) clinicians then patients will go to the ED irrespective of any Coronavirus symptoms.
"Any of these patients with Coronavirus symptoms will be managed in designated areas within the ED."
Not all patients arriving at the RAU will need hospital admission. Even if testing shows they have Coronavirus, many will be able to go home and follow the established isolation rules.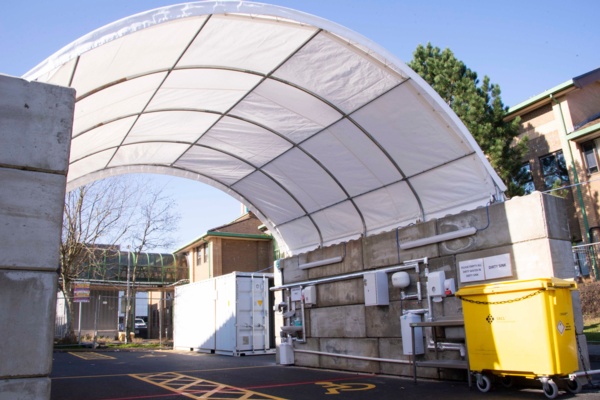 Mrs Lewis said: "There is also an ambulatory area where they may need to stay for a few hours for oxygen or further tests.
"There are also 12 beds for patients who need more support and may need onward admission to the main wards. If they need immediate ventilation they will go straight to critical care."
In the coming weeks demand for critical care is expected to rise, with a high percentage of patients requiring the use of a ventilator.
Morriston has the capacity to expand to provide 93 critical care beds for very sick patients who need ventilation.
However, this requires six nurses for every patient for 24/7 cover. So if all 93 beds had to be deployed, this would require almost 600 staff.
Postponing most surgery has released theatre staff to undergo special training to manage ventilated patients. Training is provided in-house, in association with Swansea University.
Of course, patients are still arriving at the hospital's Emergency Department with a wide range of illnesses or injuries – including those triaged on ambulances and suspected to have Coronavirus.
Mrs Lewis said: "We have split ED into two areas: red for Coronavirus and blue for non-Coronavirus. Each has its own triage, resuscitation and treatment areas.
"So if a patient comes in with an illness or injury but has Coronavirus symptoms, they go to red. If they don't have symptoms they go to blue.
"We are also opening an ambulance decontamination unit on-site. Ambulances bringing suspected Coronavirus patients in have to be decontaminated at a location off-site, some distance away.
"This could mean vehicles are off-road for a long time so we have worked with the ambulance service to put one here."
Additional facilities have also been introduced for staff, including 24 new shower units and six sinks to help with hand hygiene.
Meanwhile, the Morriston fracture clinic has moved a short distance away within the outpatient department, and is now also the temporary home of the Minor Injury Unit which has relocated from near the ED.
"Our orthopaedic consultants have taken on responsibility for the MIU, and are providing additional support in the MIU in Neath Port Talbot," said Mrs Lewis.
"They can manage a greater acuity of patients, which will reduce the number of patients having to be seen in Morriston ED."
Other changes include creating a dedicated new entrance for paediatric patients at the pharmacy end of the main corridor. Children will be seen in the former SSSU, except those with minor injuries who go to the MIU.
Mrs Lewis paid tribute to staff, saying: "They've been incredible from day one and I can't thank them enough. We've moved mountains this week".
Managers and staff at Singleton Hospital have also been hard at work making sure they are best placed to respond to the pandemic.
Hospital director Jan Worthing said: "We have established a COVID ward with 15 dedicated beds.
"We have room to expand so we would have a COVID floor, which would give us an additional 39 beds.
"We also have a phase three option, which would provide us with an additional 30 beds – so 84 beds in total.
"We have two medical on-call rotas, both consultant-led, one for COVID and one for general patients because our other work goes on.
"That is for general medicine. For obstetrics cases we have the same, a COVID team, because expectant mums can pick it up as well, and a non-COVID team.
"From a general service perspective, we are continuing with some clinics, specifically ophthalmology and some cancer services."
Like Morriston, Singleton is having an ambulance decontamination unit and providing extra showering facilities for staff.
Mrs Worthing said the cooperation from everyone at Singleton had been nothing short of amazing. "I couldn't wish for a better team. They have been fantastic and I am super-proud of them."
Over in Neath Port Talbot Hospital, the former Medical Assessment Unit that was closed some years ago, and was most recently home to the rheumatology service, has been recommissioned.
Hospital director Brian Owens said: "From this week it provides us with 17 beds that will take suspected or confirmed COVID patients from Singleton and Morriston who meet the clinical criteria.
"We are redeploying staff. The rheumatology medical workforce have been fantastic and they and some other staff will be manning the area.
"We have identified another ward which could increase our capacity should that be necessary."
Neath Port Talbot Hospital is also home to the Wales Fertility Institute which has now almost entirely suspended its work.
Although managed by Swansea Bay, it's a two-site service with the other located at the University Hospital of Wales in Cardiff. Mr Owens said: "Some of the obstetrics consultants are based in Cardiff.
"We have now deployed them to Cardiff and Vale, as it makes sense for them to work in an area they are familiar with. Others have been released to Singleton to support them.
"I also have a range of healthcare scientists in the WFI and we are in conversation with Singleton pathology service to see how we could support them in the labs."
Neath Port Talbot is continuing to run a breast cancer list three times a week, but its other theatre work has been suspended.
Theatre staff have switched to Morriston to join the critical care team after ventilation training, while some medical equipment has also been moved from Neath Port Talbot to the Swansea hospital.
The huge efforts being made in Swansea Bay's three main hospitals are being replicated in primary care, community care and mental health.
More information on this will follow, but briefly:
In Primary and Community, a multidisciplinary community assessment hub has been established in Neath, staffed by GPs and other clinicians, providing primary care services to patients with COVID-19. More of these are set to follow.
All 49 GP practices remain open, providing care by telephone and booking appointments (no walk-ins) where necessary and safe. An urgent dental care unit has also been established for patients with Coronavirus.
Primary and Community staff are working with Swansea and Neath Port Talbot councils so more patients can be supported to leave hospital. Additional bed capacity has also been made available at Gorseinon Community Hospital.
In Mental Health and Learning Disabilities, precautionary isolation beds have been identified in Cefn Coed and Neath Port hospitals, Caswell Clinic, Taith Newydd and Dan Y Deri. Another area within mental health is being equipped for use for additional health board capacity if needed.
Tracy Myhill said what she had witnessed across the health board in recent weeks had been very humbling.
"These are unprecedented times and our staff's resolve to support us to prepare for what is coming and their commitment and compassion in caring for those who rely on us has been unwavering.
"My continued thanks to them all in what are hugely challenging circumstances."
*For the latest information on Coronavirus, please go to our dedicated website page.