Musculoskeletal self management strategies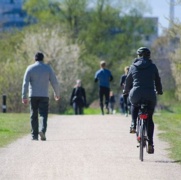 Managing your musculoskeletal complaint:
Following on from your CMATS assessment and in some cases investigations it may be advised that there is no surgical or injectable target and that your symptoms would most appropriately be managed conservatively utilising self help strategies. Your clinician will discuss this with you ,the following pages are here to support the advice given by your clinician and to give you further guidance on self help strategies.
In some cases your clinician may refer you to the Physiotherapy team or to The Persistent Pain service for further assistance with management strategies. Both team have informative websites which will provide you with further information prior to your appointments (click the team names above to access the websites).
Many conditions will respond well to exercise, a healthy lifestyle and weight management strategies. Below are some very useful links to websites that can guide you on Healthy lifestyle choices.
(Please note that you will be directed to NHS England pages for some of the information)
The NHS Live Well website has some fantastic information on all aspects of living a healthy lifestyle.
Likewise, the Chartered Society of Physiotherapy provides more specific information on certain musculoskeletal conditions and has some ideas for rehabilitating them yourself:
CSP Keeping active and healthy
For further national and local information on Improving Health and Increasing physical activity follow this link to take you to a large selection of self help advice and videos.
Unfortunately due to the current situation with Covid 19 if you have been referred for a surgical opinion your consultation with orthopaedics/ spinal surgery may be delayed.
Versus Arthritis's Helpline is a free Service you can access to support you In managing arthritis and musculoskeletal (MSK) conditions. Follow the link for further information https://www.versusarthritis.org/in-your-area/wales/
We are in the process of updating our website. The Welsh language is important to us and we are currently translating our content. Thank you for your patience.
Ry'n ni'n y broses o ddiweddaru ein gwefan. Mae'r Gymraeg yn bwysig i ni ac ry'n ni wrthi ar hyn o bryd yn cyfieithu ein cynnwys. Diolch i chi am fod yn amyneddgar.