Covid-19 vaccination fact checker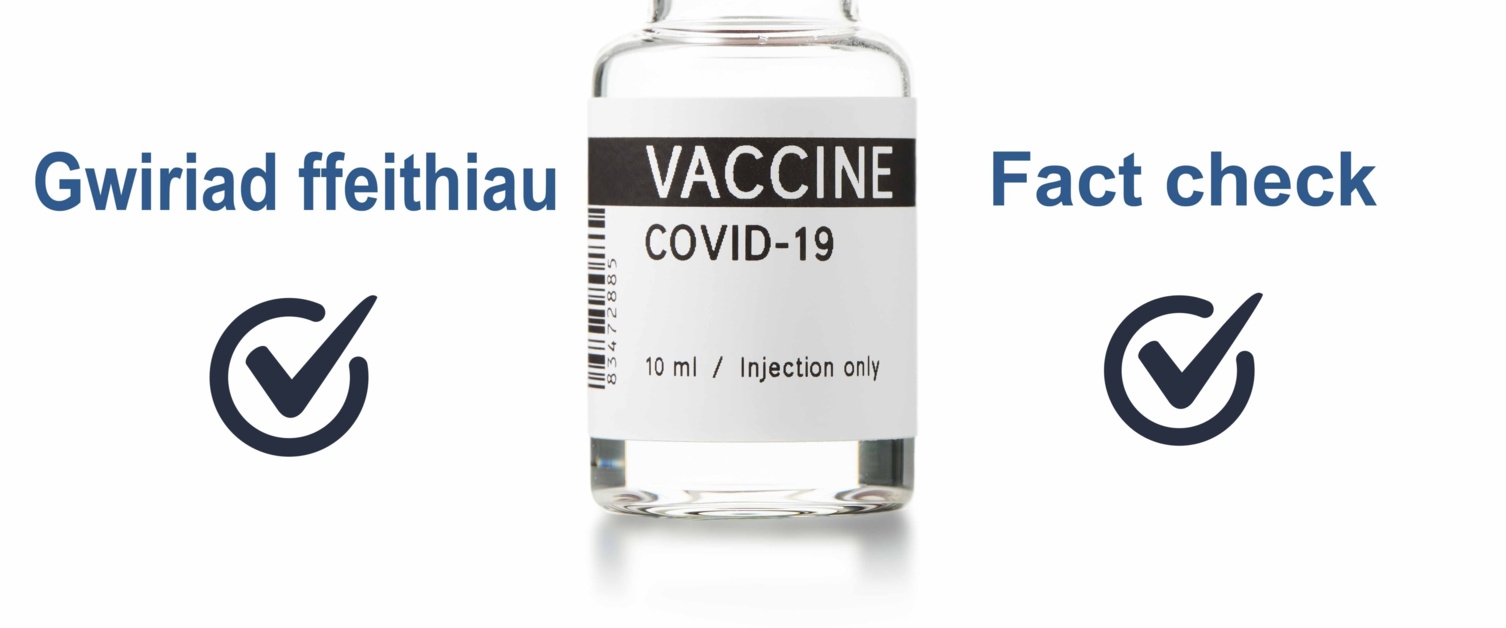 From time to time news reports and social media posts can cause us to question and worry about the roll out of the COVID vaccinations. On this page, we aim to provide the facts and reasons behind the current thinking.
Fact check in response to reports of blood clots - Oxford-AstraZeneca vaccine.
This has been compiled using information from the Medicines and Healthcare products Regulatory Agency (MHRA), the European Medicines Agency (EMA) and World Health Organization (WHO).
UPDATE 08/04/21 - Special message from Swansea Bay UHB's Executive Medical Director, following new UK advice:
"The UK's Medicine Healthcare and Regulatory Products Agency (MHRA) has put out new advice following the possibility of a very rare blood clot being linked to the Oxford-AstraZeneca vaccine.
"According to the MHRA, the risk of this side effect is very small - about four in one million - to those who receive the vaccine.
"More than 20 million doses of this vaccine have been given in the UK so far, with 79 reported cases of these unusual blood clots – which is an occurrence of 0.000395%.
"While you may be concerned with what you are hearing in the news, the MHRA has made clear that the benefits of vaccination greatly outweigh the risks, and this type of "course correction" is common in vaccination schemes.
"But patient and product information will be updated to make sure everyone is aware of this very rare side effect along with other potential side effects.
"Meanwhile, the Joint Committee on Vaccination and Immunisation (JCVI) said the developments were out of 'utmost caution' and has advised:
Anyone aged 18-29 should be offered an alternative to the Oxford-AstraZeneca vaccine.
Pregnant women should discuss having this vaccine with their health care professional.
Anyone who has already received a first dose of Oxford-AstraZeneca should have their 2nd dose as planned.
"The Committee of Human Medicines has also said that people with a history of blood disorders that increase the risk of blood clotting should only have the Oxford-AstraZeneca jab where benefits outweigh potential risks.
"Covid-19 vaccination has proven to be highly effective at preventing severe disease and hospitalisation. The Oxford-AstraZeneca vaccine has already saved thousands of lives.
"The Welsh Government, Public Health Wales and NHS Wales are working with other agencies to continually monitor vaccine safety, and are keeping this issue under close review. In Wales, people's safety will always come first and we will only use vaccines where it is safe to do so and the benefits continue to outweigh the risks.
"Vaccines are the best way out of this pandemic and provide strong protection against COVID-19 – it is important that when people are called forward, they should get their jab.
"We'll keep you updated on any changes as we update our plans in Swansea Bay to reflect this new advice - but at this stage we don't see any delay to the rollout of our vaccine programme."
- Dr Richard Evans, Executive Medical Director, Swansea Bay University Health Board
UPDATE 31/03/21 - Following new reports that use of the Oxford-AstraZeneca vaccine has been suspended in Germany for under 60s and Canada for under 55s, we want to reassure everyone once again that the UK authorities continue to recommend the vaccination for adults of all ages. This recommendation follows a review of safety data for over 12 million doses administered in the UK.
Germany has administered nearly 2.7 million doses and the German medicines regulator has found 31 cases of people developing a rare type of blood clot.
Canada suspended use of this vaccine following reports of blood clots in Europe. However, no blood clots related to the vaccine have been reported there following the administration of 300,000 doses.
After extensive review of vaccine safety data, the UK and European medicines regulators and the World Health Organization found that there is no evidence to link this vaccine with blood clots.
Our advice in Swansea Bay remains the same: this vaccine is effective at preventing severe cases of COVID-19 and hospitalisation.
The benefits of having a COVID-19 vaccine significantly outweigh any risks so when the time comes to have your first and second doses, please take up the appointment offer.
---
UPDATE 19/03/21 - Several European countries, including Germany, France and Italy, have resumed using the Oxford-AstraZeneca vaccine - after regulators found no evidence it causes blood clots.
---
UPDATE 18/03/21 - Vaccine not linked to blood clots: UK regulator the Medicines and Healthcare products Regulatory Agency (MHRA) and European Medicines Agency (EMA) said there is no evidence the vaccine is linked to increase risk of blood clots.
Fact check in response to news reports – Oxford-AstraZeneca vaccine - older people
(Answer compiled 08/02/21 using information from the official UK regulatory approval for this vaccine from the Medicines and Healthcare products Regulatory Agency. Follow this link for the full document.
The answer also reflects the views of senior UK scientists, which are that this vaccine appears to prevent severe disease.
The answer has been checked and approved by our Director of Public Health.)