A mental health service for young people has been chosen for Tesco's Bags of Help community funding scheme.
Until March 31, shoppers can vote for the Early Intervention in Psychosis (EIP) service to receive a donation of up to £2,000.
Each time a customer uses a checkout at Tesco Port Talbot, they will be offered a blue token to vote for one of three projects.
The project that receives the most tokens will be given £2,000, while the other two schemes will be given £1,000 or £500, depending on votes accumulated.
The EIP service helps young people between 14 and 25 years old who may be experiencing the early symptoms of psychosis.
A priority in their treatment and care is supporting them to address situational problems – such as social inclusion and quality of life – which may be contributing to their mental health issues.
The team does this by working with the young people in non-stigmatising ways that feel meaningful for them, using techniques such as adventure therapy - a type of psychotherapy which sees participants doing different outdoor activities including walking, gardening, surfing and sailing.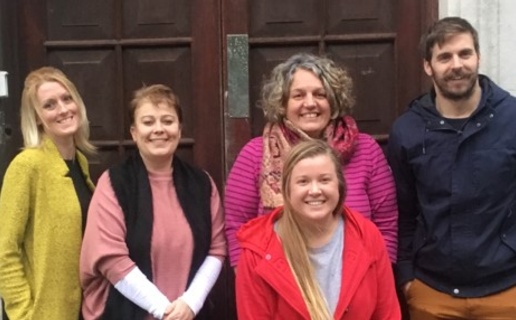 Pictured from left: Katie Cole, community mental health practioner; Dr Mandy Newman, clinical psychologist; Heidi McGregor (in red coat), team manager; Bronya Osborne, manager, and Simon Davies community mental health practioner.
Heidi McGregor, EIP team manager, explained: "Adventure therapy is a way of offering young people therapy in a low key way.
"They're having fun but they're also mixing with other people, gaining new skills, developing resilience and building confidence and self-awareness – all of which can help their mental health.
"However there is no budget for things like transport costs or making sure the young people have the right equipment to help them take part.
"Our care managers have all these ideas to support young people, and there are opportunities in the community, but we are often unable to do them because there are personal limitations.
"Any money we receive from the bags of help scheme will give us flexibility, so if we do identify something that will really help the young people we work with, we can make sure they are able to take part."
One young person who has already benefited from adventure therapy with the EIP team is Daniel, who was referred in July 2017.
Daniel took part in a 16-week programme with the Gower-based Down to Earth project which helped him learn how to make things out of wood, cook, garden and tend to the land.
Daniel said: "When I first went to the Down to Earth Project I was very shy and would get anxious around people that I didn't know.
"I feel that over the 16 weeks that I took part I became more confident around people socially and members of staff have commented how I have improved.
"I really enjoyed the gardening, woodwork and cooking and would love to do something similar or another Down to Earth Course in the future to continue developing my confidence further."