Morriston Hospital's second open day proved to be a big success.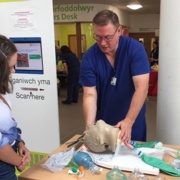 Above: A member of staff demonstrates intubation to a members of the public
The event was well supported by members of the public who were treated to the opportunity to talk to hospital staff and get hands-on experience of some of the procedures they carry out.
Representatives of the emergency services, including the police and fire service, were also on hand to chat to visitors, as were the Wales Air Ambulance and Wales's flying medics, the Emergency Medical Retrieval and Transfer Service.
And there was even a display of memorabilia, courtesy of a 12-drawer 'cabinet of curiosities' filled with all kinds of weird and wonderful memorabilia from the area's healthcare history.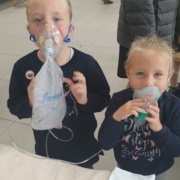 Kathryn Lewis, Swansea Bay University Health Board's senior human resources manager, said: "The idea of the open day is to engage with our communities to showcase some of the hospital's work.
"We had great displays from a number of departments including pharmacy, radiology, dietetics, emergency department, theatres and the resuscitation service, as well as the police, fire service, Wales Air Ambulance and flying medics.
"We were also pleased to have the support of voluntary organisations including the Swansea Carers Centre and the Rotary Club.
"Visitors were able to get involved in interactive activities such as intubating, resuscitation and had advice on healthy eating and the importance of hand hygiene."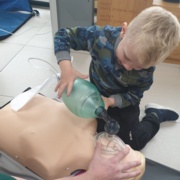 She added that the event would be held again next year.
"Following on from the success of last year's inaugural open day we had positive feedback from visitors and participants and hope to make this an annual event."

Sue Jones, a clinical educator, said: "It was very encouraging to see so many parents wanting their children to be aware of the importance of hand hygiene."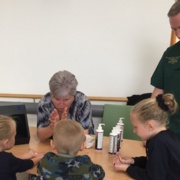 While Victoria Marie, co-director of Swansea-based GetYourBellyOut, which supports people affected by Crohn's Disease and ulcerative colitis, said: "It was fascinating to see all the different departments on show and great to see how people could get hands on and stuck in."