Parents who have lost a baby have made an unforgettable gesture to help others going through the same heart-breaking experience.
Swansea Bay Baby Loss Support Group has raised more than £3,200 to add some much-needed homely touches to quiet rooms located in Singleton and Neath Port Talbot hospitals.
Main photo above: specialist bereavement midwife Christie-Ann Lang in the Neath Port Talbot Hospital quiet room
These rooms are private places, away from the main antenatal clinic waiting areas, for parents who have received distressing news.
Previously the rooms appeared quite clinical and unwelcoming.
They have now been given a welcoming new look thanks to fundraising carried out by members of the support group, which was founded two years ago and whose chosen emblem is the forget-me-not flower.
Specialist bereavement midwife Christie-Ann Lang said: "There was no peer support group available to parents in the Swansea Bay area who had lost a baby during or shortly after pregnancy.
"It was something myself and the parents felt was needed, so we set up the group in October 2019.
"It allows families to come together and support one another through the death of a baby and through future pregnancies."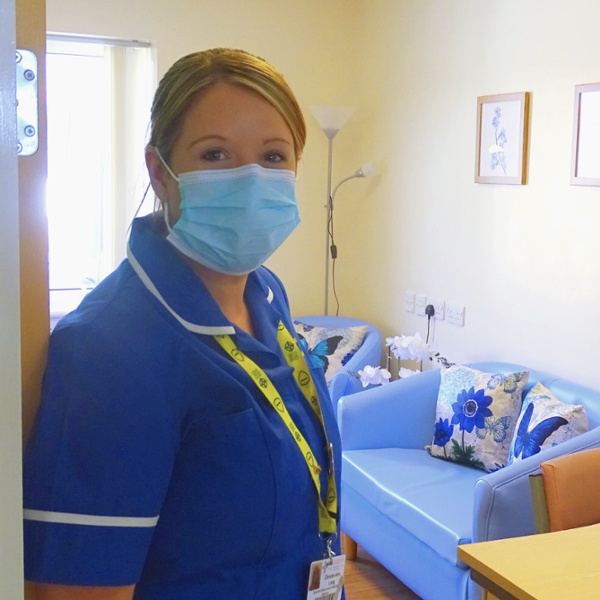 The group has 148 active members in the Swansea Bay area, as well as a closed Facebook group that parents can access if they need support.
In March this year, the group decided to raise funds by taking on the challenge of individually clocking up 300,000 steps in a month.
"Members of the support group wanted to do something to encourage people to leave their homes and to recognise that parents who have experienced a loss during the pandemic could not have the support that is usually available.
"Doing something in remembrance of their babies brought them together."
The 33 group members who each took part in the challenge were joined by family and friends, along with Christie-Ann and members of the Port Talbot-based Empowering Wellbeing fitness group.
Between them they raised £3,215 – and the support group wanted this money to be used to improve the quiet rooms.
"If a mum has had an ultrasound scan and anomalies have been picked up, it is obviously a very emotional time," said Christie-Ann.
"During the pandemic, dads have been unable to come to appointments.
"But we can use the quiet room as a safe and private area where we have been able to allow partners or a chosen family member or friend to support if needed.
"The quiet rooms are located away from the main waiting areas. If parents have been informed that sadly their baby's heart has stopped or if any anomalies have been picked up on the scan, they can spend some time quietly in here without being disturbed."
Feedback from parents who had been taken into one of the two quiet rooms following a scan was that they needed to be homelier and less clinical-looking.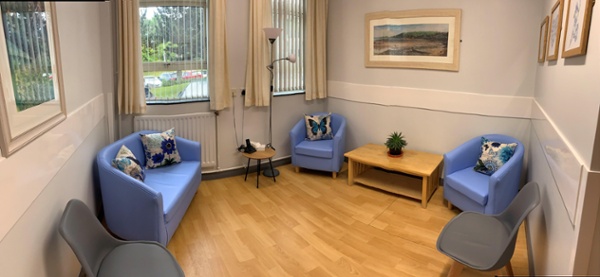 Thanks to the money raised, both rooms have been redecorated and fitted out with new furniture and soft furnishings, photographs and prints, with a theme based on the group's logo – the forget-me-not flower.
Right: The quiet room at Singleton Hospital
But not all the donated funds were spent on the quiet rooms.
"The group also wanted to fund some resources for parents who experience a bereavement," said Christie-Ann.
"So we bought nearly £700 worth of books that parents who had previously had a loss found had helped them.
"Some of the books are also for siblings to help explain the loss of their brother or sister to them."
Swansea Bay's Interim Head of Midwifery, Susan Jose, has now written a letter of thanks to the support group.
"All the group members have suffered the heartbreak of baby loss," she said.
"This makes their generosity and kindness all the more meaningful, that they continue to think of other parents who find themselves in a similar circumstance.
"The refurbishment of the two quiet rooms will be greatly appreciated by parents and staff alike."