Ukrainian refugees help hospital project bloom to say thanks to community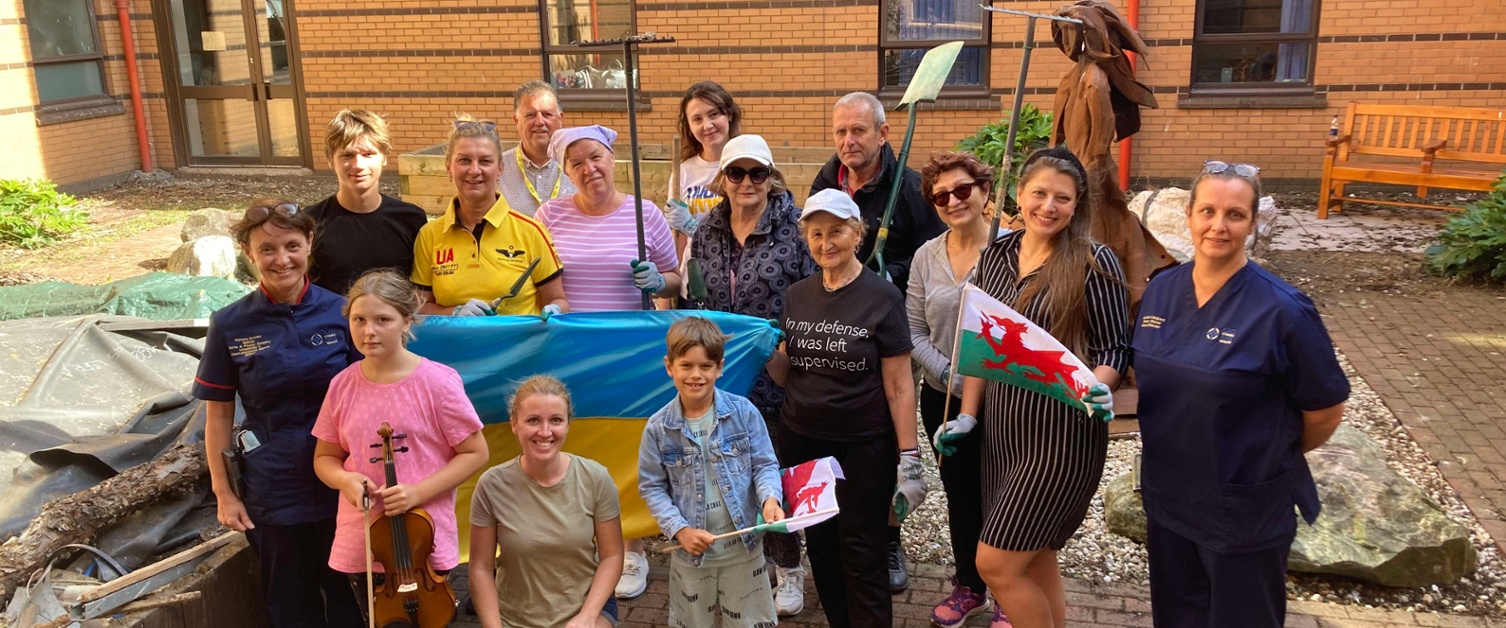 PICTURED: Burns and Plastics Matron Victoria Jones (far left) and Powys Ward Sister Louise Limbert (far right) with Bohdana Bahlay (pictured in a yellow shirt) and the rest of the Ukrainian volunteers.
Refugees who fled Ukraine to find sanctuary in Swansea Bay have volunteered at Morriston Hospital to say "diolch" to the community for opening their homes and hearts.
Since arriving in March, the refugees – predominantly women and children - have moved into homes hosted by local people.
Some of the refugees no longer have a home of their own to return to, while others still have partners and family remaining in Ukraine as part of the conflict.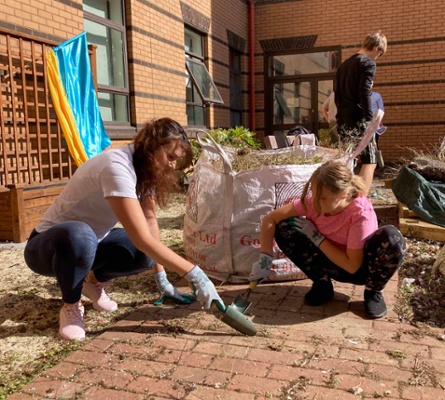 The refugees have been given safety and shelter in the Swansea Bay area, and have been overwhelmed by the warm Welsh welcome they've received since arriving.
And to show their gratitude, they have volunteered to help kick-start a redevelopment project at Morriston Hospital that will benefit patients, staff and visitors.
The volunteers picked up their shovels, trowels and rakes to clear weeds, debris and general rubbish from a courtyard for Burns and Plastics Unit patients.
It means the project, originally due to start in March 2020 only for the pandemic to put it on hold, can now finally blossom.
Bohdana Bahlay, who left Ukraine for Swansea in 2001, spent 17 years working for the health board as a Highly Specialist Cardiac Physiologist.
She is also part of Sunflowers Wales, a community group of Ukrainian volunteers who have helped the refugees settle into their new surroundings.
Bohdana (pictured below in a yellow shirt), who is now retired but works occasionally for the health board on a locum basis, said: "The refugees here would obviously like to be back home in Ukraine, but it is not safe as the conflict is still going on.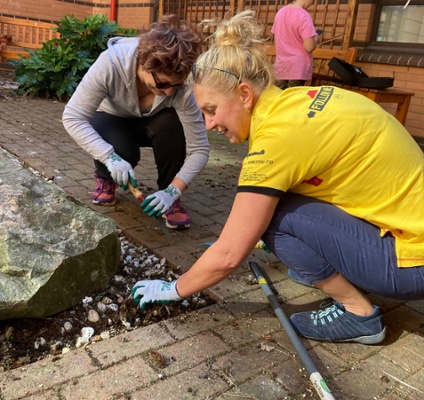 "They are mostly from Eastern Ukraine - from Kharkiv and Sumy - which is 40km from the border. Their homes have been blown up in the conflict.
"So they have found sanctuary here, and they are very happy because it's safe and the people here are so friendly.
"They are absolutely amazed by the support they've received. They've quickly learned to say diolch!
"We all want to thank the Welsh people who opened their homes and hearts to our fellow Ukrainians.
"The opportunity came up to help clear the courtyard, so we got involved as a group along with our refugees.
"It means the work can start very soon on redeveloping the area to look even better for patients."
The courtyard redevelopment in Morriston comes via £50,000 of funding secured through the Keep Wales Tidy's Healthy Hospital Gardens initiative via the National Lottery People's Project.
The funding has already benefited the health board, with part of the grant redeveloping the courtyard at Gorseinon Hospital.
New plants will form part of the redevelopment, which will benefit patients within the Powys Ward of the Burns and Plastic unit.
Patients nursed there could be unconscious, immobile and restricted to the ward for days, weeks or even months.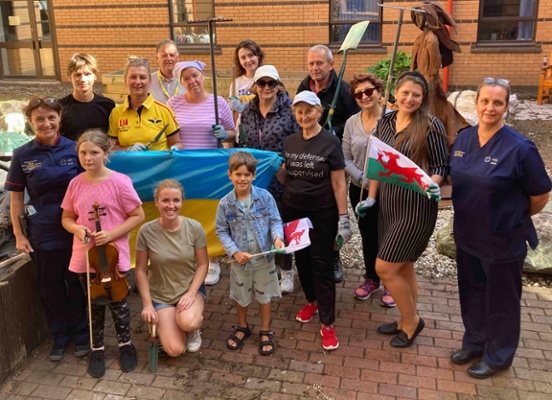 The garden makeover will allow patients to be taken outside in beds or chairs, or walked out as part of their rehabilitation.
Louise Limbert, Powys Ward Sister, said: "Patients that come into us have undergone nasty burn injuries and are with us for a long period of time.
"People under our care will often have painful dressing changes and physio, so it's going to be lovely for them to go outside with their family and see the sky, sun and flowers.
"It will give patients a big lift emotionally with everything they are going through.
"It will form part of their recovery on a psychological level, while we may look into the possibility of patients helping grow vegetables too.
"For patients to be able to see, smell and hear the sounds of being outside is very important to them and their rehabilitation."
With the volunteers offering their help, and work completed on repairing a roof above the courtyard, it means the project can now press ahead.
Mark Humphreys, Assistant Technical Services Officer, said: "The volunteers have done a fantastic job of clearing up the area of weeds and debris, and we're really thankful for that because we can now look at pushing ahead with the project.
"We are hoping to finish it by the end of this month so the patients can use it before winter settles in.
"Some of the group have expressed an interest in maintaining the courtyard further down the line, which is something we're looking into because it's a massive help to us.
"We're all excited at seeing the project finished, which will in turn provide the perfect space and environment for our patients, staff and visitors."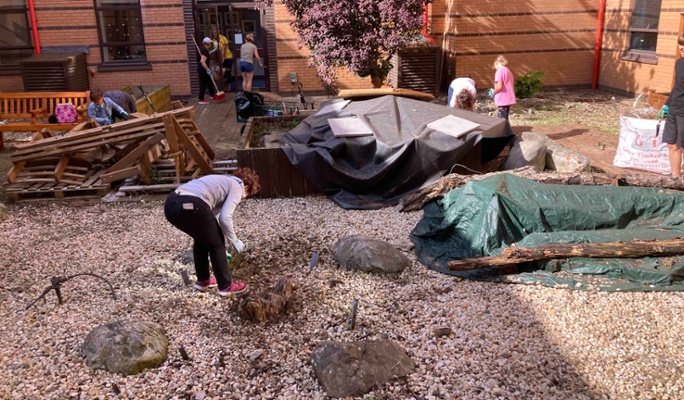 Des Keighan, Assistant Director of Estates, added: "Securing funding from the People's Lottery Fund has allowed the Estates Department to partner with Keep Wales Tidy and volunteers to reinvigorate this courtyard.
"This project has provided an opportunity for the health board to engage with the Sunflower Wales group, who are supporting Ukrainian refugees settle within our local communities.
"I am greatly humbled by the fact that the refugees are prepared to assist various projects across south Wales at what must be an extremely distressing time."