Above: Helen Watts, hospitalised with the flu.
A film which tells the story of how a nurse watched her twin fight to survive the flu has been nominated for a national award.
45-year-old Helen Watts and her sister Sam Robinson, a nurse at Neath Port Talbot Hospital, are both in the at-risk category due to their asthma.
They usually have the flu vaccine but in 2016 only Sam had the jab, not Helen.
After catching the H1N1 strain – more commonly known as swine flu – Helen, who lives in Jeffreyston, Pembrokeshire, was hospitalised and ended up on a high dependency unit for a week.
It was three months before she was allowed home, and took several more for her to recover fully.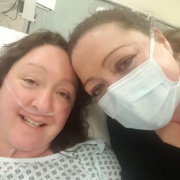 Left: Helen (left) in hospital with Sam.
Speaking at the time, Sam said: "It was hard as a sister to watch someone that you love so much going through that. It was upsetting. I never want to see her in that position again.
"It could have been avoided, possibly, with the flu vaccination. She certainly wouldn't have got as ill as she did."
After seeing the devastation flu can cause, Sam became a trained Flu Champion and has since worked hard to raise awareness of the importance of vaccination across the whole country.
The health board used Helen and Sam's emotional story as part of its own flu vaccine awareness campaign a few years ago.
This was covered by the media, and later caught the attention of NHS Employers, which decided to make a five minute film about the twins as part of its week-long #jabathon social media campaign.
Now, the film has been nominated in the Charity Film Awards, which celebrates work that does good.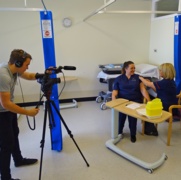 Left: Sam (left) receives her flu vaccination from senior nurse Dawn Williams while she is filmed by Joe O'Hagan, AV senior production officer for NHS Employers.
"Flufighter: Sam and Helen's story" has been longlisted for the Longform – under £5m turnover prize at the awards. The categories will now be whittled down by a public vote before the shortlist is announced early next year.
Sam said, "I feel honoured that our story is still having an impact on the wider population.
"I've had people come up to me in supermarkets telling me that they have had their vaccination after seeing our story, which has delighted us."
To watch the film and vote for it in the awards, visit https://charityfilmawards.com/videos/flufighter-sam-and-helens-story.