Time will tell historians of the future what the NHS is like today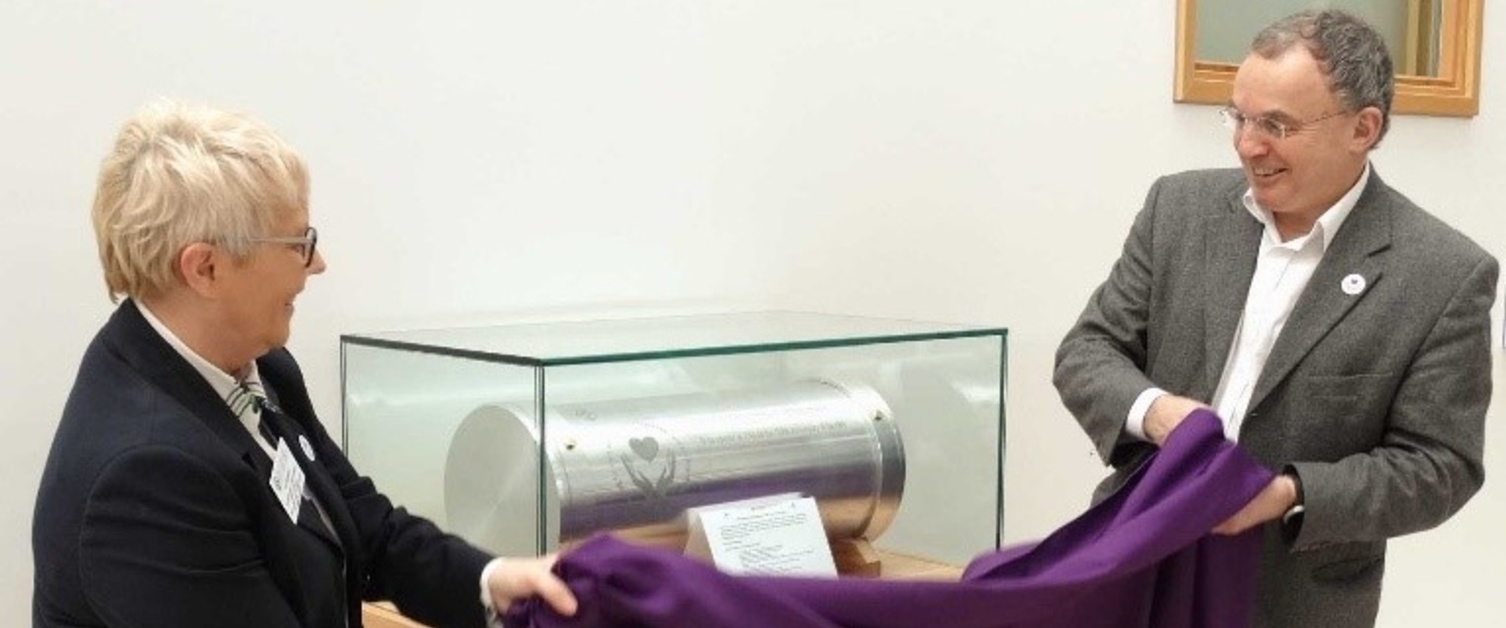 Tuesday, 19 March 2019
Historians of the future will be given a glimpse of the NHS of today when they open a time capsule in Morriston Hospital in 2048.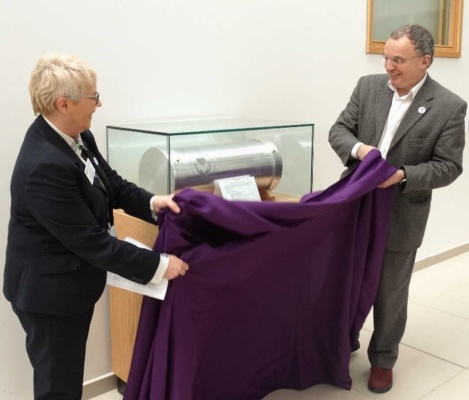 The capsule was unveiled at a ceremony this morning (Tuesday 19th March) following on from last year's NHS@70 celebrations.
ABMU Chairman Professor Andrew Davies and Morriston Hospital's Head of Nursing Ceri Matthews unveil the time capsule
It includes instructions to be opened on the health service's centenary.
The capsule, sponsored by unions and Tata Steel, includes a selection of memorabilia representing past and present – ranging from 1930s hospital crockery to a 3D printed jaw.
Instead of being buried, the time capsule is encased in glass and will remain on display in Waiting Area 2 at Morriston.
Today's event comes ahead of the health service boundary changes previously announced by the Welsh Government, which will come into force on Monday April 1st.
ABMU will be succeeded by Swansea Bay University Health Board, which will run NHS services in Swansea and Neath Port Talbot.
Services for people in the Bridgend area will be run by Cwm Taf Morgannwg University Health Board.
Speaking at the time capsule launch, ABMU Chairman Professor Andrew Davies said: "It is with great pleasure and pride I am here today to unveil our commemorative time capsule.
"This aims to honour and commemorate ABMU Health Board and to sincerely thank all our staff, including those who will transfer to Cwm Taf Morgannwg, for their loyalty and dedication."
A series of local celebrations involving ABMU, its staff and patients took place for last year's 70th anniversary of the NHS.
Staff Experience and Organisational Development Manager Julie Lloyd explained that, as part of the NHS@70 project, sponsorship was provided by the health board's union partners to create a time capsule.
"This was used as another opportunity to engage staff, by asking them for ideas and suggestions as to what they would like to see encased in it.
"The time capsule aims to capture the heritage of the health board and its predecessor organisations and the essence of ABMU up to the present day."
The time capsule includes the symbolic miner's lamp which became the centrepiece of ABMU's celebrations, along with a copy of Pulling Together, the health board's commemorative book.
There are also images of staff, a photograph and charter from ABMYouth, and messages of thanks to the NHS.
Also included are a 1930s hospital cup, saucer and plate found at Cefn Coed Hospital and donated by the heritage team, along with a 3D printed jaw donated by the maxillofacial team at Morriston Hospital.
Volunteers are represented, along with the ABMU Values and its Footprints and Bridges leadership development programmes.
ABMU's first official event for the NHS@70 celebrations was the unveiling of a dramatic sculpture in a courtyard at the Welsh Centre for Burns and Plastic Surgery at Morriston Hospital.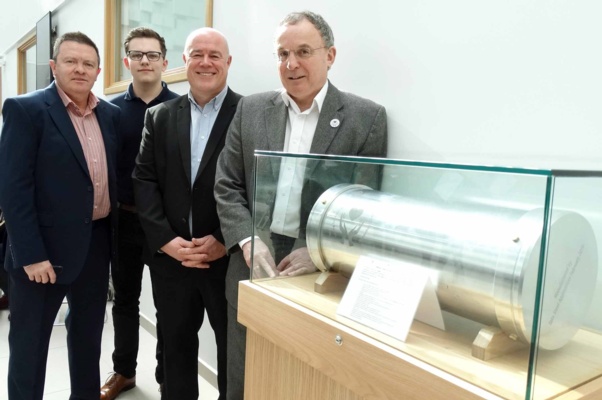 Tata Steel supported this by donating material for the sculpture. Now it has sponsored the time capsule's design and manufacture, and a photograph of the team involved is included in the capsule's contents.
(L-r): Tata Steel's Chris Adams, Tomos James and Neil Preece with Professor Andrew Davies
Miss Lloyd said the health board wanted to thank Tata Steel apprentice training officers Chris Adams and Neil Preece and apprentice Tomos James, along with P.D. Morgan Ltd for manufacturing the time capsule case and stand, and Mike Walters from ABMU estates for fitting it.
She added: "We are extremely grateful for the support provided by Tata Steel, which represents the longstanding relationship between health care and industry."