A team which is helping to create the next generation of NHS workers is in the running for a prestigious award.
Swansea Bay University Health Board's Apprentice Academy started in 2016 and has gone from strength to strength ever since.
An initial pilot in December 2016 led to 12 posts being recruited. Since then a total of 210 apprentices have started, with further opportunities continually being offered.
Working with partner organisations such as Gower College Swansea and Neath Port Talbot College, the academy also gives existing NHS staff the chance to improve their knowledge and skills.
Now this success has been recognised by the organisers of this year's Apprenticeship Awards Cymru, which has shortlisted the health board in the Macro Employer of the Year category.
The winners will be announced at a presentation ceremony later in the autumn.
Swansea Bay's Learning and Development Project Manager, Ruth Gates, said: "All the staff working for the Apprentice Academy are thrilled to have been shortlisted for this award and are looking forward to the ceremony.
"We all work hard to develop and promote the apprenticeship opportunities for local people to start their careers within the health board and for existing staff to improve their skills and knowledge to meet the ever-changing needs of the organisation, gain promotion and evolve."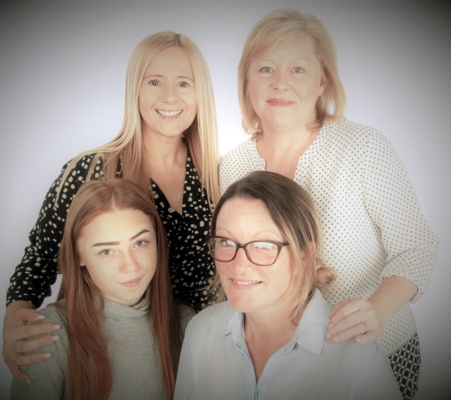 Pictured: Back row; learning and development coordinator Helen Jones (left) and apprentice coordinator Ruth Harding. Front row Apprentice Academy administrator Nataya Davies (left) and Apprentice Academy manager Ruth Gates
The academy was launched with the intention of developing a new and innovative way of recruiting an NHS workforce for the future.
It offers opportunities in more than a dozen different roles including administrators, health care support workers, on wards and in theatres, lab assistants, outpatient booking offices, learning and development, estates and facilities, therapies, and digital communications.
The work-based training programmes focus on the whole job and provide apprentices with a set of qualifications.
These are delivered in the workplace, where the apprentices get hands-on experience and training from experienced staff.
Staff themselves, meanwhile, can sign up for a range of qualifications to suit their existing role or to help develop their career.
The Apprentice Academy team visits local schools and colleges, works with Job Centres to promote opportunities within the health board, and holds apprentice career events.
Ruth added: "We have achieved such a great deal in the short time we have been working together with Neath Port Talbot College and Gower College Swansea.
"We have strengthened our partnerships to ensure we can offer a wide range of learning opportunities at all levels for the next generation of NHS staff from our local area, and working together to develop programmes to upskill our current workforce."
The award winners will be announced in Newport's International Convention Centre on Thursday 24th October.
You can find out more about the Apprentice Academy on the Swansea Bay University Health Board website: https://tinyurl.com/y572l2p7