Team praised for caring approach to patients during pandemic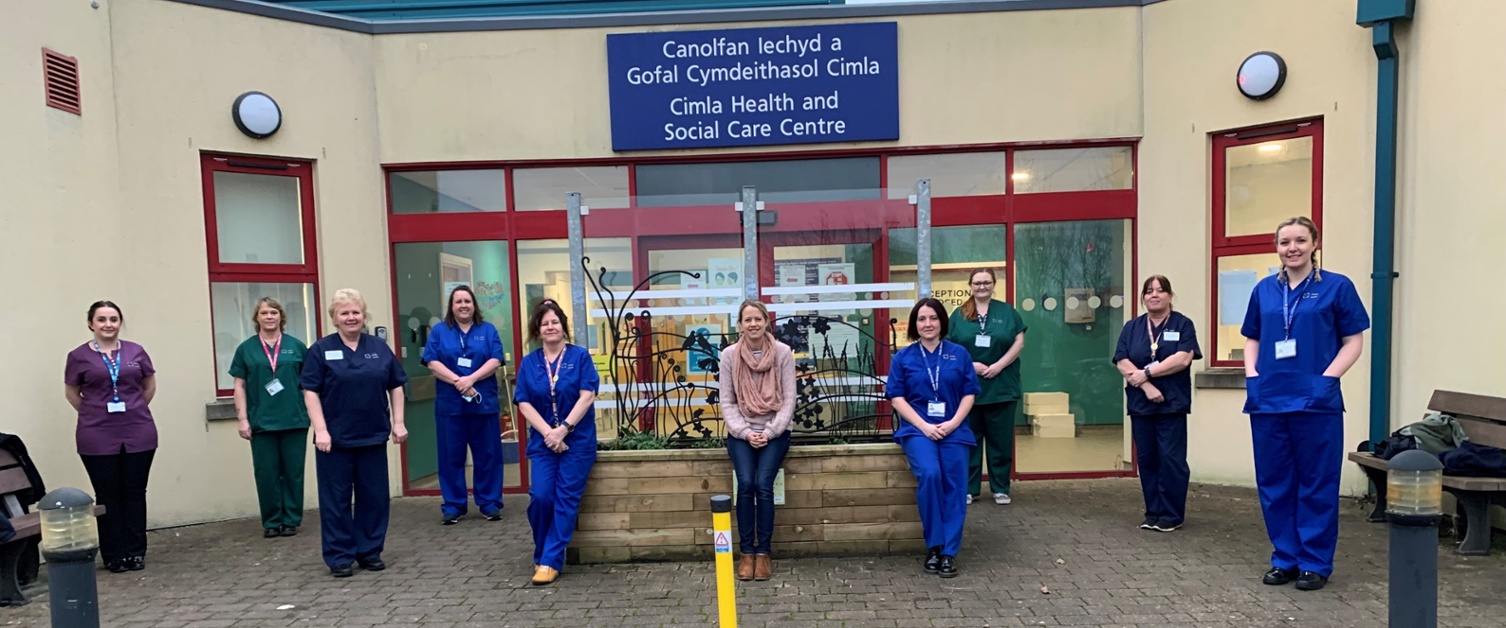 A clinical team has been recognised for adapting the way staff cared for older people in care homes during the pandemic.
The Neath Port Talbot Acute Clinical Team provides medical and nursing care for adults in the community, with most of their patients being older and frail.
The service prevents unnecessary acute admissions and can help speed up the process of being discharged from hospital.
The team (pictured), which has a sister service based in Swansea, brings what are traditionally hospital-based assessments, treatments and investigations, such as point of care blood tests, a range of IV treatments or organising home oxygen, into the community.
Before the pandemic, the nurse practitioner-led service would accept referrals from GPs, paramedics and care home staff, and would assess and treat residents who were unwell.
But once the pandemic arrived, the team began calling care homes in Neath and Port Talbot directly to ask how the staff were coping and how residents were feeling, to check if any of them needed medical attention.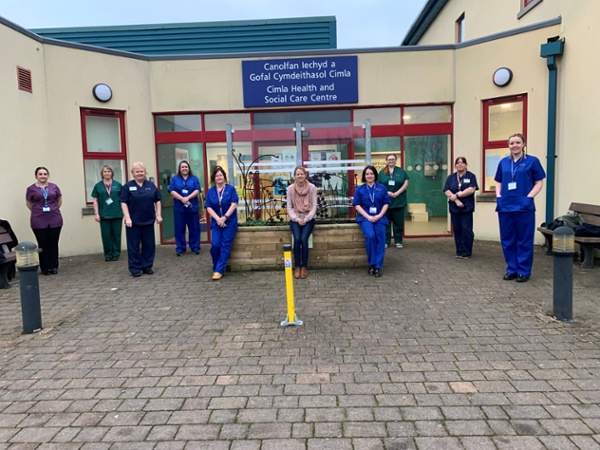 Sarah Kelly, an acute nurse practitioner within the team, said: "We go in and assess a patient, we diagnose, set up a treatment and a management plan and if the patient needs treatment, such as antibiotics, intravenous or fluids, we can bring a hospital to their home.
"Of course, sometimes we admit people to hospital if we need to but the majority of the time we try our best to keep people at home.
"This is so important to people in care homes especially, where a hospital setting isn't always appropriate."
Sarah added: "Working in the community during the first wave and dealing with Covid was tricky and we had to change the way we worked.
"During the second wave we used a proactive approach and contacted the care homes daily to check the welfare of the residents and if anyone had Covid we'd ask if they needed our input.
"Care homes were often struggling and in some nearly all the staff were off with Covid. We had to provide a lot of the personal care in addition to medical and nursing care."
The team visited several care homes and treated patients who had Covid-19 where it wasn't appropriate or necessary for them to go into hospital.
In some instances, staff were based at care homes for an entire day so that residents, many of whom had Covid-19, could be treated.
Dr Firdaus Adenwalla, consultant physician within the team, said: "We worked closely with volunteers, care home staff, the long-term care team and district nurses.
"We were all committed to providing the best possible care to a very vulnerable population in very difficult circumstances."
The team was involved with seven care homes which were badly affected by the pandemic, and collected data to look at the outcomes of the patients they were involved with.
Dr Adenwalla added: "In the seven homes we found 190 residents were positive with Covid. Ninety-six of them were very ill and received treatment from us. We admitted just three per cent of those to hospital."
After creating a poster (pictured) to highlight the ways in which the service adapted during the pandemic, the team won the Eva Higgins Prize for best Nurse and Allied Health Professionals (NAHP) poster at the British Geriatrics Society autumn meeting 2021.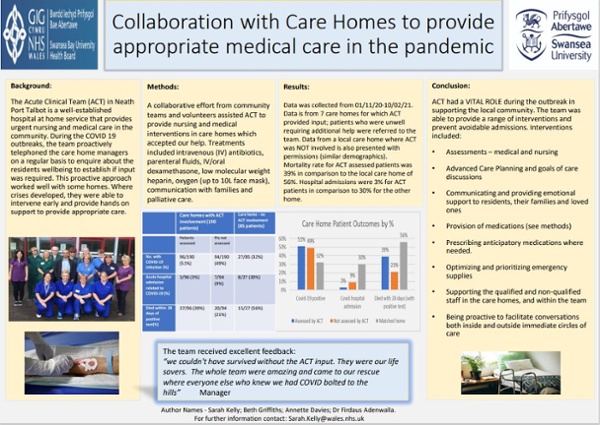 Sarah said: "It was lovely to win the award. It's nice to have the appreciation of what we've done during the pandemic.
"It was a completely different way of working and everyone stepped up and just did it with no complaints so to have that recognition was lovely.
"All the care homes we were involved with were very grateful for our help. They were very lost and sometimes a member of our team would go there and there was just one permanent member of staff there so it was very difficult for them.
"It was also difficult for us as it was a frightening time for our staff as well because we were going into the unknown. Everyone was being told to 'stay home and stay safe' but this was our job and I'm very proud of our team for working in the way we did."
The team has since received positive feedback from a number of care homes that received help during the pandemic.
In November 2020, the team visited Cwm Cartref Care Home, in Pontardawe, to provide care to residents while many staff members were self-isolating.
Jyoti Joshi, director of Caron Group, which provides residential, nursing and dementia care in Mid and South Wales, including at Cwm Cartref, said: "We had a lot of staff off work, self-isolating, while trying to manage a rising number of Covid-19 infections among our residents.
"The ACT team were fantastic in the help they provided. They would promptly respond whenever we needed them.
"They would spend large amounts of time here most days and we really cannot thank them enough for all their help and support during a very difficult period.
"They were professional, sensitive to the situation and made quick interventions that probably saved several of our residents' lives.
"Additionally, they were fantastic in their communication, and enabled us to keep families updated with what was going on at such a crucial time."