Swansea has a lending library with a difference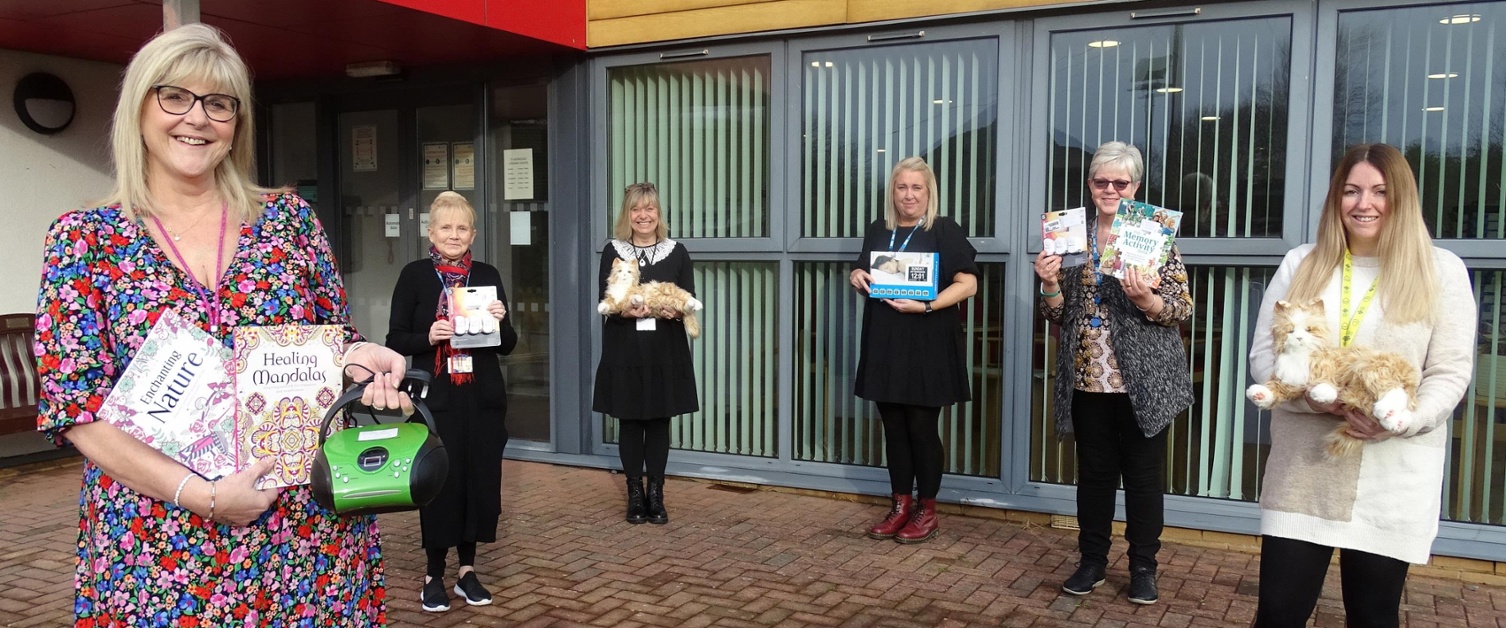 A Swansea lending library with a difference is helping to keep older people safer and feel more relaxed.
The library stocks everything from artificial cats and relaxation discs to medicine safes and locks that sound an alarm when a door or window is opened.
It could also soon include lifelike baby dolls which can have a soothing effect on older people when they become distressed.
Main photo above: Sue and her team with some of the equipment available for loan. L-r: Sue Williams; healthcare support worker Alison Roberts; community psychiatric nurse Debbie Huxtable; healthcare support workers Jo Cattroll and Helen Williams; and clinical lead Rachel Francis
The library has been put together over the last three years by Sue Williams, secondary care team lead with the Older Persons Mental Health Service based at Ty Garngoch near Gorseinon.
Sue said: "The lending library is for people within our service. They may have cognitive impairment, but we also have people with anxiety, with an array of mental health issues.
"You have to try to think out of the box. How are you going to help this person? Everyone is unique. Everyone has different coping mechanisms or ways of self-soothing.
"There are many aids available. The problem is that they can cost quite a lot of money and there is no guarantee they will work. So we provide a kind of try before you buy service.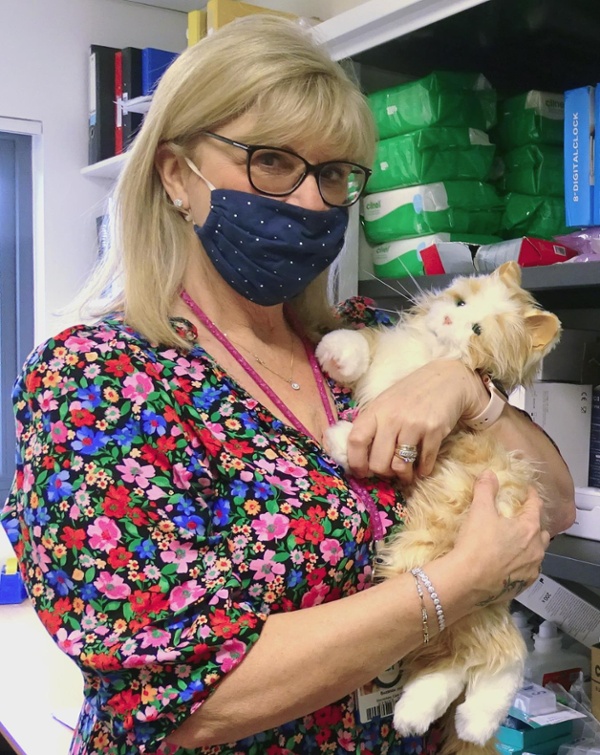 "We don't sell them. We lend them out, and if the patient or their family feel it is helpful, they can buy their own."
Pictured: Sue with one of the library's artificial cats
The artificial cats have a calming and comforting effect by purring and moving when they are held – but they cost around £80 each.
Similarly, while medication safes are a boon they are not cheap – but again they are available to loan from Sue's collection.
"If we assess someone possibly using medication inadvertently due to poor cognition, for example, we may decide something has to be done quickly to maintain safety," Sue said.
"The medicines management team has a very small number of these safes but very often they are all in use.
"We have loaned ours out on numerous occasions so the medication can be locked away.
"The carer or relative can open the safe but the patient cannot so the medication cannot be taken by mistake.
"From a safety aspect, it's one of the best things we have."
Other equipment includes CD players and relaxation discs, a range of self-care and other books, picture phones, stress balls, heat-sensitive bath plugs, card games, large dominoes, and weighted cutlery for people struggling to grip.
There are also door and window locks which have inbuilt alarms that sound if they are opened.
The most recent acquisitions are two memory clocks, donated by the health board's Liaison Psychiatry team, based in Morriston Hospital.
This was after the team undertook some fundraising activities organised by their well-being champion and liaison nurse Sara Ware.
Memory clocks are particularly helpful for people with dementia, supporting them to stay orientated and tell the time and date when they are unable to use regular clocks.
"Quite a lot of the people we deal with have cognitive impairment and they find the days get mixed up," Sue explained.
"When you're not working, when you don't have a reason to look at a diary, it's like when you go on holiday, you lose track of time, you lose track of days.
"We would like to thank Sara and the liaison team for such thoughtful donations."
The equipment in the lending library has been paid for through a variety of means, including the health board's own charitable funds.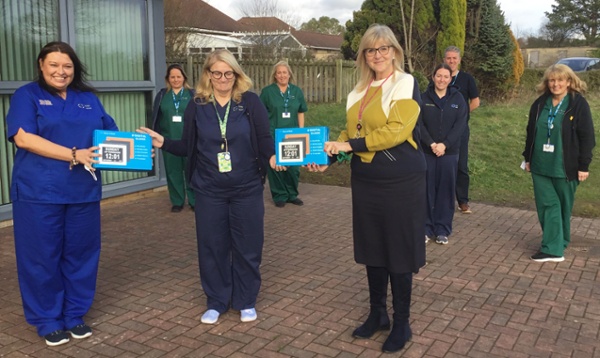 There have also been donations from grateful patients, families and others – including a £1,600 cheque presented by Madcaps, the amateur dramatic group of Uniting Church in Sketty, in 2019.
Right: Sue receives the memory clocks from Sara Ware and members of the liaison psychiatry team
Also that year there was a large donation from Waunarlwydd Carnival Committee, nominated by Swansea Bay lead nurse Marie Williams.
Next on Sue's wish-list are lifelike baby dolls. While she admits opinion on these is divided, she has very personal experience of their worth.
"My mother had dementia and could get restless. I tried her with a baby doll I had borrowed. I put it by her side. She picked this baby up and started kissing it, saying, 'My baby, my baby…'.
"Some people say it's demeaning. To me, no. With my mother, it worked so well. It gave her so much comfort.
"So that's another thing I want to be able to purchase so that we have that ability to say to people – you could try this.
"It made an absolute world of difference to my mother's well-being. My father actually went out and bought a couple of different dolls because it helped her so much."