Swansea cancer centre the UK leader for high-tech radiotherapy technique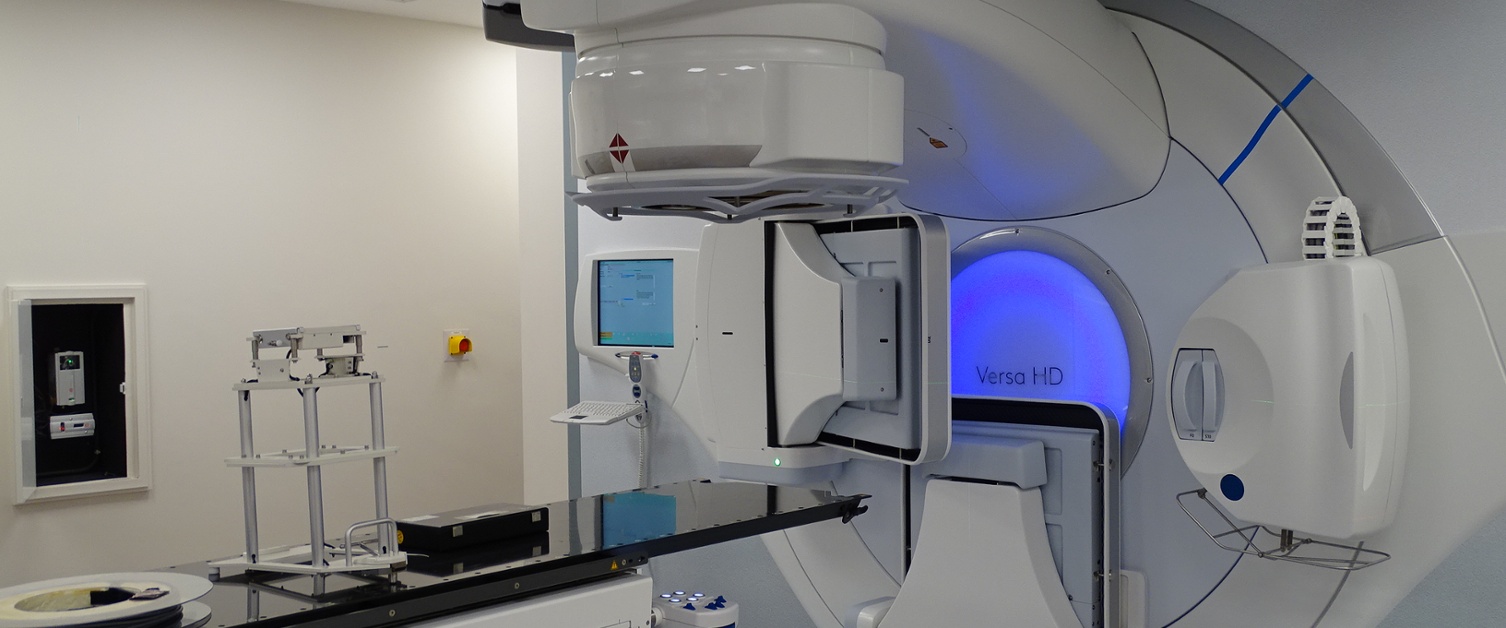 The South West Wales Cancer Centre in Swansea has become the UK leader in using the best and most effective form of radiotherapy possible.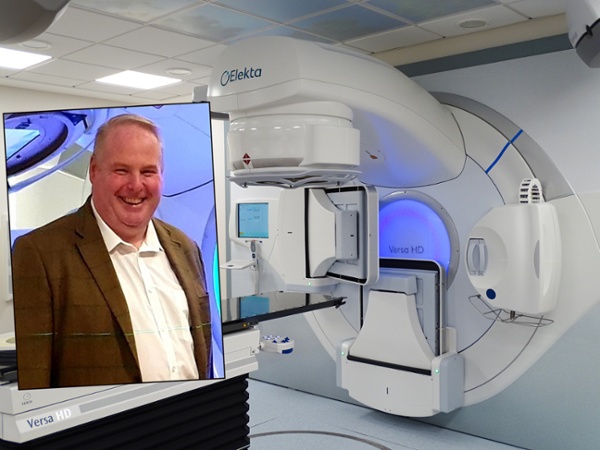 A higher proportion of patients now receive Intensity-Modulated Radiotherapy Therapy, or IMRT, than anywhere else in the country.
Dr Ryan Lewis, with one of the cancer centre's linear accelerators
IMRT allows a high dose of radiotherapy to be targeted more closely at the tumour, while sparing surrounding healthy tissue.
The percentage of patients receiving this technique is one of the quality metrics for radiotherapy centres around the UK – and, at 73 percent, the centre at Singleton Hospital has achieved first place.
This has been made possible by advances in technology, the hard work of the centre's expert teams – and in part by the Covid-19 pandemic.
IMRT can be used for planned radiotherapy, for all cancers. Swansea started using it in 2012, treating around 20 patients. That number has now grown to around 2,000 a year.
From now on, everyone who would benefit from IMRT will receive it.
Radiotherapy is delivered by a linear accelerator, or linac for short. Using IMRT, the linac rotates 360 degrees around the patient, with the radiotherapy comprising as many as 200 individual beams.
These beams change shape and intensity to target the tumour while sparing nearby tissue.
This provides a better quality of life after radiotherapy, with fewer long-term side effects and hopefully a significantly improved chance of patients being cured of the cancer.
Head of Radiotherapy Physics at Singleton Hospital, Dr Ryan Lewis, said: "Previously we used three or four different techniques, some of which involved more patient contact than others.
"At the start of the pandemic, for various reasons – patient benefit, but also the simplicity of having one system across the centre – we decided to do IMRT for all planned radiotherapy.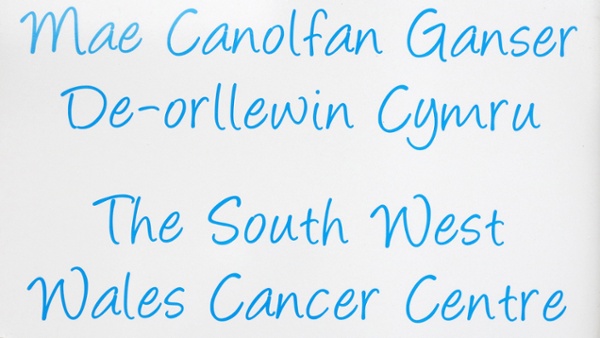 "It's a much better treatment but in the past we have not had the physical resources. But we bit the bullet and did it."
The sign outside the centre at Singleton Hospital in Swansea
Once cancer has been confirmed, patients undergo a series of scans to identify the site of the tumour.
Their oncologist will then outline the tumour for it to be treated with the highest possible dose of radiotherapy.
Next, the medical physics team outlines areas of risk around the tumour, such as normal tissue, which need to be spared as much as possible.
From that, a bespoke treatment plan is produced. When IMRT was first introduced, this was a long and labour-intensive process which limited the number of procedures the cancer centre could carry out.
However, huge improvements in image quality and computing power, coupled with a research agreement being signed with technology giant Philips in 2019, opened the way for a step change in IMRT use.
Dr Lewis explained: "We invested in a £1 million computer a few years ago, and that now does most of the work.
"We also had Philips Medical Systems help set that computer up to be the best it possibly can be, and automate some of the processes.
"We tell the computer what we want and it comes up with a result. We look at it and will make adjustments to the doses. This can be done maybe 30 to 50 times.
"In the old days, all the recalculations had to be done manually. You couldn't do it in less than a day, maybe two, depending on the tumour. Now we can do it in around two hours.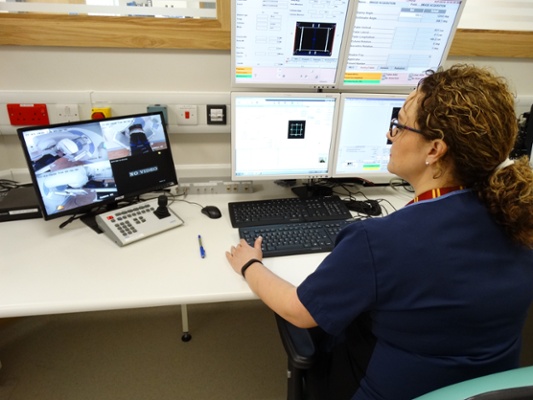 "Everything is independently checked to make sure the planned treatment is safe and deliverable."
Lead radiographer Nia O'Rourke using the treatment planning system
The intention has always been to build towards using IMRT for all planned radiotherapy treatments. But the pandemic created an opportunity, albeit unwanted, to put that progression on the fast track.
"We had a 25 per cent drop in patient referrals and we thought, if we are ever going to do this, it's now," said Dr Lewis.
"We decided to invest in development time to provide the best possible treatment for everyone. We must have spent a total of 1,000 hours between different staff members working on this."
What the team did was to create a series of library plans of different tumour sites.
These library plans are now used as a starting point for treatment plans, adapted to suit each individual patient based on the same process as used previously – only with the time involved significantly reduced.
"We spent weekends and weekday nights testing them, measuring the radiation in different places, reviewing our outlining to know that what we had outlined was exactly what we wanted," added Dr Lewis.
"It took a huge amount of work but we reap the benefits now because each patient takes less time."
Cancer centre Clinical Oncologist and Radiotherapy Lead Dr Russell Banner said: "The time invested means all our patients who need high-quality planned treatment can receive IMRT.
"We now find ourselves at the top of the UK leader board, which is great news for us and for patients. They are brilliant radiotherapy plans, much better than they were even five years ago."