Swansea Bay's Digital Stories project creating new chapter in health care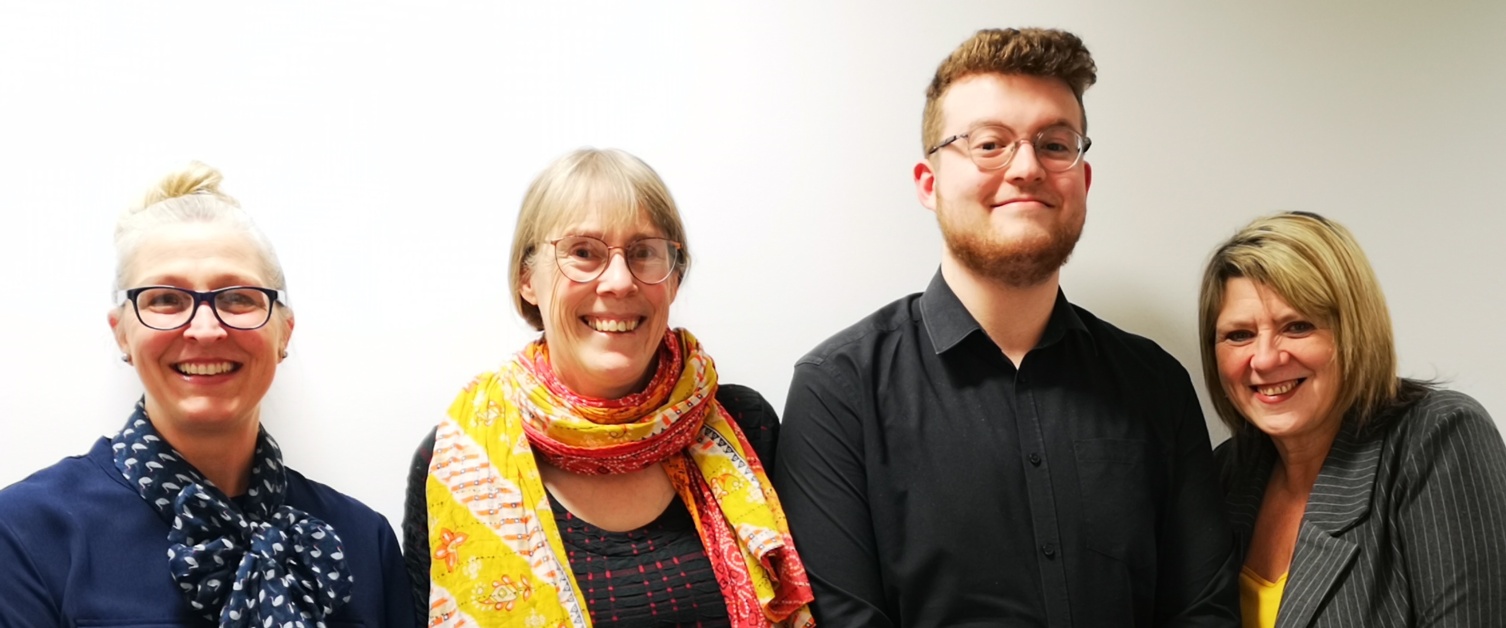 A team tasked with listening to patients in Swansea Bay and sharing their stories is becoming something to talk about itself.
Swansea Bay University Health Board's (SBUHB) Digital Stories Team, which aims to improve the patient experience through sharing good practice as well as highlighting lessons that need to be learned, has been shortlisted for the Patient Experience Network National (PENNA) Awards.
Pictured above: SBUHB's Digital Stories team (left to right) Marcia Buchanan, Prue Thimbleby, Dalton Amor and Cathy Dowling
Digital stories are voice recordings put together with images to create a short video, told in the first person, directed by the teller and under 3 minutes long.
Stories can be from patients, relatives or staff about their first-hand experience, helping the teller process what is happening to them.
They are stored in an online library for all to see.
In SBUHB, people making complaints are regularly offered the opportunity to make a digital patient story as part of the health board's commitment to listening to and learning from their experience.
One principle is the stories are part of service improvement, and as such, an action plan is developed following each one and the story is not added to the team's library until the final screen lists the improvements that have been made.
Sometimes stories are about sharing best practice, then the action plan shows how the service can be developed in more areas.
Prue Thimbleby, SBUHB's Arts in Health Coordinator, said: "Swansea Bay Digital stories have played a big part in the improvements we have made since they first started being captured back in 2012.
"Digital storytelling is our main method of gathering feedback stories. They are ideal for helping people get their voices heard in a way that leads to learning and service improvement. The stories are very memorable and build empathy in the listener which leads to changes in practice.
"They have been used to shape and improve the services such as perinatal mental health, incident reporting and end of life care."
Of the shortlisting Prue said: "Being shortlisted for the PENNA is a huge achievement. It has been a great team effort and wouldn't have happened without the patient experience team and the front line story facilitators such as the Patient Advice and Liaison Service (PALS), as well as support from the Board and senior staff – especially Cathy Dowling who has championed the use of stories at all levels."
Swansea Bay is the first health provider in the UK to have accredited Digital Story Training for staff and the team is now delivering that training for NHS staff across the UK.
Prue said: "The awards ceremony allows us to showcase the Digital Story Programme; how we use the stories, our sharepoint platform and the impact the stories have had on our services.
"It highlights the importance of the patient and staff voices being heard and listened to."
Cathy Dowling, Deputy Director of Nursing & Patient Experience, said: "I am absolutely delighted that the work of the team has been recognised at a national level, we have developed our innovative digital story programme in way that impacts positively on patient and family experience as well as seeing real benefits to staff experience and service improvement.
"This approach has had significant and long lasting impact on improving the quality of or services and the care patients receive, no mean feat. The team have been relentless in their commitment and approach to developing the digital story quality as well as promoting their benefits to others .I'm so proud of them and well deserved."
Due to Covid pandemic, the PENNA Awards were postponed in March and will now take place virtually on Thursday, 17 September.
PENNA is a not for profit independent organisation that welcomes all involved in delivering the patient experience – with a commitment to continuously improving, learning from each other and sharing best practice.
To view a selection of stories visit www.artsinhealth.wales/storytelling